CEO and Board
Chairperson Message

Having been fortunate enough to have Food Forward included at the White House Conference on Hunger, Nutrition, and Health in fall 2022, it's inspiring to report the event galvanized people from all demographics, sectors, and geographies to elevate actions and innovations around food insecurity. Where the terms "produce prescriptions," "scaling," and "food is medicine" echoed from every corner of the conference center, it was gratifying to know that for our entire fourteen years we at Food Forward have been ahead of the curve.
We have always seen our food as medicine. Through the last three years of historic worldwide health and supply chain challenges, as the nation's largest independent urban and plant-based recovery nonprofit, Food Forward has already been scaling. Having recovered and distributed over 72 million pounds of A+ grade fresh produce last year alone, we can confidently say we are an efficient, proven solution to the dual problems of hunger and food waste.
Food Forward on an average day is now responsible for moving enough produce to satisfy the daily nutritional needs of over 220,000 people (up from 150,000 the year before). In 2022, these were people in Los Angeles, plus seven other urban and rural California counties, and six adjoining states and tribal lands. Our deepened impact has been the result of weaving a top-notch staff of veterans with folks totally new to the sector—all fiercely devoted to our mission. The collective result has been a brain trust and organizational muscle we've never had before.
As last year closed out and we moved on from the triage mode that led us to nearly triple our impact from pre-pandemic levels, we took the time and expense to make several deep dives into our mountain of historic data; solo and together, with some outside assessments, including pro bono modeling done by McKinsey & Company, Inc. Looking under the hood, we learned things like:
For 2022's budget of $5.2M—we produced nearly $140M in social impact through our free produce.
Food Forward is not just "net zero," but our operations organization-wide are 215x carbon negative.
Even with the tens of millions of pounds of fresh produce we distribute to underserved areas across Los Angeles County, we have gaps in our service area, which we are committed to addressing as our supply of fresh produce grows.
Taking this and more into account, we ended 2022 with a newly minted three-year strategic plan we set out to grow deeper roots in 2023, while setting us up to support wider branches of expansion in 2024 and 2025.
Food Forward has emerged from the pandemic years more potent, nimble, and impactful, serving incredibly diverse communities experiencing food insecurity. We are also grateful for the thousands of supporters and volunteers who helped us hold nearly 2,000 gleaning events in 2022, such as the one who wrote us personally this summer:
"Last year I lost several family members...I cried so many mornings out in orchards with tangerines in my hands. I might be saving the fruit, but really, I think the fruit has saved me."
Food Forward. Moving produce from a place of abundance to a place of need. It is indeed a virtuous circle…
Rick Nahmias, Founder/CEO
Rob Valencia, Board Chairperson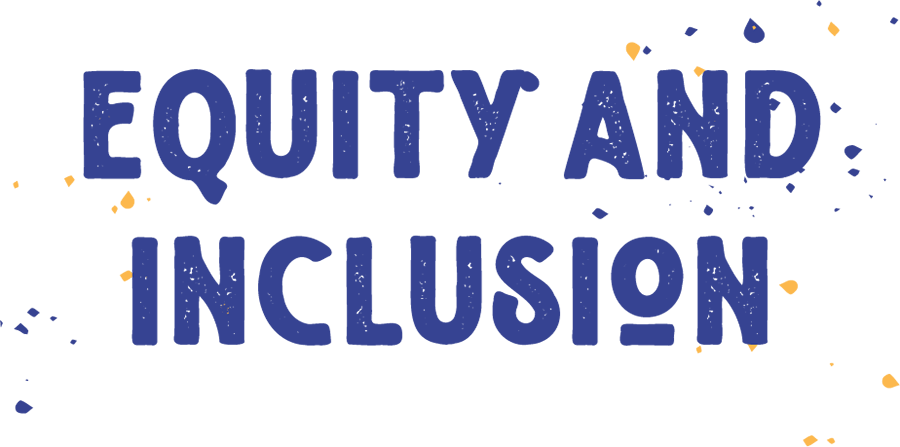 ---
"This is the only place I have worked that makes an effort to include everyone despite their language. I've never had interpretation in any of my other jobs; they've just expected you to speak whatever everyone else speaks."
Vivian Poonsopin
Food Forward staff
---
Coming out of the emergency expansion in 2019, it was our responsibility to step into this new reality by looking inwards. With our team growing by 54% in 2022, we refreshed our core values to reflect this new phase for the organization, while investing in the staff and overall systems to support our team's tremendous work. This included facing the inflation crisis head on; implementing a cost of living increase for all staff in 2022 and supporting their diverse needs with professional development partnerships, bilingual services, and accessibility tools. We look forward to building on this effort on both the staff and board level. Some of our 2022 partners included the Center for Nonprofit Management, Jamii, HBCUConnect, and Trabajamos.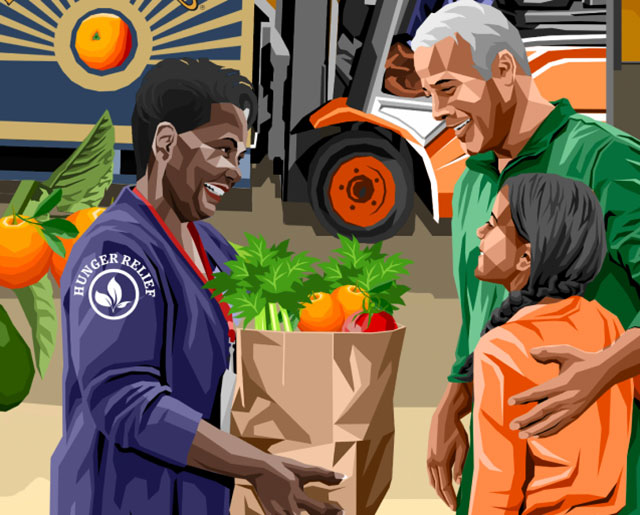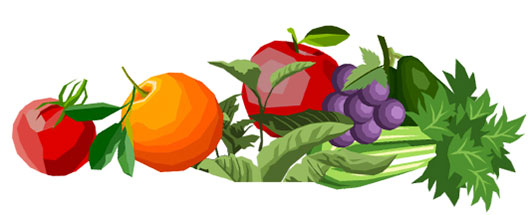 Our Core Values
Community Engagement
Working together, we inspire and are inspired by the people in the communities we serve.
Equity and Inclusion
We cultivate a diverse workforce that nurtures equity and inclusion.
Food Justice
We share the abundance of fresh produce and prevent food waste because everyone deserves access to fresh and nutritious food.
Integrity
We are honest, accountable, and authentic in our words and actions.
Joyfulness
We embrace a creative, spirited, and fulfilling environment.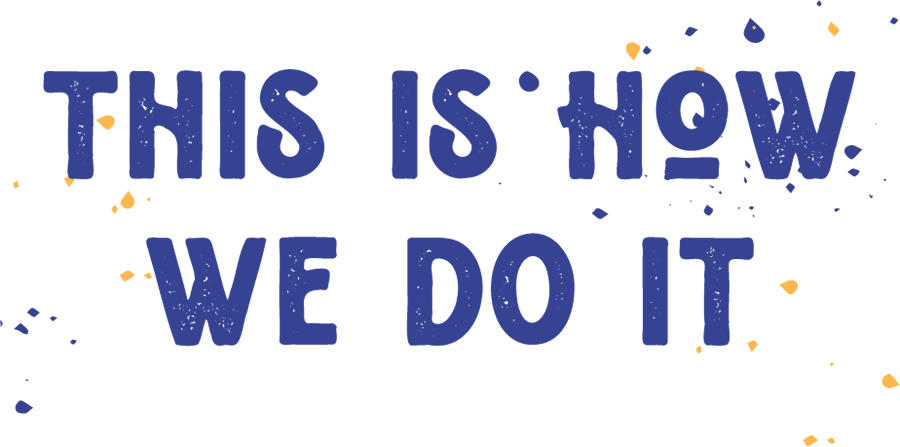 Food Forward recovers enough produce to feed 224,000 individuals their five daily servings of fruits and vegetables daily.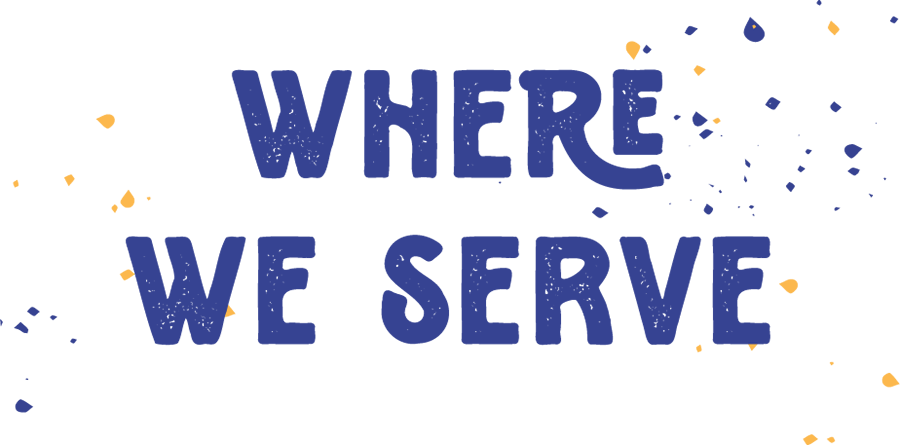 Food Forward is Southern California's largest independent produce reclamation and urban gleaning organization devoted exclusively to bringing healthy fresh produce to food insecure communities. In 2022, Food Forward increased its distribution by more than 5.2 million pounds from 2021.
In addition to eight California counties, Food Forward also served six neighboring states (Arizona, Nevada, Utah, and Washington) and tribal lands (New Mexico [Navajo] and Oklahoma [Cherokee]) in 2022.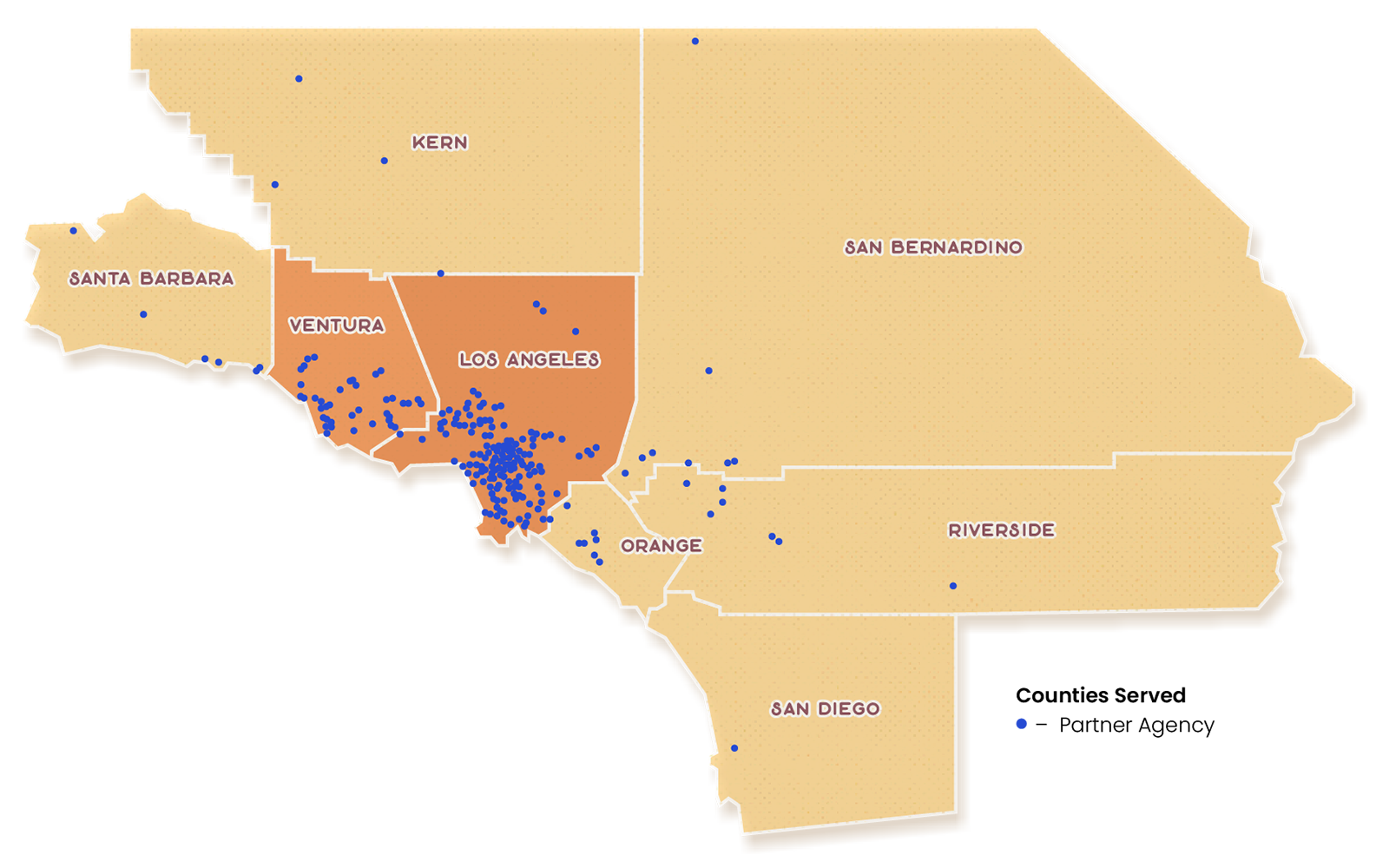 Awards and Brand Partners
Food Forward collaborates with a variety of like-minded brands to create partnerships that raise awareness about our vital and sustainable work in the community. Some exciting projects to note include our longstanding and fruitful partnership with Smog City Brewing Co. on the release of their Kumquat Saison benefitting Food Forward. We're also a community partner of the newly formed National Women's Soccer League team, Angel City Football Club, and vitamin brand, Ritual. Many Los Angeles and Ventura-based companies continue to support Food Forward through beneficiary promotions including Eataly LA, The Garland Hotel, Topa Topa Brewery, Angel City Brewery, and more!

Legacy Program Champion

Project Innovation Program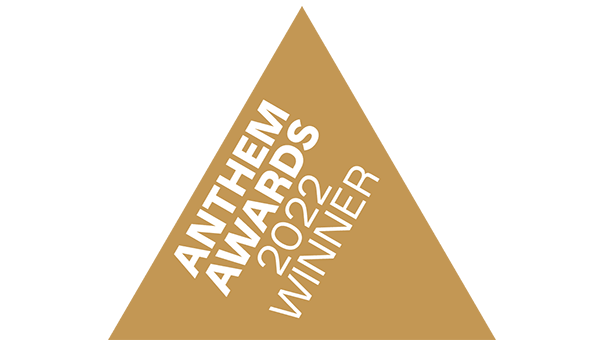 Humanitarian Action & Services (Silver)
Sustainability, Climate & Environment (Gold)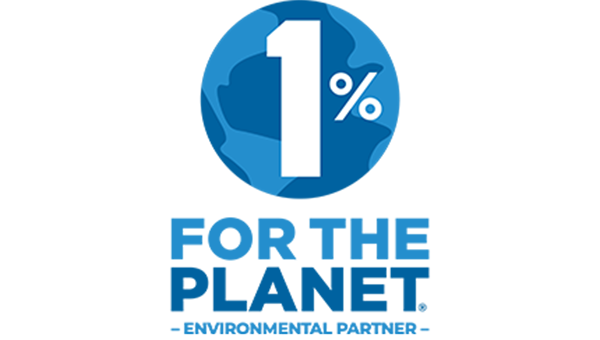 Proud 1% for the Planet Environmental Partner since 2017

What began as a small group of volunteers in 2009 has now blossomed into a dedicated community of hundreds of volunteers.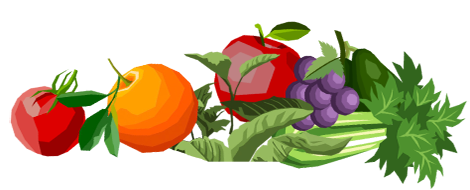 Volunteer Leader who led
124 harvests

in 2022

"I love seeing the whole process, from fruit pick to dropoff. It's such a great feeling picking the fruit, dropping it off at the hunger relief agency, and seeing how excited they are with every delivery and how fast they can give it away. It's backyard to table!"
Ceci Mak
Volunteer Pick Leader
---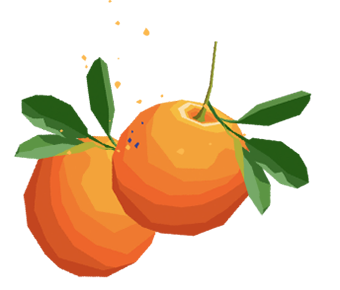 676

fruit tree donors

"Food Forward is doing great work. The harvests at my parents' grapefruit tree grove are highlights in their year. Their grove was planted somewhere between 98 and 100 years ago, so to see how it continues to bear fruit to fight food insecurity a hundred years later has been inspirational."
Steve Ramseyer
Fruit tree donor
---
A record
1,217 volunteer events
"Our volunteers, fruit donors, and agency partners generously donate time and resources to make our Backyard Harvest Program so fruitful. Each of these dedicated community members brings a piece of the puzzle to rescue fruit and share abundance with our neighbors."
Ally Gialketsis
Food Forward staff
---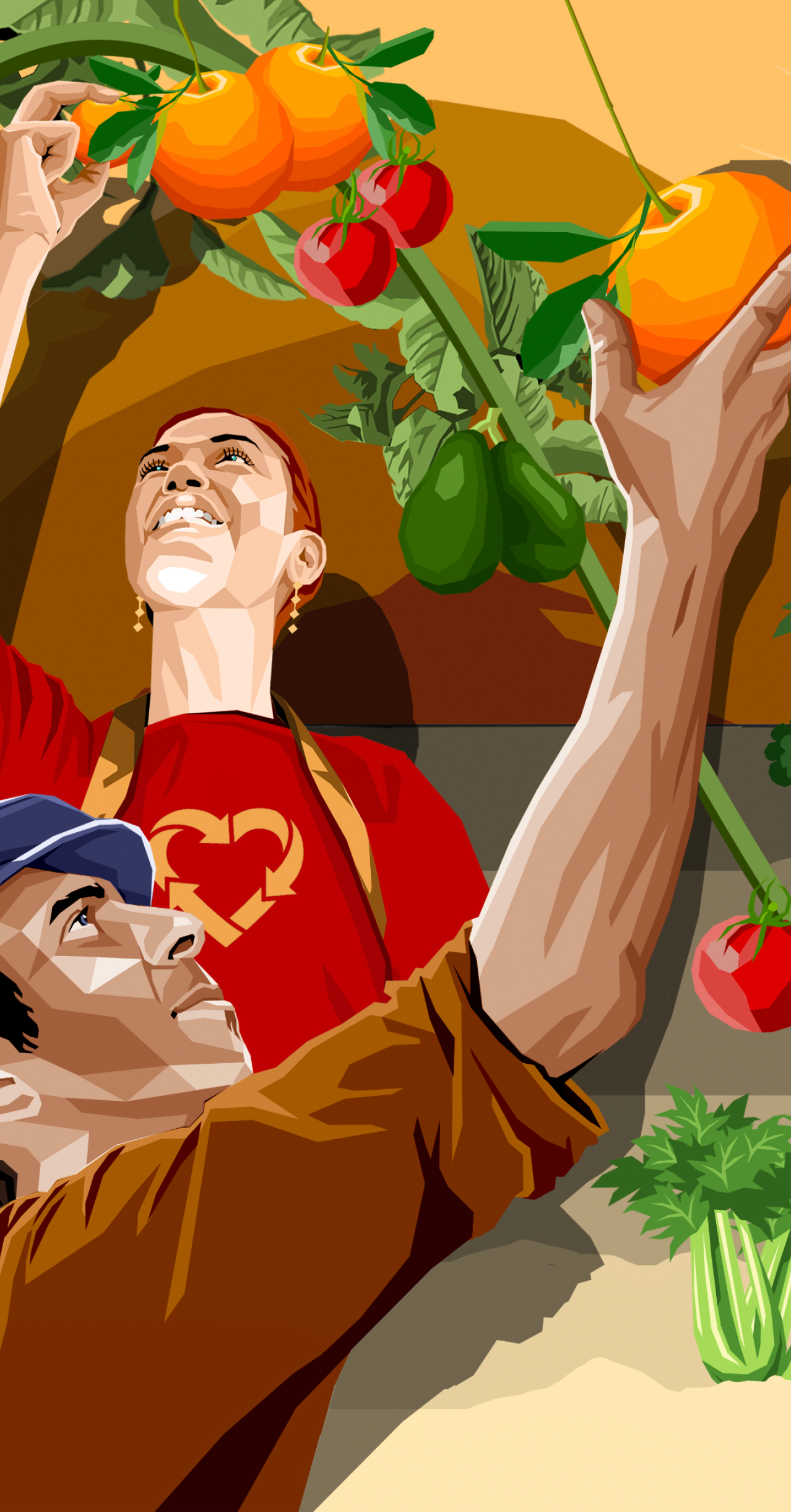 Ten years since the program launched in 2012, a record 57 new Glean Team Leaders signed on in 2022 to lead 687 gleans of unsold fresh fruits and vegetables from Los Angeles and Ventura County markets.
2 million servings

of fruits and vegetables recovered through gleaning
---
"Mar Vista Farmers Market is bursting with pride to have partnered with Food Forward since 2013. Ten years of awe inspiring results and profound impact in food recovery felt at the community level is a beautiful feat! This is connection and good work at its best."
Diana Rodgers
Executive Director, Mar Vista Certified Farmers Market
---
"I share abundance by sharing time. But it's a circular event in that the time spent planting, harvesting and gleaning at Food Forward returns to me as an abundance of joy!"
Kathy Helms
Farmers Market Glean Team Leader
---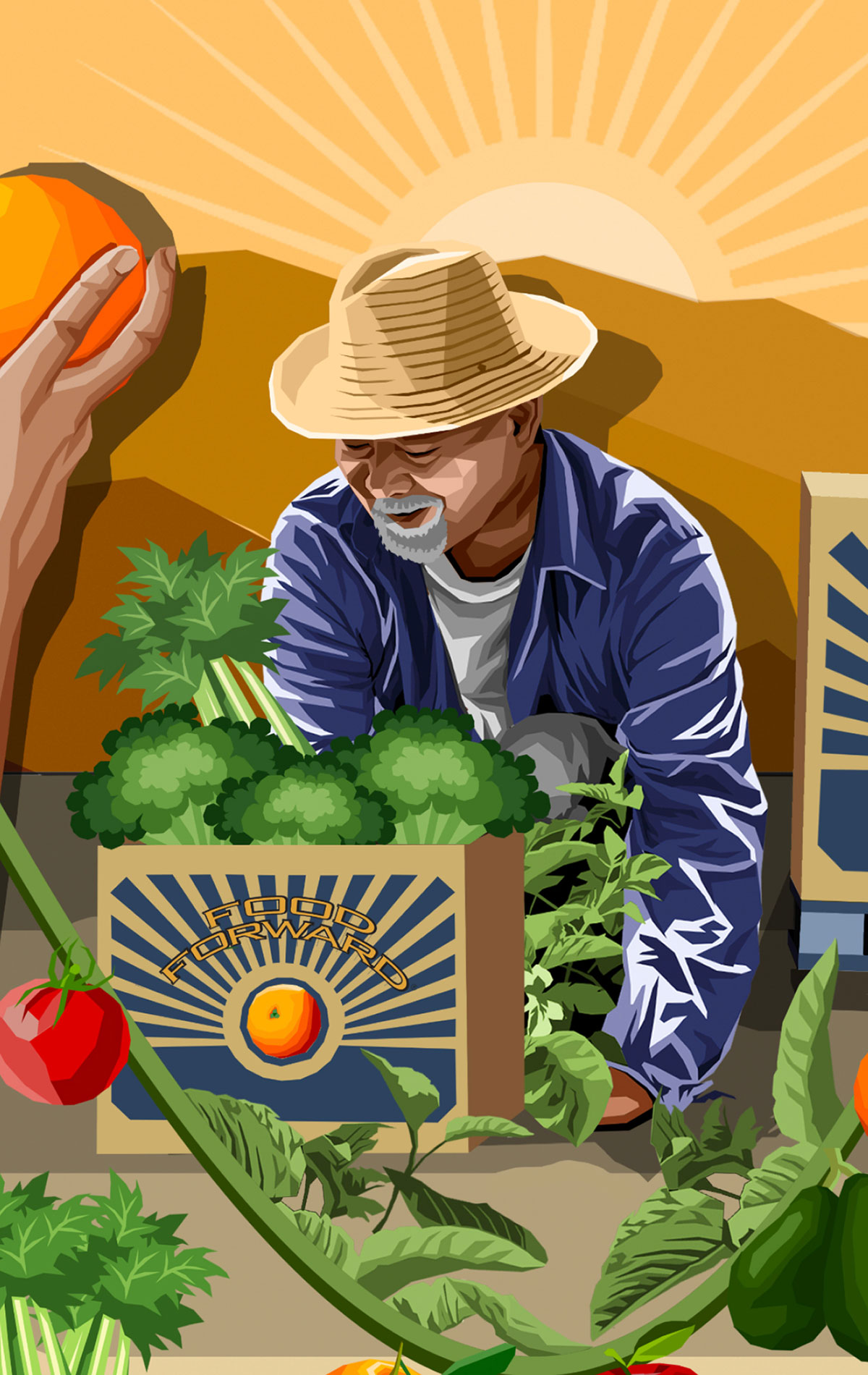 Wholesale Recovery Program

Food Forward launched its Wholesale Recovery Program in 2014 and the volume of recovered pallets and truckloads of produce surged with the opening of its Produce Pit Stop refrigerated warehouse in 2019. Food Forward now recovers from growers and distributors across the region.
Growing Capacity: Expansion at the Produce Pit Stop
226 different varieties of produce

recovered in 2022

In 2022, the Wholesale Recovery Program invested in critical infrastructure and increased distributions to partner agencies by 7.62%. We added a second refrigerator at the Produce Pit Stop—this one 1,750 square feet, more than doubling our refrigeration capacity—as well as reconfiguring office space, adding safety improvements, and reforming workflows. While partners in Los Angeles County received the majority of the recovered produce, Food Forward was able to expand distributions for farmworker communities in Kern, Riverside, San Bernardino, Santa Barbara, and Ventura counties. We also launched a partnership with Brighter Bites as their exclusive produce supplier of fresh fruits and vegetables for their nutrition education programs for students and families in 12 Los Angeles County schools.
---
"With limited government assistance many farmworker families have found themselves lacking nutritious food and other basic necessities. Food Forward has played a critical role in filling such gaps in keeping our communities whole and healthy. Working with Food Forward has been an honor and a pleasure."
Mily Treviño-Sauceda
Alianza Nacional de Campesinas
---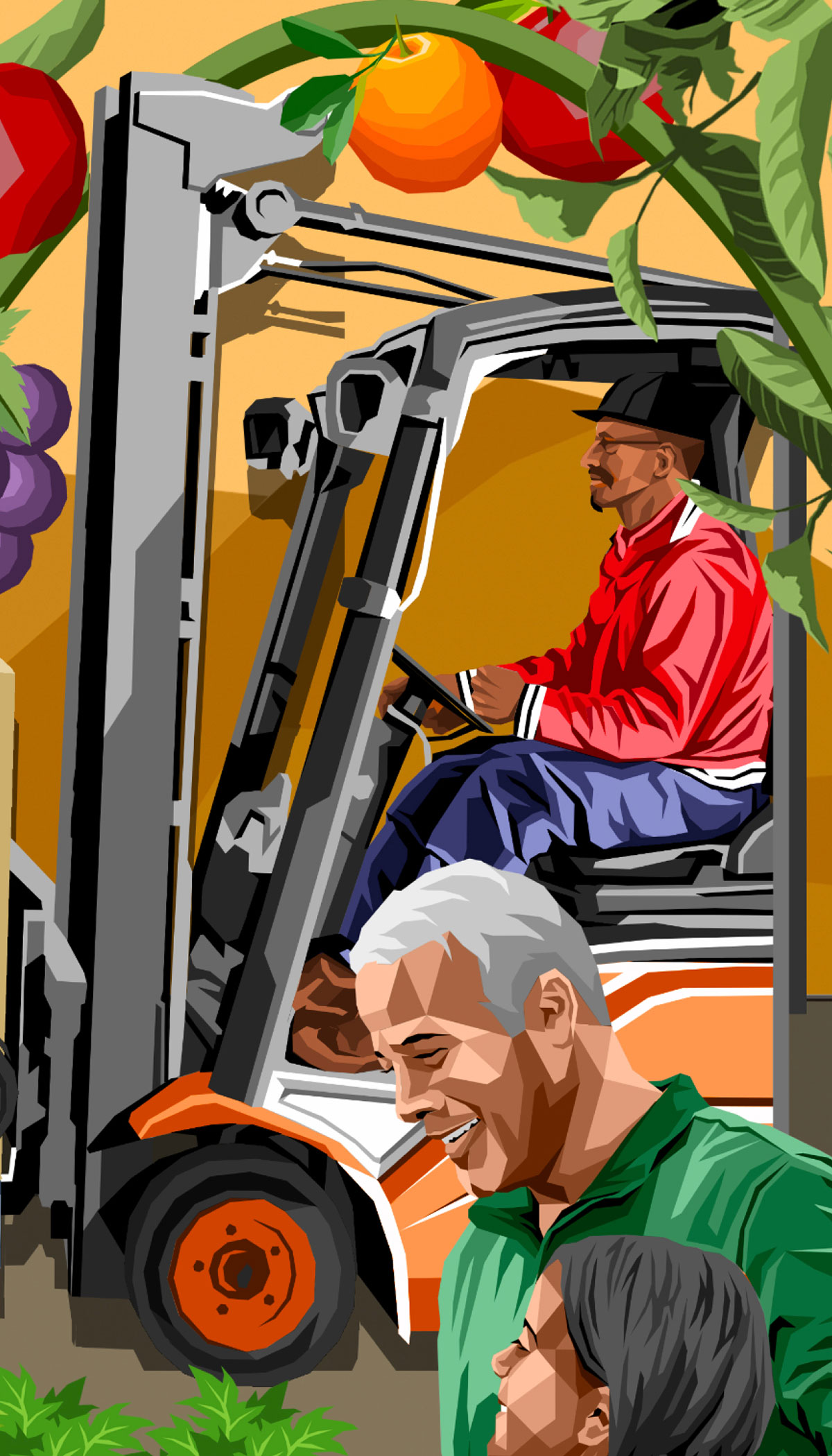 Agency Relations
Served
264 hunger relief partners

across 313 sites

Food Forward's agency relations team ensures that distributions reach our valued network of hundreds of hunger relief organizations by maintaining collaborative relationships. In 2022, the team returned to in-person visits and more frequent outreach to learn more about our partners' programs and ensure Food Forward's produce donations meet the needs in their communities.
Produce Ambassadorship
In 2022, we expanded outreach to the produce industry to position Food Forward as a partner in sustainability, and we have built stronger relationships with industry leaders in order to increase the supply of produce we recover. We brought on a new advisor, our "Produce Ambassador," and joined the International Fresh Produce Association (IFPA), earned press coverage from trade press, and started to see increasing volumes of fresh fruits and vegetables from new produce donors.
---
"We view Food Forward as so much more than simply a produce supplier; they are our strategic partners that help us move excess produce in our facility to food insecure families. They operate with integrity, intelligence, and compassion. We are proud to be aligned with them."
David Lake
President, 4Earth Farms
---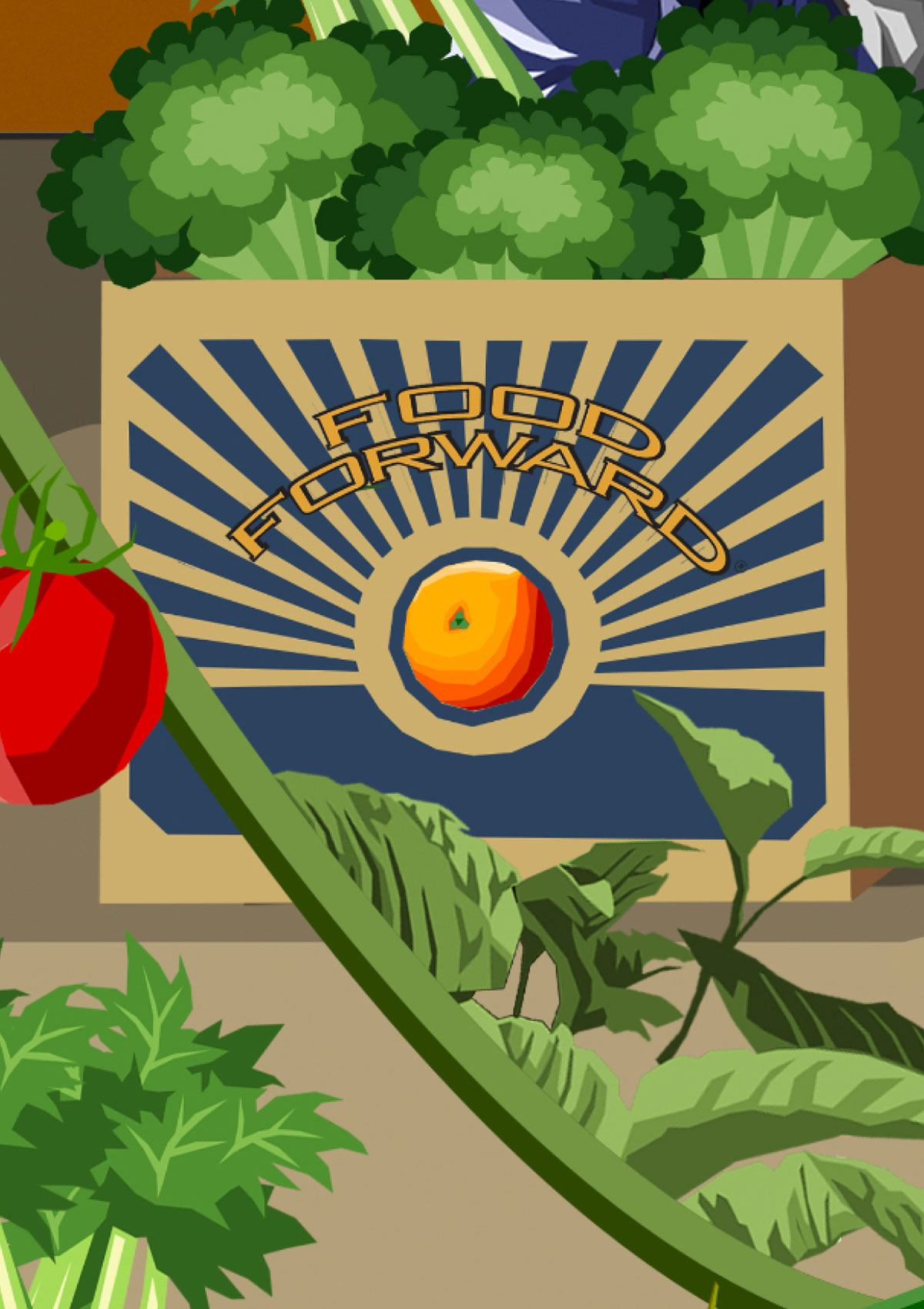 Every contribution to Food Forward results in multiple servings of fresh, healthy food distributed to people experiencing food insecurity. Food Forward's operation is extremely efficient: In 2022, it cost just $.07 in operational costs to recover and distribute a pound of fruits and vegetables. With expenses of just $5.2 million, Food Forward returned a social impact value of $138,917,167 (value of in-kind produce) to communities across the region.
The following illustrates the sources of Food Forward's funding and expenses for 2022. Food Forward is grateful to the thousands of people who supported our mission.
Make an impact
For more information, contact Chief Development Officer Jen Cox at [email protected]
To make a financial contribution and support the Food Forward mission, please visit foodforward.org/give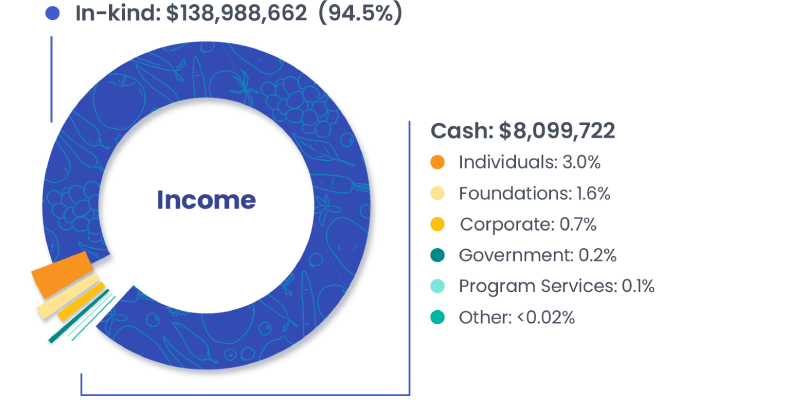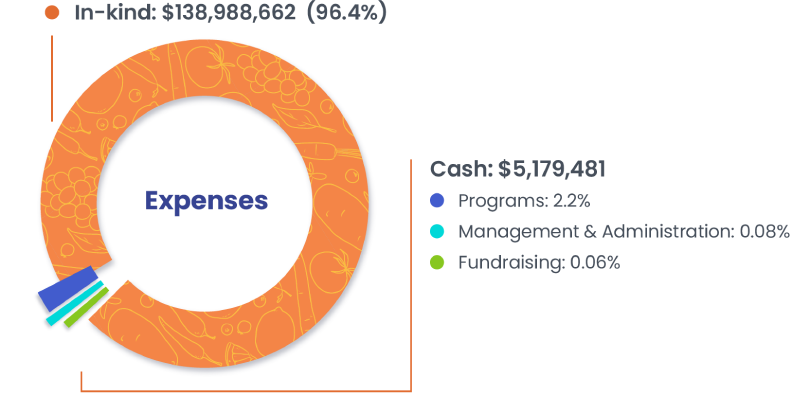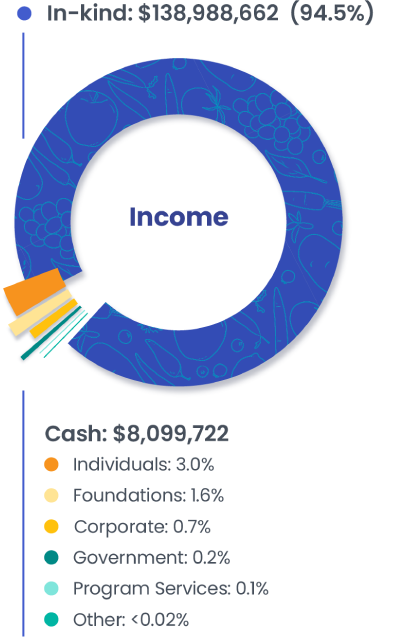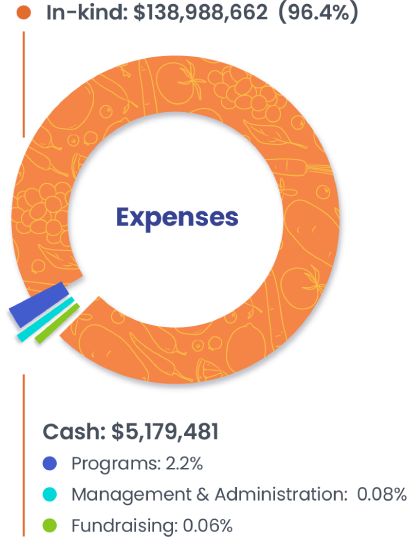 Thank you for helping us move Food Forward.
Food Forward is grateful to all of the incredible people helping achieve our mission every day, including our volunteers, hunger relief partners, and produce donors. A special thanks to our financial supporters who power our operation.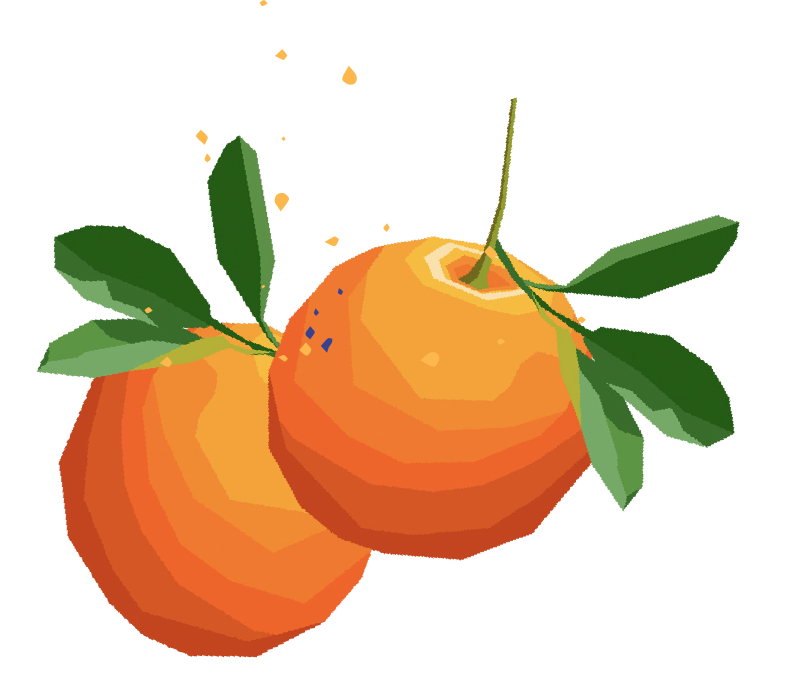 2022 Donors
$1,000,000+
Diane and Dorothy Brooks Foundation
Anonymous
$100,000+
Department of Resources Recycling and Recovery (CalRecycle) through California Climate Investments
Los Angeles County Board of Supervisors Third District
The Ralph M. Parsons Foundation
The Rose Hills Foundation
Rosenthal Family Foundation
The Smidt Foundation

$50,000+
Accelerate Resilience LA (ARLA), a sponsored project of Rockefeller Philanthropy Advisors
The Philip and Muriel Berman Foundation
Butterfly Equity Foundation
Cotyledon Fund
Joan Egrie
Kaiser Foundation Hospitals
RELiON Battery
Telemundo 52 and NBC4
Anonymous (3)
$25,000+
Bank of America
Elizabeth Bixby Janeway Foundation
John and Katherine Gurash Foundation
The Henkin Family
Sarah Ketterer Family Foundation
The Kroger Co. Zero Hunger Zero Waste Foundation
Venice Family Clinic
Ware Disposal, Inc.
Anonymous (4)
$10,000+
Howard and Nikki Applebaum
Kim and Keith Allen-Niesen
Antelope Valley College
Angel City FC
Adams-Mastrovich Family Foundation
Albert and Elaine Borchard Foundation
Andy Bogen
Flora and Andrew Birdzell
The Louis L. Borick Foundation
Roger Brossy and Rona Elliot
Brighter Bites
Califia Farms
Clif Family Foundation
Carrie Estelle Doheny Foundation
Esther and Steve Feder
David Geffen Foundation
Ernest G. Herman Foundation
George Hoag Family Foundation
The Audrey and Sydney Irmas Charitable Foundation
JEC Foundation
Ron D. Kline Foundation
Shari Leinwand
Los Angeles County Board of Supervisors First District
Los Angeles County Board of Supervisors Second District
Laemmle Charitable Foundation
Northstar Sustainability Fund
Charles R. Pollock Fund of the California Community Foundation
Plum Foundation
Roger and Deborah Riske
Reissa Foundation
George H. and Estelle M. Sands Foundation
The TJX Foundation
Universal Waste Systems, Inc.
WHH Foundation
Anonymous (2)
$5,000+
Edna R.S. Alvarez
Ameriprise Financial, Inc.
American Business Bank
Christine L. Borgman and George M. Mood
David Bohnett Foundation
Michaela (Mikki) Catlin
Tara Cornwell and John Aitchison
Crystal Frierson
The Mary Alice Fortin Foundation
Haltrecht Family
Hanley Foundation of the California Community Foundation
Hotchkis Foundation
Inland Empire Health Plan
The Scott and Rebecca Jarus Family
Cynthia and George Mitchell Foundation
Linda Manasee
Meisel and Pesses Family Foundation, a supporting foundation of the Jewish Federation of Cleveland
Order of Malta
The Nathanson Family
NASA Services, Inc.
The Albert Parvin Foundation
Sylvia Price
Playfly LLC
Bill Resnick and Michael J. Stubbs
David and Anne Rimer Foundation
Mark Rhein and Warren Brodine
Reverie Content, Inc.
Alan Sieroty
Smog City Brewing Co.
Rob and Kim Valencia
Donella Wilson
Anonymous (3)
$2,500+
4Earth Farms
Maurice Amado Foundation
Athens Services
David and Jennifer Broering
Diane and Kendall Bishop
Laurie Benson Blasko*
Margaret and Danilo Bach*
Patience Browne
Betty Belts
Butterfly Equity
The Charitable Foundation - Berkshire Hathaway HomeServices California Properties
Jason and Denise Crayne
Child Care Resource Center
Daphne Dennis and John Given
David Dassey
Richard Dachman
Quinn and Dana Emmett*
Ron and Yvette Emard
GHJ Foundation
Paul Gordon Hoffman and Sue Caren Hoffman
J. Kleinberg Gift Fund at Schwab Charitable
Brian and Haley Lazarus
Mar Vista Farmers Market
The Miner Barber Fund of the Bank of America Charitable Gift Fund
Maura Pally
Tina and John Quinn
Reiter Family Foundation
Republic Services, Inc.
SPRCHRGR
Paul Tordella
Tetra Tech
Cari Wolk and Richard Dane
Westmount Asset Management
Wachter Family Foundation
The Wolfpack Partnership
Anonymous (3)
$1,000+
Kelsey Allen-Niesen
Leslie Abbott
Mary Archibald
Sharareh Abedi
Avocado Green Mattress
Aversa Foundation
Anne and Paul Burmeister*
Allison and Christophe Bragard*
Corie Brown and Chris Fager Family*
Kathryn and Philip Brown
Matthew and Miho Blumkin
Mark Buchignani
Mary and Steve Brockmeyer
Richard and Taylor Beale Family Fund of the Liberty Hill Foundation
Richelle Blanken
Scott Brooks
Bad Robot Productions
The Claremont Colleges
The Conways, Studio City
Chae Pyken Family
Coldwell Banker Realty Community Foundation
Susan Drews
Danning, Gill, Israel and Krasnoff, LLP
Daden Family
Anne Etheridge and Robert Porter
Emmanuel Lutheran Church
Alison Faith
Christopher S Forman
Erin Frizzell*
Karyn Franzen
Mindy Freedman
The Fuller Foundation of the Altadena Community Fund
Alejandra Gillette-Teran and Manu Narayan
Mr. & Mrs. Daniel and Kristiina Goyette
Gold Coast Health Plan
Google
Carla and Thomas Heer
Dr. and Mrs. Ewald Heer
Jeff Harris
Pat and Susannah Howard*
Michelle Issa and Ed Soong
Karen Jenne*
Jim Korb and Regina Pally
Judith and George Kieffer
Meredith Kamm Brust and Randy Brust
Pam and Evan Kaizer
Ronald and Joann Koopman
Kavod Tzedakah Collective
Barry Littman
Diana Lowe
Darryl Leavitt
Eric Liebman and Rebecca Liebman
Ilana and Wayne Lewis*
Mitchell Landsberg and Mary MacVean*
Rachel Levin
The Lucy Fund at Vanguard Charitable
LA Parks Foundation
Brad McBride
The Carol Moss Foundation
Etan Milgrom
Tzviah and David Mayman
Lily Nichols
Meena Nanji
Rick Nahmias and Steve Kadel*
Beth and Jim Preminger
Martha Penhall
Gerun Riley
Kenneth Resser
Nicole W. and John A. Ruskey
Arlene Stewart
Beth Sieroty Meltzer
Deborah Sigel and John McNeil
Frank Spasaro
Nancy Shinno
Sidney Stern Memorial Trust
Sharon Spira-Cushnir and Andrew Cushnir
Sarah A. Spitz*
Shirley Su
William and Diane Salter
Sony Interactive Entertainment LLC
Southern California Grantmakers
Self Enquiry Life Fellowship
Shapiro-Gilman-Shandler Co. (SGS Produce), subsidiary of Grubmarket
Louise and Craig Taubman - Pico Union Project
Michael Troli
Robert Thomas and Gwen Ewart
Topa Topa Brewing Company
Julie and John Verive*
Visit.org
Andrea Weiss and Jerry Whitman
Joanne and Eric Weidman
Jillian and Jonathan Wetzel Fund at Schwab Charitable
Whitehill Family Foundation
Anonymous (9)
$500+
52andChange
AmazonSmile Foundation
John Antignas and Rabbi Susan Laemmle
Laura Avery
Robert Augusta*
Bruce Brodie and Janet Farrell Brodie*
Carl and Kathy Buratti
Holli Bassin
Michael and Karen Bruckner
Mackenzie Bolger
Nathaniel and Anina Bach
Prudence Brown
Stevie Blacke and Jenna Snow
Virginia Blywise
Brian and Cini Carter
Carolyn and Michael Chuang
Cat Chan
Don and Ellen Cervantes
Jodi Cohn and Marc Hankin
Robbin and Shannon Cohen
Wendy Chen and Nathan Epstein
Wendy Chang and David Lee
Comcast
Bob Davis
Faye and Willie Dong
Kathleen Dudgeon
Lauren and Devon Dowling*
Nancy and Sam Elkin
Eataly Los Angeles
Anne Fellows*
Lisa Feury and Kim Ibrahim
Lida Frankel
Mickie Fisher*
Robin Freeman Bernstein
Vince Farhat
Anthony E. Ghosn of DPM Practice
Barbara Gallisath
David J. F. Gregory
Ila Grobe*
Linda and Jack Goldman Family Trust at Fidelity Charitable
Marnie and Randy Greenwald
The Garland
Graber Family*
Eric and Samantha Heer
Eileen Heinrich*
Essie Horwitz*
Gretchen Humbert
Mary Helfrey
Nancy Hammerman and Peter Cowen
Timi Anyon Hallem
Morenike Irvin
Melody Johnson
Stanley Jeong
Carolina Korman
Elizabeth and Dan Keatinge
Rabbi Paul Kipnes and Michelle November
Paul Kruger and Val Holwerda
Sidney Katz
Ari Louie
Ebonie Loftin*
Lois Lorenetzen*
Margery and Larry Lewis
Richard and Heidi Landers
Sheila and Jeffrey Lane
Tracy and Harlan Levine
Cindy Mabini
Ceci Mak
Elizabeth Morehead
Ken and Hollie Michaels
Kevin Mahany
Kathleen McDonnell
Mark and Amy Munger
Susan Miler
Jon Neustadter
Neil Newman and George Leon/Cakewalk Entertainment*
Nonprofit Finance Fund
Traci and Alan Nahmias
Destiny Okonkwo
Selwyn and Laura Oskowitz Charitable Trust at Fidelity Charitable
Astrid and Howard Preston
Del Persinger and Mary Tabor
Emily Parker and Jake Cashill*
Presser Family Charitable Fund at Fidelity Charitable
Connie Rohman
JN Rubin
Lauren Rashap*
Rosenthal Family Foundation
Ben and Ella Stewart
Craig and Maki Shewfelt
Joey Specor
Kathy and Jeffrey Schaeffer*
Kathryn Shaw
Linda Swartz*
Mark Silbernagel
Sussan and Michael Shore
Tom Safran
ShopCore Properties and Encino Courtyard
Pam and John Tronson*
Dara and Dan Woolley
Laurie and Stan Whitcomb
Linda Wong
Wilson Family Charitable Fund at Fidelity Charitable
The Wonderful Company
Kathryn Yulish
Steven Youra and Amy Nettleton
Betty and Sandra Zamorano-Pedregon
Diane and Michael Ziering
Anonymous (8)
*Acknowledges a donor who made a monthly gift in 2022
This list recognizes donors who gave $500 or more from January 1 - December 31, 2022. Please contact our Development team at (818) 764-1022 ext. 111 or [email protected] with any inaccuracies or omissions. We regret any errors.

Staff
Natalie Arbogast
Simon Bergara
Sam Cahall
Alejandro Calderon-Gamboa
Jen Cox
Caitlin English
Melina Finck
Jose Flores
Diego Frankel
Daniel Gallegos
Allison Garlick
Ally Gialketsis
Merced Giles Bonfil
Diane Helfrey
LaNeisha Hodo
Andrea Howry
Nancy Hsu
Jodi Jacobsen
Kristen Johnson
Manuel Lerma
Griffin Maduzia
Felipe Maldonado
Omar Moreira
Rick Nahmias
Nkemdilim Nwosu
Jose Luis Osorio Mayorga
Aubrey Pacheco-Dul
Leo Paz
Vivian Poonsopin
J. Guadalupe Rodriquez Lozano
Gabi Silva Hernandez
Liz Sommer
Betsy Storm
Janet Sudo
Pearl Talavera
Samantha Teslik
Kelsey Thackery
Mauricio Torres
Sierra Trujillo
Antonio Velasquez
Christopher Wehling
Amir Zambrano
Board of Directors
Christy Remey Chin, Treasurer
Jason Crayne
Jedd Gold
Carol Goldstein
Neil Haltrecht
Jeff Harris
Carla Heer
Scott Jarus
Brian Lazarus
Cindy Lee
Shari Leinwand
Rick Nahmias, Founder/CEO
Mark Rhein, Secretary
Rob Valencia, Chair
Donella Wilson
Betty Zamorano-Pedregon
Pam Kaizer (honorary)

Food Forward's 2023-2025 Strategic Plan
We enter 2023 having reached an astounding level of impact: Food Forward has rescued more than 300 million pounds of fresh produce since its founding and distributed that abundance to hunger relief partners in Los Angeles and across the region. That's the equivalent of nearly 1.7 billion servings of fruits and vegetables—as well as the prevention of the emissions of 267,000 metric tons of CO2 equivalent that would contribute to climate change.
Our effective and efficient produce donation operation is helping people every day. At the same time, the growth of Food Forward's food recovery is illustrating how this intervention in the nation's food system can continue to be scaled to address health equity and nutrition, reduce climate impact, and rethink how we use good food that so often goes to waste.
The Food Forward Board of Directors approved a new Strategic Plan for 2023-2025 that sets an ambitious three-year goal: to recover and distribute 270 million pounds of fresh fruits and vegetables to hunger relief partners—nearly equal the volume accomplished in the first 14 years of the organization. This next phase will continue a trajectory of growth in impact as we increase the amount of food we recover, the communities we serve, and the efficiency of our operation.
Innovative and responsive action will address key objectives organized as pillars of the strategic plan: Fight Hunger, Prevent Food Waste, Inspire Others and Connect with Community, and Invest in the Future.
---
Join us in this mission to serve communities experiencing food insecurity and mitigating climate change and reduce food waste.
Make an impact
Volunteer
Inspire Others
Register Your Trees
Produce Industry
Support food insecure communities and reduce food waste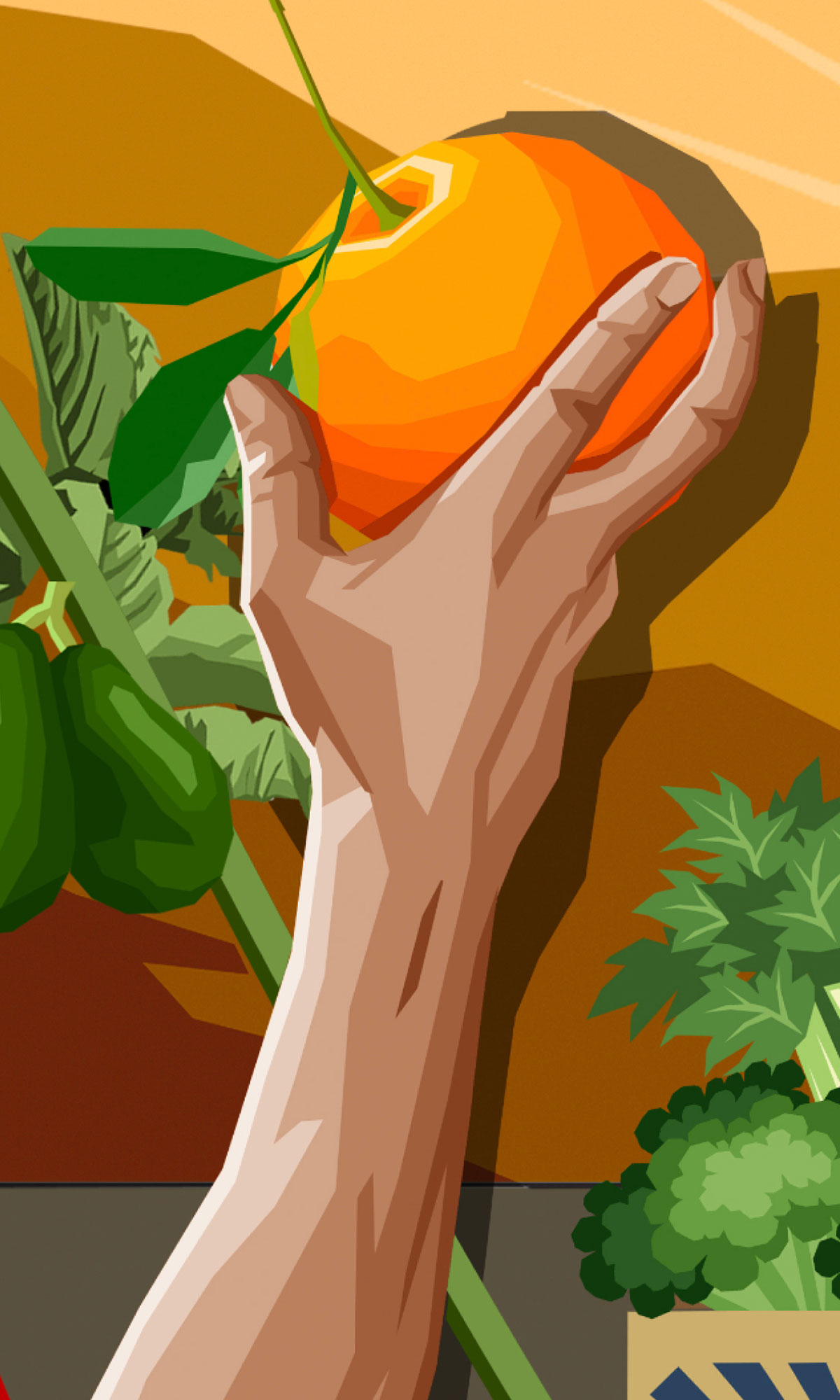 About the Art in this Report
About The Art In This Report
Food Forward was proud to partner with artist Brian Peterson whose humanitarian work captured the essence of Food Forward's fight for food justice through the installation of the 60 by 20 foot Share the Abundance™ mural at Food Forward's Produce Pit Stop in Bell, California.

Behind the scenes and bonus material:
Meet the Artist
Muralist at work
"As an artist, there are rare occasions when a project resonates deeply with both your passion and talent. This was precisely the case when I had the opportunity to collaborate with Food Forward. Throughout our initial meeting and the eventual installation of the mural, our discussions revolved around the significance of healthy food and its impact on the families they serve. During my time on-site painting, I was constantly surrounded by fresh produce and the dedicated staff and volunteers who were committed to both the success of the mural and the daily activities of Food Forward. As I added color and depth to the refrigerator mural wall, my connection to the organization's mission of improving the lives of families in the SoCal region grew stronger. On behalf of Brian Peterson Art, we are forever grateful to creatively visualize all that Food Forward has worked so hard to achieve."

Annual Impact Report Design by Marie Ramos