Since the start of the new year Ceci has led 20 harvests…as in, 20 harvests in 47 days…as in, there's a 43% chance that she's harvesting fruit on any given day. As new staff navigated their way through an onslaught of citrus this season, we could not have asked for a more reliable, motivated and just generally stoked volunteer to help make sure we are helping feed as many food-insecure individuals as possible in 2022!
Ceci is constantly curious about picking new varieties of fruit, leaves each harvest having formed a notable relationship with every homeowner (note: homeowners of both the human and canine variety) and effortlessly embodies Food Forward's core values day in and day out! She's formed first-name basis relationships with many of our agency partners and knows no geographical boundaries, having harvested as far North as Santa Barbara and as far South as Riverside. Having only completed her Pick Leader training in August of 2021, we certainly can't wait to see how her presence as an integral member of the Food Forward community grows in the years to come…Thank you Ceci!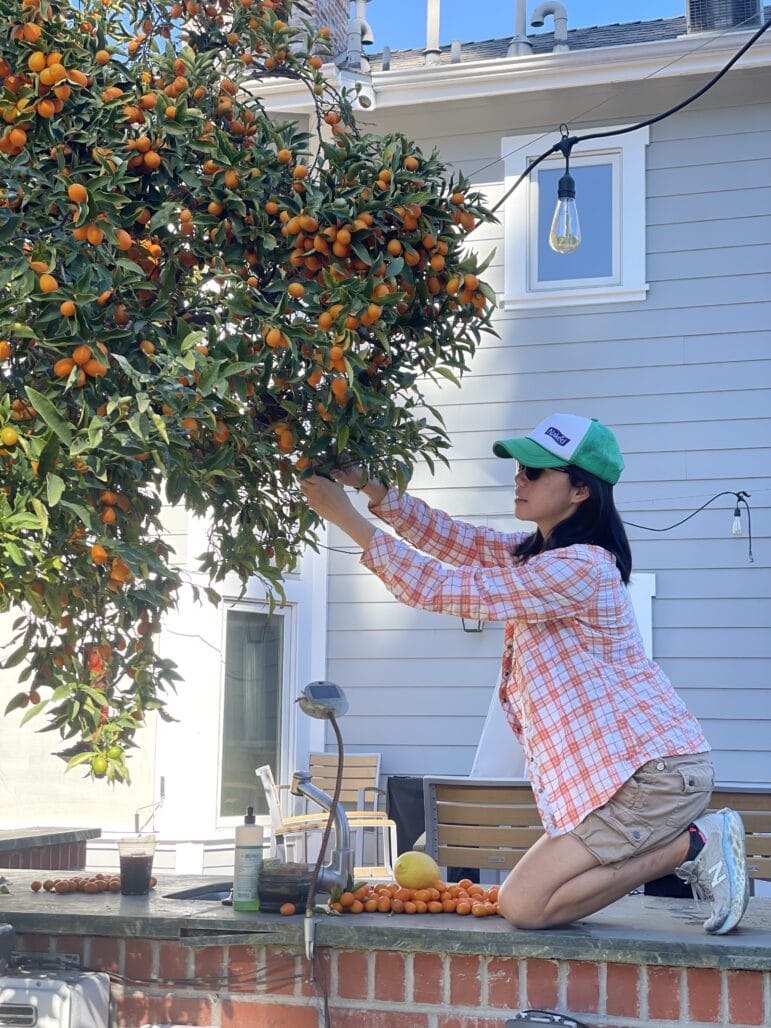 So tell me, how did you get started with Food Forward?
My best friend Christine is a Food Forward Pick Leader (and 2021 FF Rookie of the Year AND amazing human being!) and she would always be talking about fruit picking! So I joined her on one of her picks and now I totally get it. I was hooked after the first pick and now I can't stop talking about fruit picking.
What drew you to Food Forward's work and mission?
It's always bothered me how much food gets wasted, yet food insecurity is still so prevalent. I love that Food Forward works to close that gap by bringing fresh produce to hunger relief agencies – nothing goes to waste and people have access to fresh food! It's so simple and so efficient.
What do you do when you're not volunteering with Food Forward?
Work. Bake. Barre. Kombucha.
What is your favorite part about volunteering with Food Forward?
I love seeing the whole process, from fruit pick to drop off. It's such a great feeling picking the fruit, dropping it off at the hunger relief agency, and seeing how excited they are with every delivery and how fast they can give it away. It's backyard to table!
How would you describe the volunteer experience at a glean?
So much fun! I love the challenge of getting all the fruit and clearing the tree. I feel like the tree breathes a sigh of relief for taking the weight off and wants to thank you in the end. You're welcome, tree!
What was your first volunteer day like?
Eye-opening. My first pick was at the Huntington with Christine and I was shocked to see all that fruit with nowhere to go but fall to the ground! My brain tried to cook up schemes and plans to get all the fruit, but you can't and that's okay. We filled 14 boxes and I felt great! I was hooked and wanted to pick again!
What have you learned from volunteering?
I've learned so much since I started volunteering with Food Forward! I've seen so many parts of LA I never knew existed! I've met so many interesting people – homeowners, volunteers, agency workers – from all walks of life with so many stories to tell. I know so much more about citrus now! Every pick is different and it's a constant learning experience.
Is there a particularly powerful volunteering moment you'd like to share?
The Huntington pick is where I learned the valuable lesson that you can't save all the fruit. You do what you can in the time that you have and just make every minute count.
Any words of wisdom you live by?
It's not where you are, but who you're with that matters. Surround yourself with good people and you can do anything.