Kathy Turk is a star. She knows every farmer personally, is easy to work with, and always wears a radiant smile. Kathy has an incredible ability to look at the big picture to provide useful insight to each aspect of our collection operations. Her experience is invaluable to Food Forward. She spent 3 years gleaning for Food Pantry LAX at the Santa Monica Farmers Market every Sunday, before approaching the Farmers Market Recovery Program to join efforts. Kathy is exceptional in what she does.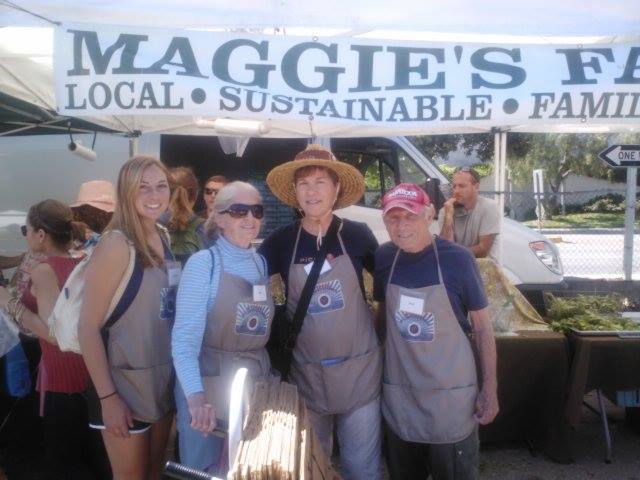 Here is Kathy's Food Forward story:
How did you get started with Food Forward?
Anne Burmeister introduced me to Food Forward and Mary Baldwin in July or August of 2012 just before the FMR program began. I had been gleaning at the Sunday Santa Monica Farmers' market since October 2010 and was so ready to team with someone for volunteer support and to build community. Our work together started in February 2013.
What else are you working on right now?
Other projects…hum. They happen in the moment. For instance, when I visit the Pantry on Tuesday mornings, I chat with the manager to see how the produce distribution is received by families. Sometimes they don't know what fennel or frisée is or how to use it and that's when tips and simple recipes are offered. I'm always concerned that food will go wasted when there is a lack of knowledge in how to work with it. Some clients of the Pantry do not cook but will happily open a can of something, so I suggest they toss in some fresh parsley or other simple herbs or greens. Our vendors generously donate boxes of fresh herbs and leafy greens which could easily stump individuals that are not used to such varied offerings.
What is your favorite Food Forward memory?
My favorite memory working with Food Forward was when a farmer sold the crooked Japanese cucumbers which he brought to market just for me. He thought nobody would buy them so was dumping them in the compost at the farm. He now sells straight and crooked cucumbers. In fact, some of his customers request the crooked ones!
Any wisdom to share?
Talk to the farmers and get to know them. They are really great people. And, once you get to know them, then the magic happens.