Welcome to Food Forward's Hot Seat!
Where we ask up to 10 rapid-fire questions to answer with only one word
(or as few words as possible).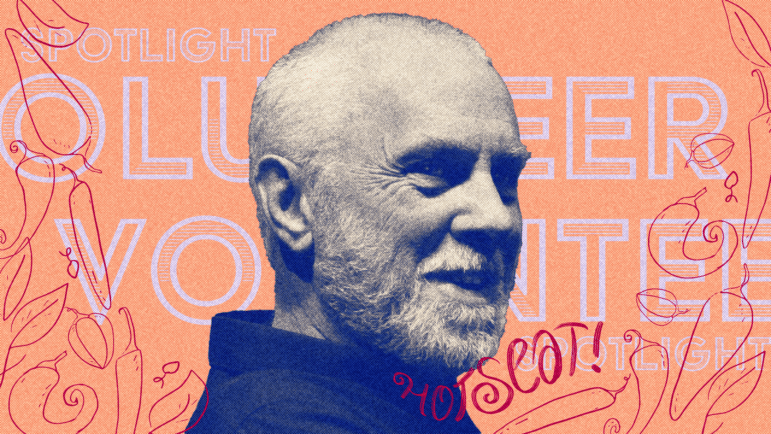 Before we get started, a little about David…
David has volunteered at the Santa Monica Farmers Market most Wednesdays for the last 7.5 years and wears many hats! In addition to being a third-generation American classical composer and conductor and an accomplished vocalist who has focused on classical composition since 1990, David is a Vietnam Conflict era veteran (United States Air Force), non-combat who pursued a multithread career in music while also working day jobs for 35 years as an information worker to support his art and his family. His outdoor ventures don't stop with gleaning; David is an avid hiker and mountain man with a love of redwoods.
In the words of Farmers Market Coordinator Aubrey Pacheco-Dul, "David is such a light at the gleans and does his best to help new gleaners feel welcomed and included, and it's clearly appreciated."
And now for the hot seat…if you don't have an answer to a question, you're welcome to skip it. Have fun!
Favorite season?
In LA, it's winter. In Oregon, where I'm from, it's spring; they're very similar!
If you were a type of produce, what would you be?
I wouldn't be a type of produce, I'd be a redwood.
What keeps you coming back to volunteer?
People
Fruit or vegetable?
Don't make me choose between my children.
Who inspires you at gleans?
When gleaning at the Santa Monica Farmers Market on Wednesdays, Ellen (volunteer) is really something when she comes. And Jeff (volunteer) is our rock.
Volunteering with friends, family, or solo?
Solo
Mornings or afternoons?
Mornings
The most interesting produce you have gleaned?
Buddha's hand
What's your favorite market to glean at?
Santa Monica. Torrence and Encino are fun too.