Reduce Waste, Share Abundance
Food waste - how to reduce waste.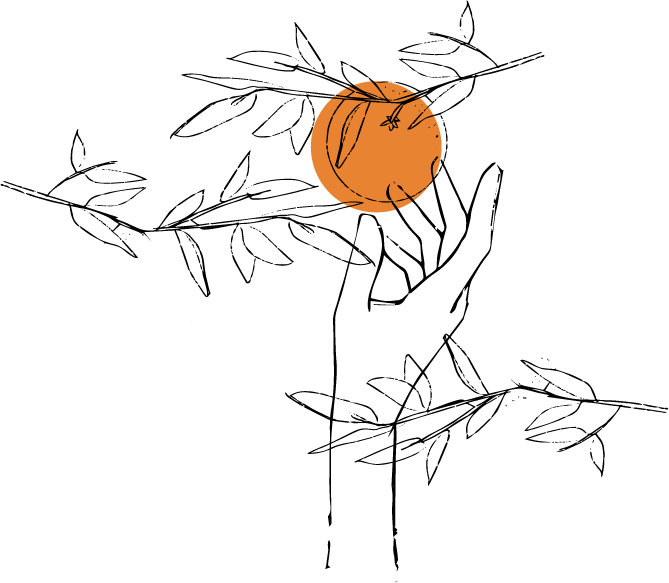 Reduce Waste, Share Abundance
Food Forward fights hunger and prevents food waste by rescuing fresh surplus produce, connecting this abundance with people experiencing food insecurity, and inspiring others to do the same. Our expert staff and community partners share simple steps you can take to reduce food waste at home.
Avoid produce waste/Proper produce care
Know how to properly store your fruits and vegetables for maximum shelf life.
Did you know that tomatoes are best stored at room temperature or that onions and potatoes should be stored separately from each other? Here are some fundamental rules to go by:
HERBS: First it's important to distinguish between hard and soft herbs. Hard herbs are herbs with woody stems, like rosemary, oregano, and thyme. Soft herbs are herbs with tender stems like parsley and cilantro. Store your hard herbs using the bouquet method (they can be placed in a glass of water) in the fridge. Wrap a damp paper towel around your cleaned soft herbs and store that in a plastic bag in the fridge. The best way to store loose basil is in the bouquet method on your counter, ideally not in direct sunlight.
GREENS: Store leafy greens cleaned and wrapped in a damp paper towel in a plastic bag in the fridge. Invest in a lettuce bag to further extend the freshness of leafy greens. Alternatively, if you have a salad spinner, store your cleaned leafy greens in your salad spinner in the fridge.
TOMATOES: Perfectly ripe tomatoes should be kept at room temperature on the counter away from sunlight. Make sure they're in a single layer, not touching one another, and stem side up. Consume within a couple of days. Overripe tomatoes that are soft to touch with very red flesh are best kept in the fridge.
BREAD: Keep your bread in a plastic bag on the counter for 3-4 days and then move it to the fridge to stave off mold. You can also freeze sliced bread. Double wrap your bread slices in plastic wrap and store them in a freezer bag. You can pull out the individual pieces and toast them as you like.
CHEESE: To help avoid mold when storing cheese, wrap your cheese in specialty cheese paper and store in the fridge. If you don't have specialty cheese paper, parchment and/ or wax paper will do. Loosely wrap your cheese with parchment or wax paper, which will protect it from drying out while keeping it exposed to the air and humidity it needs.
Pay attention to different stages of the produce life cycle.
Each fruit and vegetable has its own life cycle. Avocados, for example, can turn from under ripe to overripe in just a day or two, so it's best to monitor them, adding them to a meal or the fridge as soon as they ripen.
All three of our programs move with the ebbs and flows of seasonality and surplus, which can mean that sometimes, your kitchen will be overstocked with a certain fruit or vegetable. When this happens, remember that a single type of produce can be used in multiple meals, and cooked in different ways. For example citrus can be added to salads, breakfast bowls, or eaten as a snack, and cabbage can be prepared raw, cooked, or fermented.
Shop in season
The longer food takes to get to you, the less time it'll be fresh in your kitchen. Consider shopping at a local farmers market to get the most and best taste out of your produce.
Freeze wisely
Freezers are a quick and easy way to preserve fresh food, but frozen food doesn't last forever. Be sure to keep an inventory of what's in there and make plans to eat it. An easy way to keep track is to keep older additions in the front and newer ones in the back.
If you're freezing leftovers, freeze them in individual portions. You can wrap pretty much everything but soup in wax/freezer/parchment paper (which is compostable) and store all those little packages in one big freezer zip-top bag. Consider reusable bags or containers like Inka, Stasher, Pyrex and OXO! Don't forget to label them!
Store your extra fruits and vegetables so they don't spoil, but remember to plan your freezing in stages so that you don't end up with a solid block of frozen veggies. Instead, spread smaller items such as chopped veggies, beans, and berries on a cooking tray while freezing. Once they are frozen, transfer them to a container to store in your freezer.
Some things you don't need to pack. That's right, certain fruits and vegetables can be stored directly in the freezer. These include tomatoes, bananas, peaches, and certain roots like ginger and turmeric.
Invest in many ice cube trays. Squeeze your lemons, limes, and oranges before they spoil and freeze them in ice cube form. This works for milk, non-dairy creamer, wine to use for cooking, and herbs (with a little olive oil to make it solid) too! You can even freeze pureed avocado with a touch of lemon and use it directly in your smoothies.
Keep your food scraps. Save veggie scraps and trimmings in a "broth bag" in the freezer. They're great for creating a flavorful stock to use in soups, sauces, and grains. Similarly, you can save chicken and meat bones and use them to make a bone broth. Freeze extra stock in containers.
Save your coffee grounds in the freezer. For a great body scrub, combine 2 tablespoons of coconut oil with a half cup of coffee grounds until they are completely mixed with oil.
Food preservation for the long haul
While canning, jam making, fermenting, and dehydrating can feel intimidating, they can be a fun hobby and way to get the most out of a surplus crop. There are thousands of places to start with these, so let your creativity and curiosity lead the way, keeping food safety in mind.
Be mindful with your purchases
Ask yourself, will you or anyone around you really eat this? If you find yourself never eating something, stop buying it. Your planet will thank you in the long run.
Ease into composting
The idea of composting can sometimes be a bit overwhelming. You don't need some fancy machine to start making a difference. We suggest you begin with some research to see if backyard composting or community composting is best for you. And with the expansion of municipal waste composting systems, keep an eye out from your waste management provider for updated information on the services they provide.
One way to make composting a little easier is to store food scraps in your freezer rather than in a pail on your countertop, that'll keep the fruit flies at bay without you needing to empty it out daily.
Animals are also your food waste best friend
We encourage you to consult your veterinarian before feeding pets any new foods. But if you do have leftovers that match with the diet of your dogs, chickens, pigs, or goats, they can be a great resource to help you out with leftovers.
Plan your meals
Meal planning is a really effective way to limit the amount of groceries you are purchasing, thus limiting possible food waste while benefiting your wallet. A good tool to help with meal planning, prepping, and subbing is the NRDC's Meal Prep Mate. Once you've meal-planned for the week, it's time to create your shopping lists.
StopFoodWaste.org states: "Reducing food waste starts with smart shopping." Smart shopping begins with these 6 steps:
When creating your shopping list, be realistic with the number of meals you'll make at home in between your next shopping trip. Be sure to take into account dining out and take-out meals that are planned.
Take inventory of your pantry and cupboards before heading to the store. Include quantities on your shopping list to help avoid over-buying. Avoid promotions that encourage you to buy more than what you need, especially for food items that will go bad quickly.
Buy fresh ingredients in smaller quantities more often, which gives you fresher ingredients without the waste.
Choose loose fruits and vegetables over the prepackaged ones so that you can control the amount you buy. Plus, you reduce the amount of packaging you will throw away.
With those 6 steps in mind, it's time to create your own shopping list.
Leftovers are not only for the holidays
Sandwiches and soup made with holiday leftovers may be a classic, and there are also delicious ways you can transform leftovers in your everyday routine.
Tap into the 4 S's: Soup, Salad, Stir-Fry, and Saute. You don't have to be a world class chef to get creative.
Every few days, go through each shelf in the refrigerator and search for food that is nearing its end— leftovers, opened packages of processed meats, half-used heads of lettuce, rogue apples that are rolling loose, opened bags of shredded cheese—then find a way to incorporate them into scrambled eggs, fried rice, pasta, etc.
Instead of salt, leftover liquid in the jar from kalamata or castelvetrano olives can be added to salad dressings, soups, stews, braising liquids, risotto, and homemade pasta sauces.
Save and reuse leftovers for breakfast. Rice, beans, eggs, and veggies can be combined into some tasty creations.
Start with one tree
Food Forward started by picking one fruit from one tree. Consider planting your first tree to take steps to begin growing your own food. Learn more about fruit tree planting and care from our friends at Fruitstitute.

Food waste is an issue to address in our individual kitchens, and on a larger scale. Join us in our food recovery efforts in backyards, at farmers markets, and on the wholesale level.
References