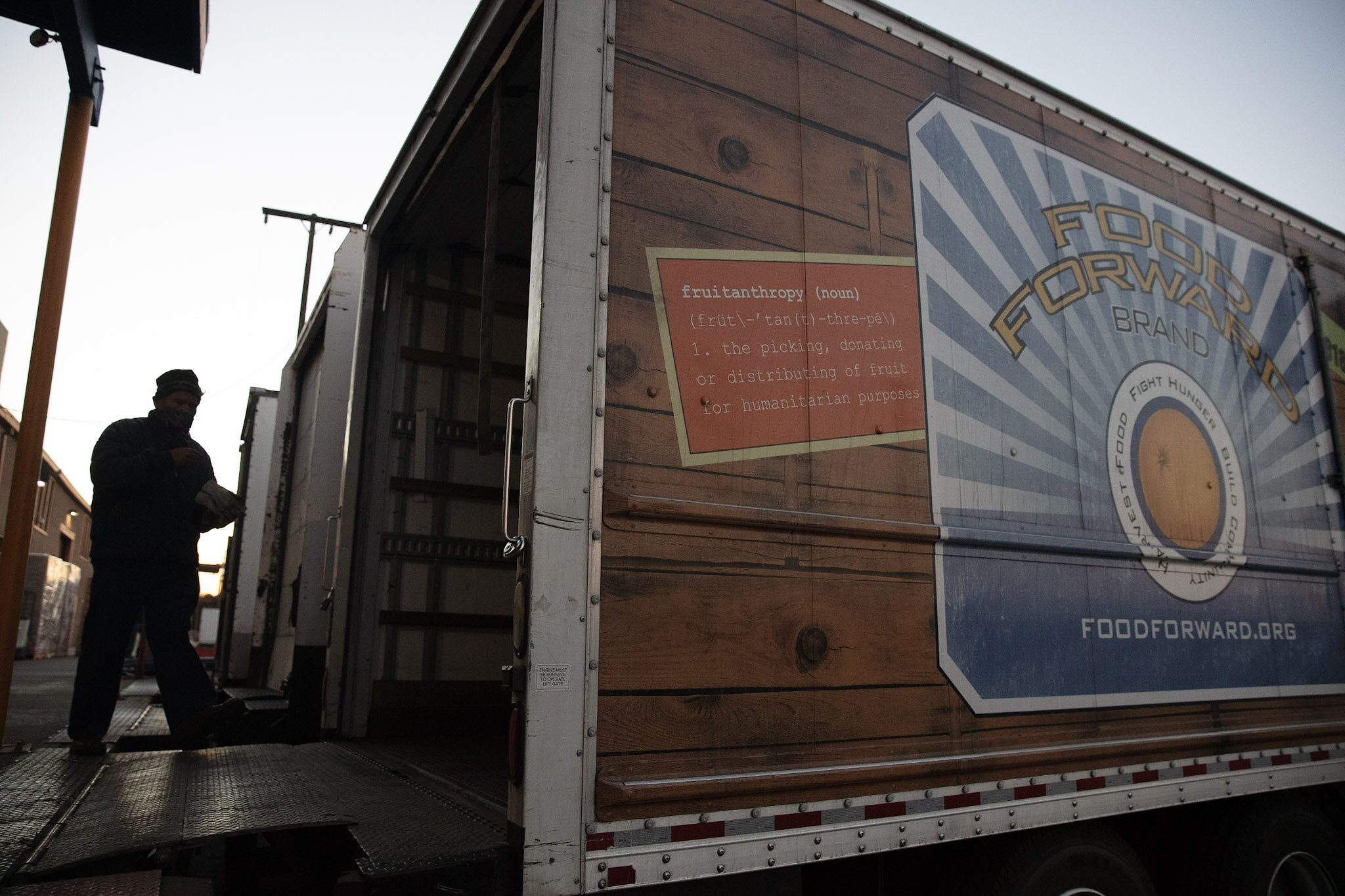 Last updated 8.5.22
Introduction
Food Forward is a 501(c)(3) nonprofit organization based in California, USA. This Privacy Notice explains how we collect, process, keep, and use personal data. This notice applies to all website visitors, sign-up form users, participants in our programs, event attendees, newsletter subscribers, financial donors, and everyone who otherwise engages with Food Forward.
We use "personal data" to refer to information that allows us to identify you, directly or indirectly. It includes information such as name, phone, email, address, and more, as well as the history of your relationship and engagement with Food Forward.
This Privacy Notice will be updated as our policies and use regarding personal data change over time and at our discretion. Third-party vendors and service providers identified herein may change from time to time without advance notice. For questions about our data privacy notice or use, please contact [email protected].
How We Collect Personal Data
Visiting Our Website
We use pixels, or tracking codes, offered by Google and Facebook to track visits to and activity on our website. When you visit our site, these pixels may give us information about your device, internet service provider, network, and your activity on our site. They also add a "cookie" to your internet browser that allows us to remember your device if you return to our site.
If you would prefer not to have this information tracked, you can clear cookies from your internet browser, install a cookie blocker on your browser, or use various other tools that prevent web tracking. For more information about cookies, visit https://www.allaboutcookies.org/.
Signing Up to Volunteer
When you sign up to volunteer, we collect personal information including your name, email, phone, zip code, and for volunteers under 18 years old, your date of birth. We also keep track of your volunteer history and participation in our various events and programs.
If you apply to a volunteer leadership position, you may be required to submit additional information, and may be asked to submit to a background check through our provider, Backgroundchecks.Com. All volunteer screening is compliant with federal and state law, and the results are used only for purposes of volunteer candidate screening.
Donating Food
We also collect personal data from business owners and employees, and from property owners, residents, and managers, related to donations of fruit or produce. This may include personal contact information, address and location, photos, and more information about your business, property, or, in the case of Backyard Harvests taking place at private properties, your residence.
Signing Up for our Email Newsletters
When signing up for one or more Food Forward email newsletters, we will ask you to share your first and last name, email address, and zip code. You may opt to share additional personal information as well. We currently use Mailchimp to keep track of which lists you subscribe to, what emails we send you, and your engagement with those emails (e.g. when you open one of our emails).
Making a Donation
When you make a donation, we save your name, contact information, donation history, and any other information you choose to share with us.
If you make a donation online on our website, we use the platform Classy to process your donation information. Food Forward does NOT at any point receive, see, or save information about your credit card or bank account.
Online Purchase
When Food Forward's implements online purchases we use WooCommerce to process online store purchases and Click Bid to process purchases on our online auctions. We do NOT at any point receive, see, or save information about your credit card or bank account. We receive and save limited personal information from these transactions, including your name, contact information, and purchase history.
In-Person Purchases
We use Square to process purchases made in person at Food Forward events. Food Forward does NOT at any point receive, see, or save information about your credit card or bank account. We may receive and save limited personal information from these transactions, including your name, contact information, and purchase history.
Contacting Staff
Food Forward may keep track of your communication with its staff, volunteers, and other agents. We will never record a phone or video conversation without first notifying you and receiving your express permission, but we do keep records of email, written, and SMS exchanges.
Attending an Event
You might be asked or required to submit personal data (including name and contact information) before, during, or after attending a Food Forward event. We may also use external platforms such as Classy and Eventbrite to process this information.
Public Sources
In order to make our communications with supporters more relevant, Food Forward may search for and collect additional personal data from public websites and other public sources.
Miscellaneous
While the above describe all of the most common ways that Food Forward collects personal data, we may request additional personal information from you through other means. Please know that if you opt to share information with us, it may be included in the personal data that we keep.
Please feel free to contact us if you ever have questions about how we collect personal data. You can reach us at [email protected].
How We Use Your Personal Data
Food Forward has four general areas for use of your personal data.
1–We will use your personal data for any necessary actions regarding the activity, engagement, or event in which you have chosen to participate. For example, we may contact you with reminders, notifications, and follow-up communications about an event you register for. Alternatively, we may use your contact information to fulfill a request, to request additional information, or to send you further information.
2–Food Forward also uses personal data to keep track of individuals who support us (in so many different ways) and the different activities and opportunities that they participate in. We use our records to give us a clearer picture of how individuals choose to be involved in our organization, and we may combine personal data that we gather from different sources (as described in this privacy notice).
3–Food Forward may use personal data to contact you about future activities or opportunities to connect with Food Forward that we think you might be interested in, or that are similar to activities you have participated in in the past. For example, we may use personal data to contact you regarding fundraising campaigns, volunteer events, or other engagement opportunities.
4–Finally, Food Forward uses anonymized, aggregated personal data for organizational reporting purposes. Examples of this use include, but are not limited to: the number of unique volunteers participating in our programs; the average number of events that volunteers attend; the number of subscribers to our email lists; and the number of new vs. returning financial donors.
We use this to help our organization grow and improve, and while we may share this information with our supporters, funders, partners, and participants, none of the reports or information we share in our reports include individual personal data or personal data that would allow someone to identify you as an individual.
When We Share Your Personal Data
Food Forward will never sell your personal data to other organizations or companies, nor will we purchase your personal data from other organizations or companies. We will not share your personal data with any organizations or companies, except as necessary for the following:
We may share limited personal information that you have elected to give us with companies that help us to communicate with you: Mailchimp, Google, Twilio and Facebook. In these cases, we share only as much information as is necessary to communicate with you.
We may share limited personal information that you have elected to give us with partner organizations who put you in touch with us in the first place. For example, if you first connected with a Food Forward volunteer event through another volunteer organization (or online volunteer platform such as L.A. Works), we may confirm your participation with that organization.
Finally, we may share personal information if obligated to do so by lawful subpoena or lawful government agency order.
How We Secure & Store Your Data
We store and process personal data in cloud-based platforms through our primary Data Processors: Google, Salesforce, and Heroku. These companies are industry-leading technology providers and obliged to provide high standards of protection and security to the data that we share with them. Food Forward retains ownership of this personal data at all points, and these companies cannot use this data to contact you.
We also store limited personal data on secured staff computers and cloud-based backup servers offered by providers with a demonstrated track record in cloud security.
Contact
If you have questions about this policy notice, or questions about how we collect and use your personal data, please contact our team at [email protected]. We appreciate your support, your interest in our work, and we'd love to hear from you!