It's been over six months since the Produce Pit Stop, our first-ever warehouse space, opened. The Produce Pit Stop is located in Bell, CA, and provides refrigeration, dry storage space, dedicated workspaces, and a centralized hub to our Wholesale Recovery Program. To illustrate its impact, we recently brought a photographer, Jack Sutton, to capture a typical morning at the Pit Stop.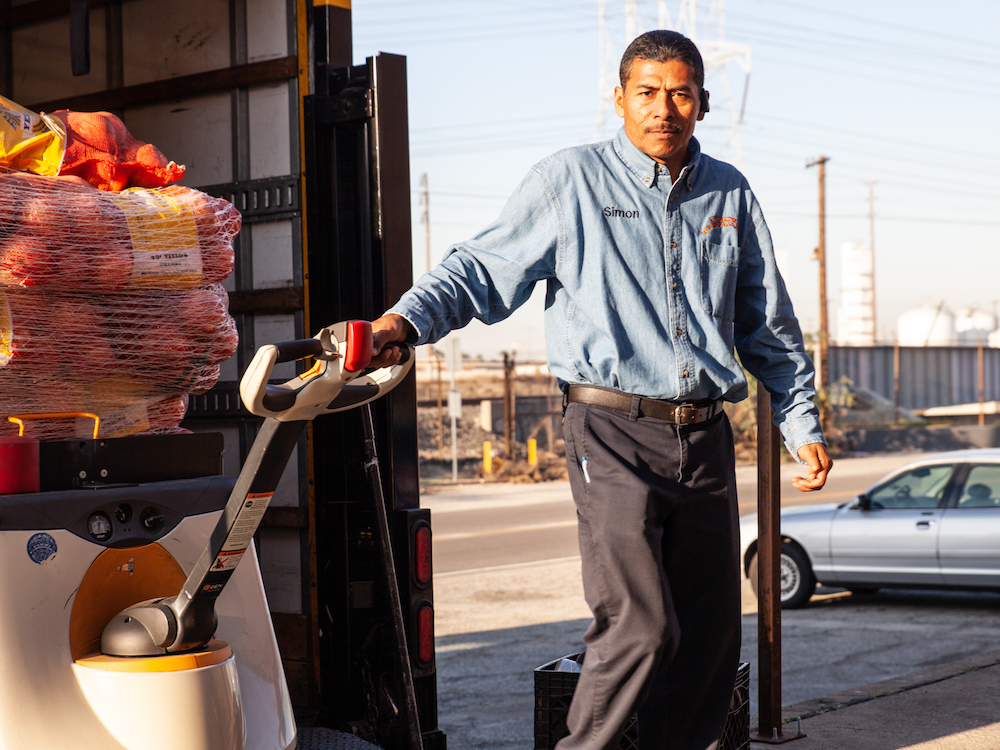 Wholesale Recovery Driver Simon Bergara unloads a pallet of yellow onions. 
One after another, five hunger relief agencies pull up to the Produce Pit Stop in Bell, CA, and load their trucks with watermelons, brussels sprouts, tomatoes, and more. Among them are Faro de Luz, a church in Huntington Park, and World Harvest, a Mid-City food bank. Pallet jacks and forklifts move produce in and out of the warehouse, as Daniel, our Warehouse Supervisor, engineers which fruits and vegetables are going to which agencies.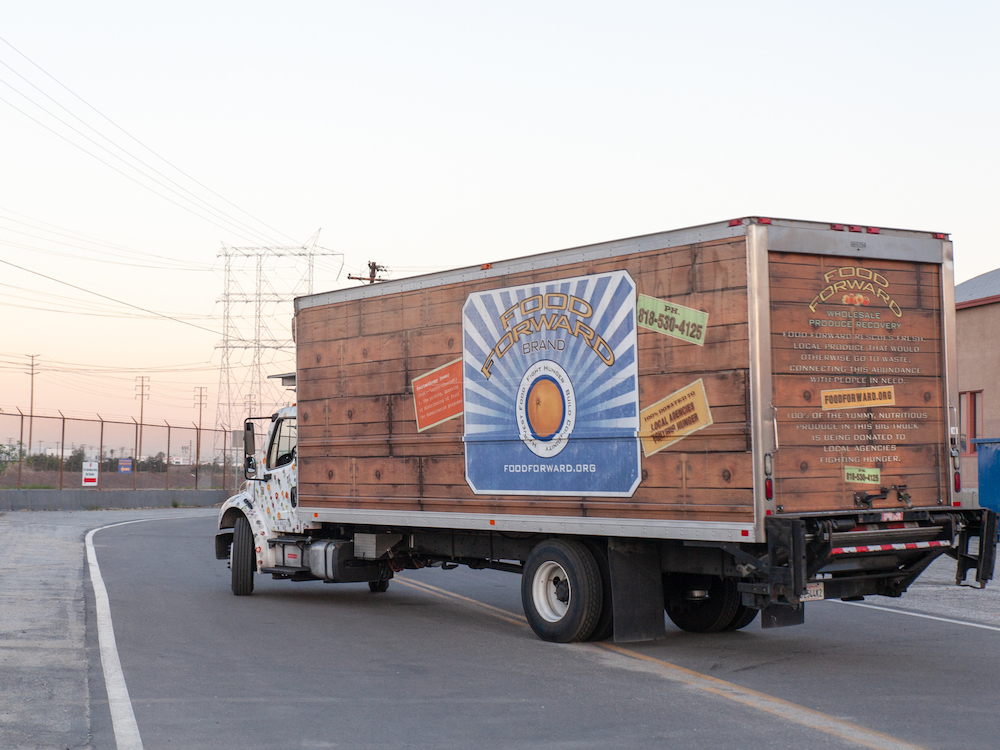 A Food Forward truck, full of recovered fruits and vegetables, backs into the loading bay at the Produce Pit Stop. 
Starting at 4 am, Food Forward's trucks leave for the Wholesale Produce District to collect donations of surplus fruits and vegetables from wholesalers. By 10 am, they have picked up several truckloads and agencies are beginning to arrive. Over several hours, the warehouse was quite literally filled with produce for our partner agencies to pick up and take back to their communities. There are a lot of moving pieces to keep track of, and the pallets are moving in and out very quickly, with very little downtime. Throughout the entire morning, the Wholesale team remains a well-organized, efficient unit.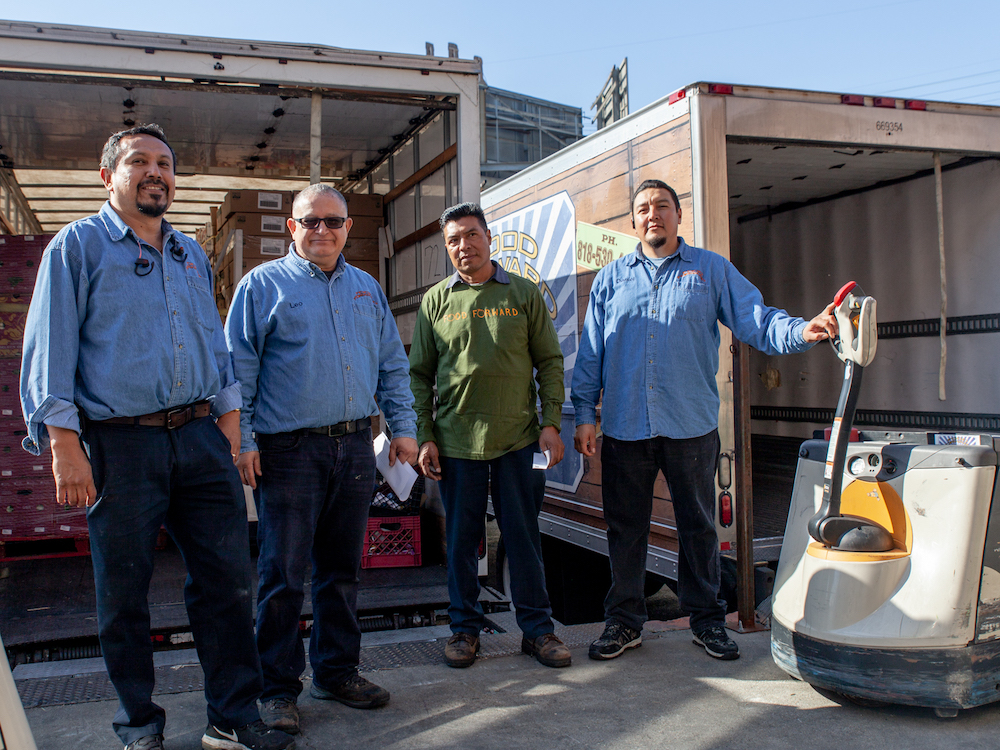 Members of the Wholesale Recovery team pose in front of Food Forward trucks. From left: Wholesale Recovery Program Driver Merced Giles Bonfil, Wholesale Recovery Program Supervisor Leo Paz, Wholesale Recovery Program Driver Antonio Velasquez, Wholesale Recovery Warehouse Supervisor Daniel Gallegos. 
Leo Paz, Wholesale Recovery Supervisor, and Daniel Gallegos, Wholesale Recovery Warehouse Supervisor, say that the Produce Pit Stop has "completely changed how we work. Before the Pit Stop, we had to convince an agency to take, say, six pallets of the same variety [before we could accept the donation]. Now, we can accept twenty pallets of produce and know that it will have a home, without having to figure out [the details] beforehand."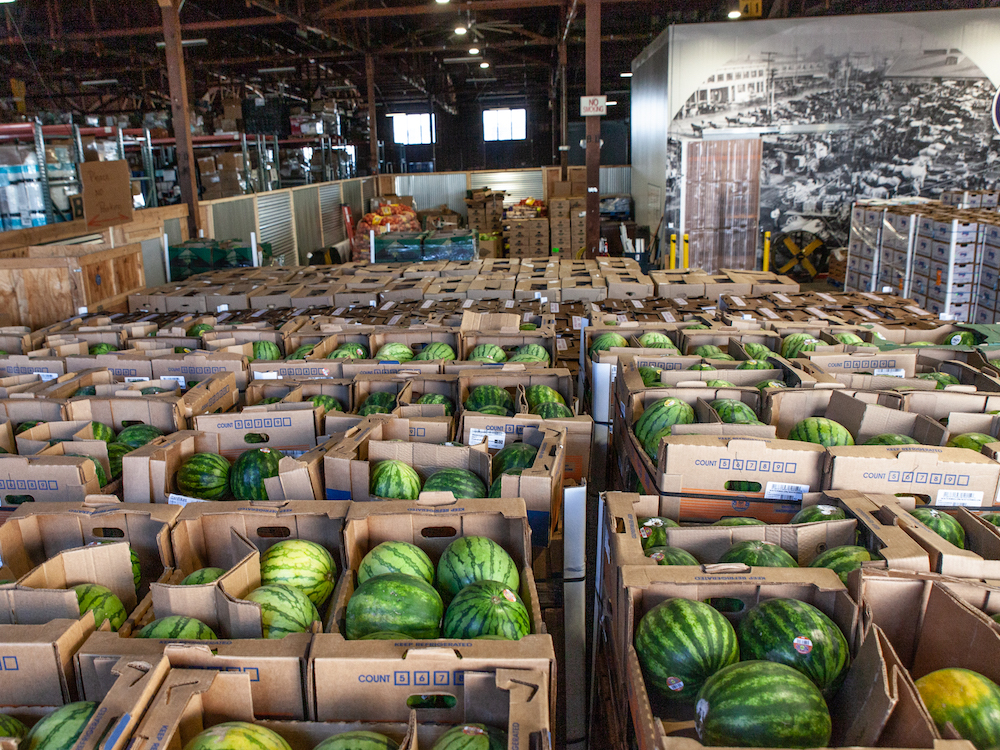 Pallets of watermelon and other fruits and vegetables fill the dry storage space of the Produce Pit Stop.
The Produce Pit Stop can hold over 225,000 pounds of fruits and vegetables, and has greatly increased our capacity for produce recovery. In its first six months of operations, over 15 million pounds of produce touched down at the Produce Pit Stop! The Pit Stop also makes it possible for us to create "mixed loads" of different varieties of fruits and vegetables, increasing the diversity of fruits and vegetables our partner agencies receive. We are so excited to share how impactful the Pit Stop has been so far, and we look forward to seeing how this new warehouse will continue to support our efforts to prevent food waste and provide free fruits and vegetables to local hunger relief agencies.
All photos by Jack Sutton.