When Food Forward began zesting Ventura County through the fortitude and passion of an award-winning Super Volunteer who became our first Ventura County Branch Manager, Martha Penhall, we began looking for a receiving agency to take the growing fruits of our labors and ensure they were passed along to people in the county with the greatest need.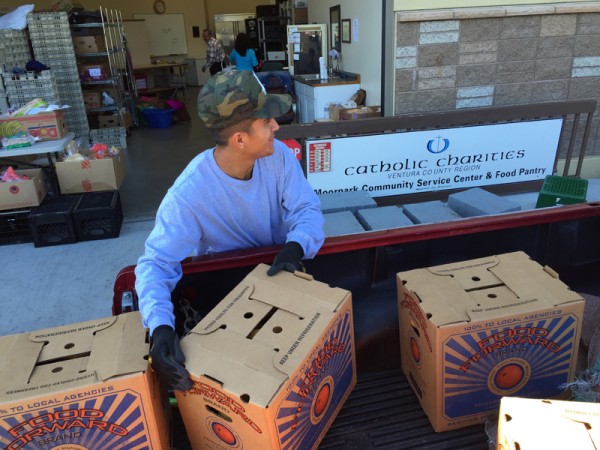 Grapefruit harvested fresh from the tree by Food Forward volunteers is unloaded at the Catholic Charities loading dock
Catholic Charities' mission to provide basic services and food to their clients made them a perfect partner, particularly because one population they serve resonated strongly with us: the region's often isolated farm workers. This is a community that faces a cruel irony of laboring to help feed urban communities and yet often cannot afford to buy the same fruits and vegetables they harvest due to their incredibly low wages.
We wanted to help and, thus, Martha forged a relationship with Patricia Calderon, Coordinator of Catholic Charities in Moorpark, which is a community that bridges the agricultural and suburban belts of southeastern Ventura County. At that time, they worked out of a couple of trailers but they managed to store and, even at times, pick up the food we harvested to distribute it in a timely manner to folks of all stripes. The staff at Catholic Charities was so enthusiastic about our work that they even hosted Pick Leader trainings for our Backyard Harvest Program during off hours.
Though the economy has improved slightly in the last couple of years, more than 10% of Ventura County's population is food insecure and many of those people work in the ranks of the agriculture and service industries.
Jim Mangis, Food Forward's current Ventura County Manager, points to Catholic Charities as a cornerstone organization in the community, "[They] have been a positive lifeline for local Moorpark families for decades. Food Forward loves delivering fresh citrus, avocados and veggies to them, knowing that it will go quickly and cheerfully to those who need it most. "
Catholic Charities has since moved to a beautiful new facility that allows them to serve many more people then ever before and, so, their need for fresh produce has only increased.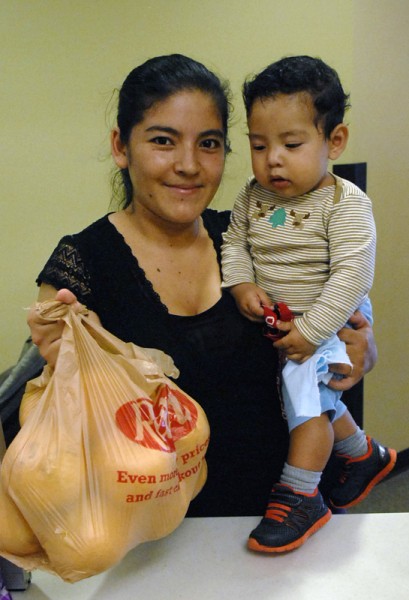 Maria receives fresh produce for herself and her family, relying on this food as the only consistent source of fresh produce she has.
According to Calderon, "The fruit provided by Food Forward over the last few years has enabled Catholic Charities/Moorpark Pantry Plus to supplement the quality and quantity of the food distributed to over 500 households with 2000 individuals every month."
The day we visited, we met unemployed domestic workers, families with children and retired individuals struggling to make ends meet. They were each treated to full bags of grapefruit, which Food Forward volunteers had harvested 15 minutes earlier and were still warm from the sun.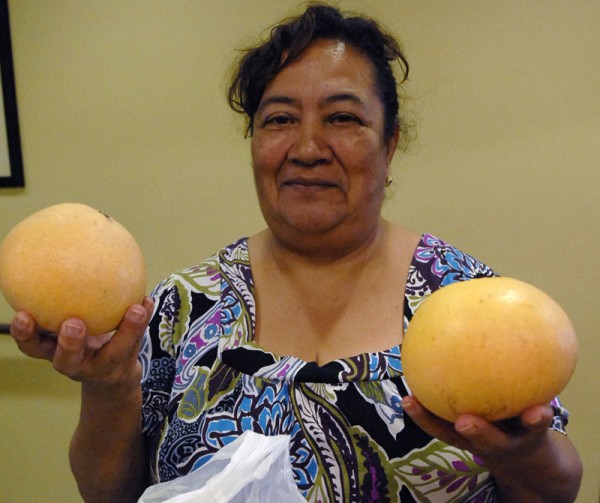 Teresa of Moorpark, who is retired and visits Catholic Charities regularly, supplements meals for herself and her husband with Food Forward produce. She enjoys making juice from the fresh fruit Food Forward supplies because "it helps us get through the week in a healthy way."
Patricia Calderon, the Program Coordinator who oversees the staff and pantry operations tells us, "We enjoy along working with Food Forward very much. Your mission aligns with the work we do every day: To rescue and provide food for people in need. Our professional relationship has been pleasant and productive. It is my pleasure to work with your crew and keep them motivated… to make a difference in our community providing fresh fruits to the people with great need."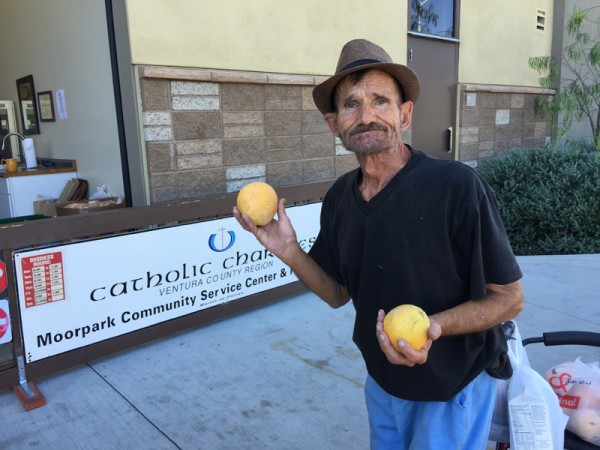 Dannie is a disabled punch press operator who walks 2 miles from his home to Catholic Charities each week to receive both fresh produce and an allotment of dry goods.