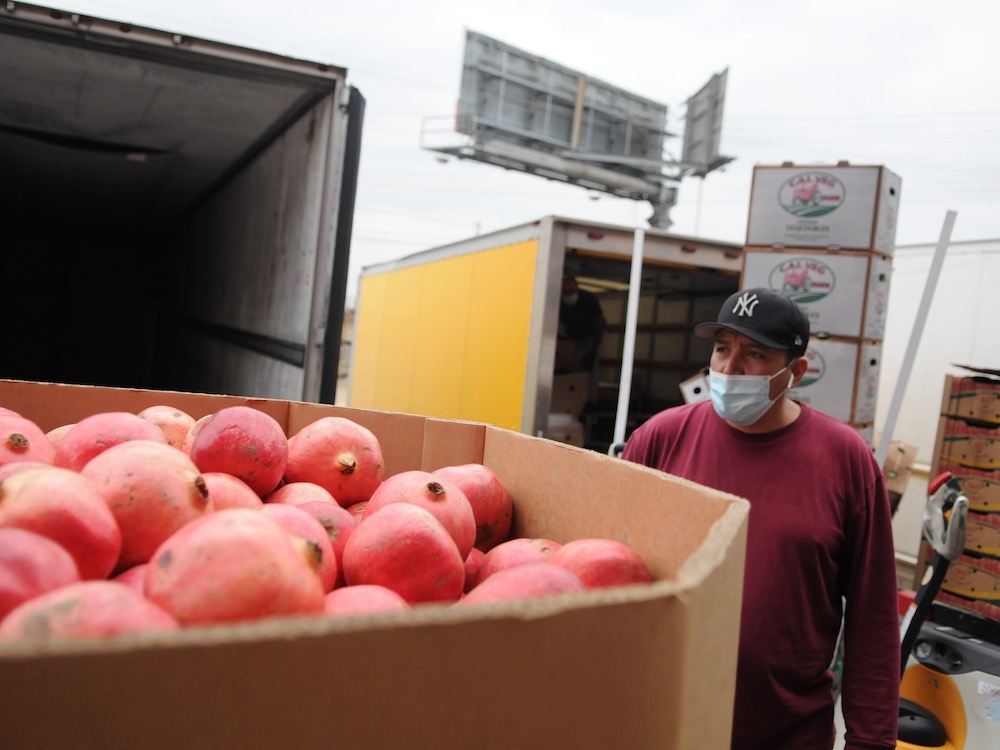 When the Sikh Center of Orange County (SCOC) saw the impact that COVID-19 was having on the families around their temple, they felt it was their duty to act. They believe that access to healthy food is important, particularly fresh fruits and vegetables, and saw that their community was experiencing more food insecurity due to the pandemic and economic downturn. Expanding on the Sikh principles of Seva (selfless service) and Langar (free kitchen), they opened a mobile pantry and started weekly drive-through food distributions at their temple in Santa Ana.
Saanand and his partner Bandana Singh co-lead the Saturday drive-thru and coordinate pickups from our warehouse.
In September, SCOC reached out to Food Forward, hoping to provide supplemental nutritious produce to their community members. Ever since, they have been making weekly Friday pickups of fresh fruits and vegetables from Food Forward's Pit Stop. Saanand Singh helps run the pantry and works closely with Luis, Senior Manager of Food Forward's Wholesale Recovery Program, to make sure SCOC is able to get a variety of produce to the families they serve as often as possible. He remarked on the quality of produce they received, saying "It was fantastic—we got to sort through it last night, it was all really, really good stuff!"
With the free fruits and vegetables they receive from Food Forward, SCOC assembles food boxes to give out at their drive-through distributions at the temple. Every Saturday, they serve about 900 families an assortment of pre-packed ingredients for an estimated week's worth of meals. These services have been an invaluable resource to families in Orange County and are open to everyone, regardless of belief. The mobile pantry alone serves about 1,300 participants a week, and recently, SCOC Food Pantry served its one-millionth meal!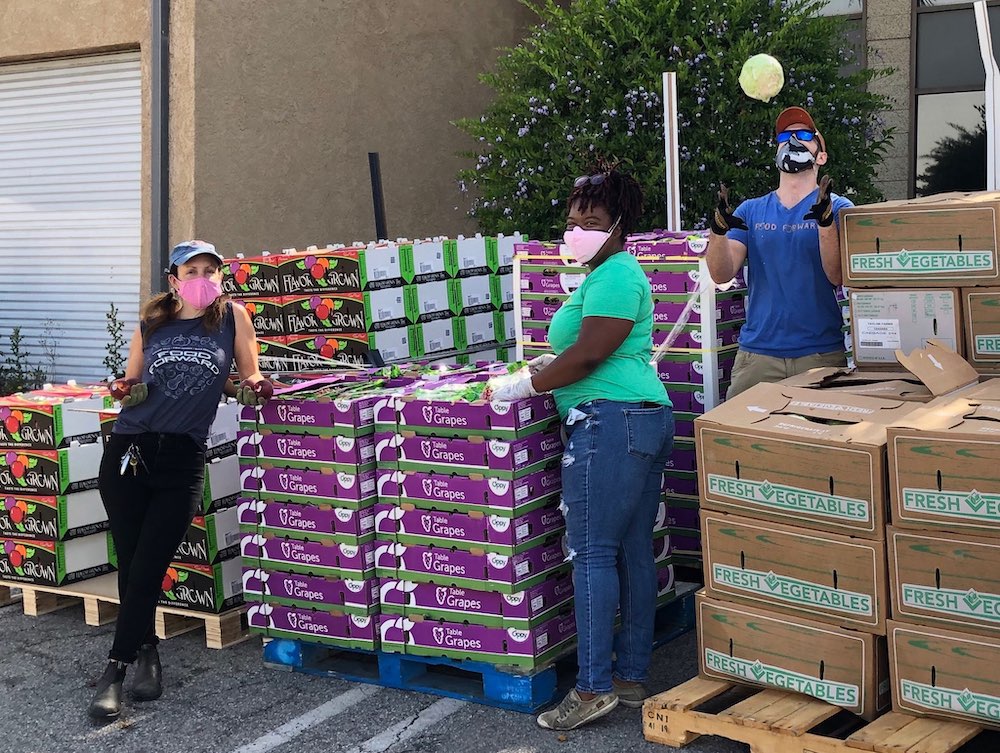 Agency Relations Team members Michele Chase, LaNeisha Hodo, and Pearson King connected SCOC with fresh produce from Food Forward's Wholesale Recovery Program.
Saanand and Bandana shared their gratitude for our Wholesale Produce Recovery team and Agency Relations Team—specifically Luis Yepiz, Michele Chase, and LaNeisha Hodo, for helping coordinate their donations. Equally grateful to the Sikh Center are the families who come to receive a full box of food from this wonderful organization. Saanand says: "Everyone who's coming through today is going to be very appreciative. We were able to make about 800 boxes with all the [produce] that you gave us."
We hope you enjoyed learning about the Sikh Center of Orange County and their work to distribute fresh fruits and vegetables to the Santa Ana community!