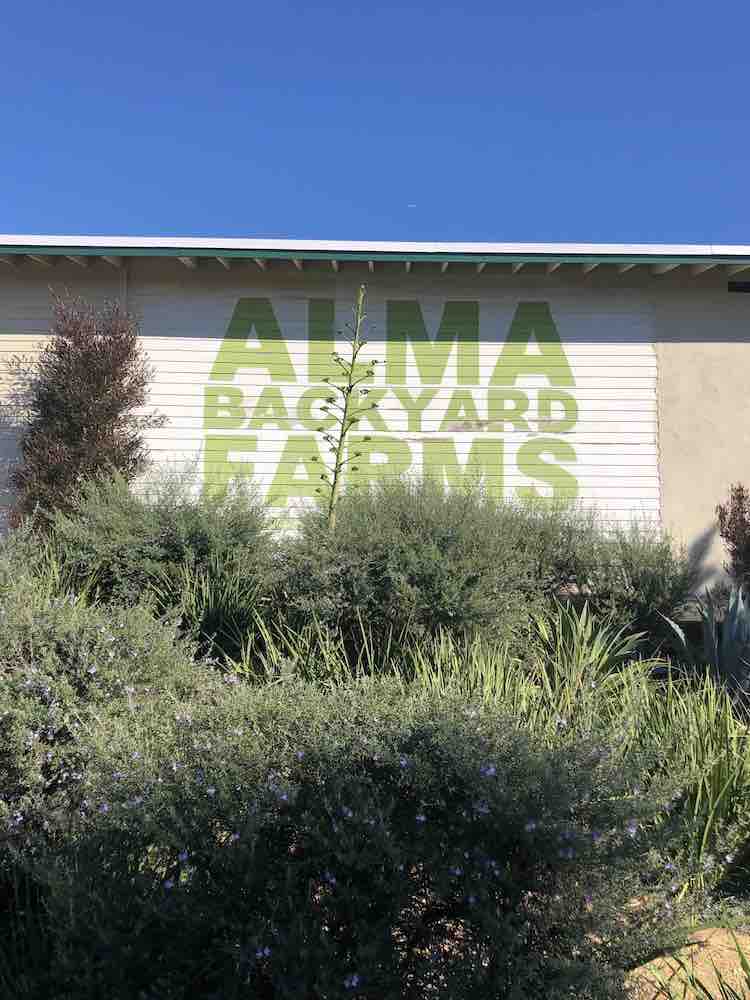 A native pollinator garden and bright sign welcome you to Alma Backyard Farms, January 2020.
There are some partnerships where all the puzzle pieces just seem to fit together perfectly. Such is the case with Alma Backyard Farms and the Anti-Recidivism Coalition (ARC). While our relationships with each organization look different, they are connected by a shared vision for what food justice and community engagement look like.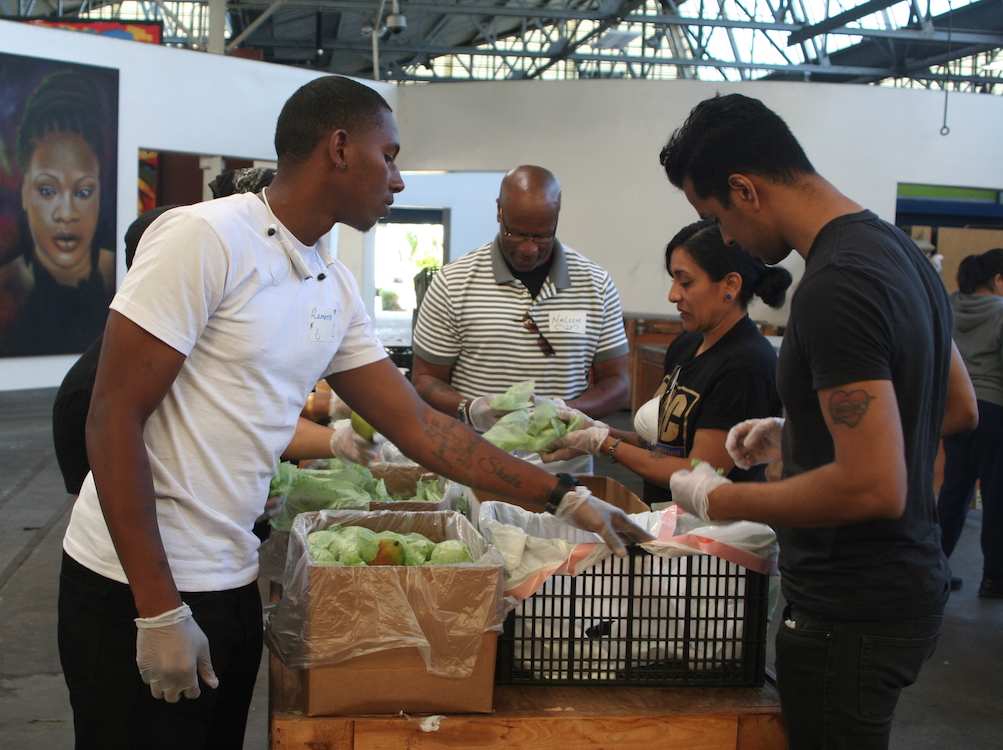 ARC members sort lettuce at the Mudtown Farmers Market in Watts, April 2019. 
The Mudtown Farmers Market, our bi-weekly Produce Pick-Up in Watts in collaboration with WLCAC, was the catalyst for our partnership with Alma Backyard Farms. In early 2019, ARC volunteered with Food Forward at our Watts Produce Pick-Up. The Anti-Recidivism Coalition empowers formerly and currently incarcerated people to thrive by providing a support network, comprehensive services, and opportunities to advocate for policy change. It wasn't long until they were regulars at Watts, bringing a group of volunteers about once a month to help sort through thousands of pounds of produce for a free community distribution. We were always excited to have ARC volunteers—our staff came to know their group as dependable, hard working, and friendly. Not only were we grateful to have their help, but we were glad to support their organization by providing meaningful volunteer experiences for their members.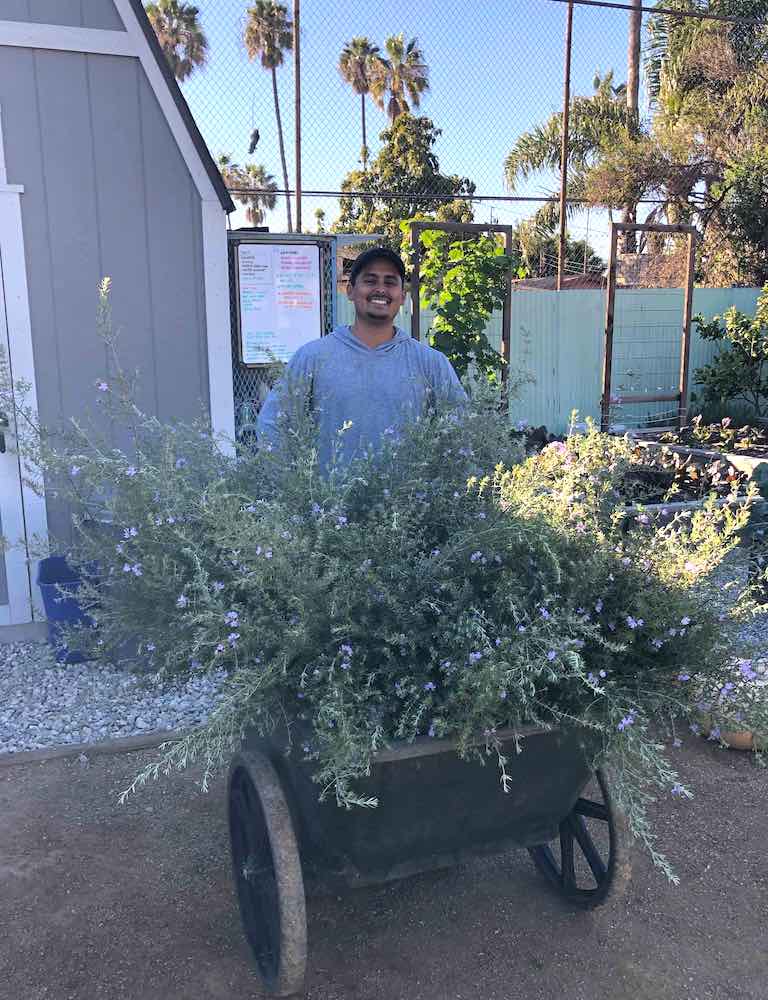 A wheelbarrow full of lavender harvested at Alma Backyard Farms, January 2020.
Beyond ARC members' dedication to making fresh produce accessible at our Watts Produce Pick-Up event, they also helped us become more sustainable. ARC introduced us to Alma Backyard Farms, which "exists to re-claim lives of formerly incarcerated people, re-purpose urban land into productive urban farm plots, and re-imagine disenfranchised communities in Los Angeles as a hub for transformation." Alma Farms is now our composting partner for the Watts Produce Pick-Ups. Any produce that is not fit to eat gets picked up by Alma and composted on site at their farm in South LA. Their partnership makes it possible for this event to have absolutely zero food waste! Alma Backyard Farms grows food for their community, and recently became a Food Forward partner agency to supplement what they grow. Since the COVID-19 outbreak, they have been creating free grocery bags for the community, complete with fresh greens from their farm, Food Forward's recovered produce, prepared foods from local chefs, and freshly baked bread. Every other weekend Alma conducts a safe curbside pick-up and gives away 200 of these bags.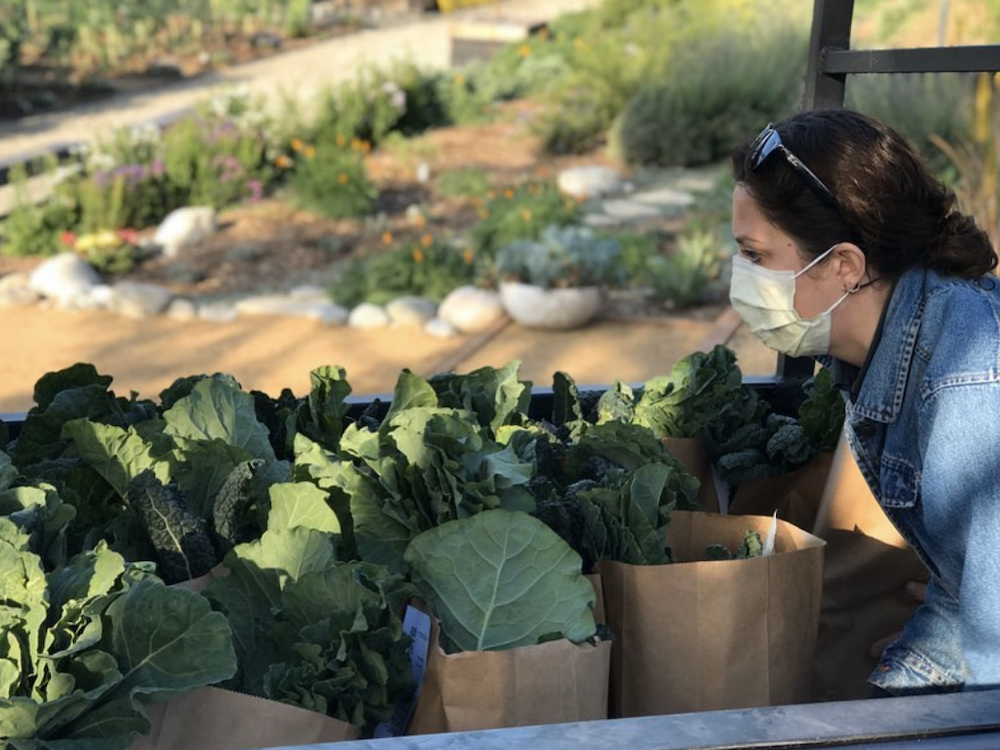 For several weekends since the COVID-19 outbreaks, Alma has created 200 bags filled with fresh fruits and vegetables, bread, and prepared foods. Photo from Alma Backyard Farms.
In January, Food Forward staff members Michele Chase and Joe Bobman had the pleasure of spending a day at Alma Backyard Farms with ARC. Alma Backyard Farms is located near Compton, where co-founders Erika Cuellar and Richard Garcia have been developing the farm and its programming for the past three years. Erika and Richard transformed a half-acre vacant lot into fertile farmland, complete with irrigated fields and raised beds, a chicken coop, compost, and a native pollinator plant garden. Activities at the farm include a weekly farm stand, cooking classes for adults and children alike, meditation, and volunteer service. At the core of their mission is Alma's urban agriculture job training program, which teaches formerly incarcerated men and women urban farming techniques.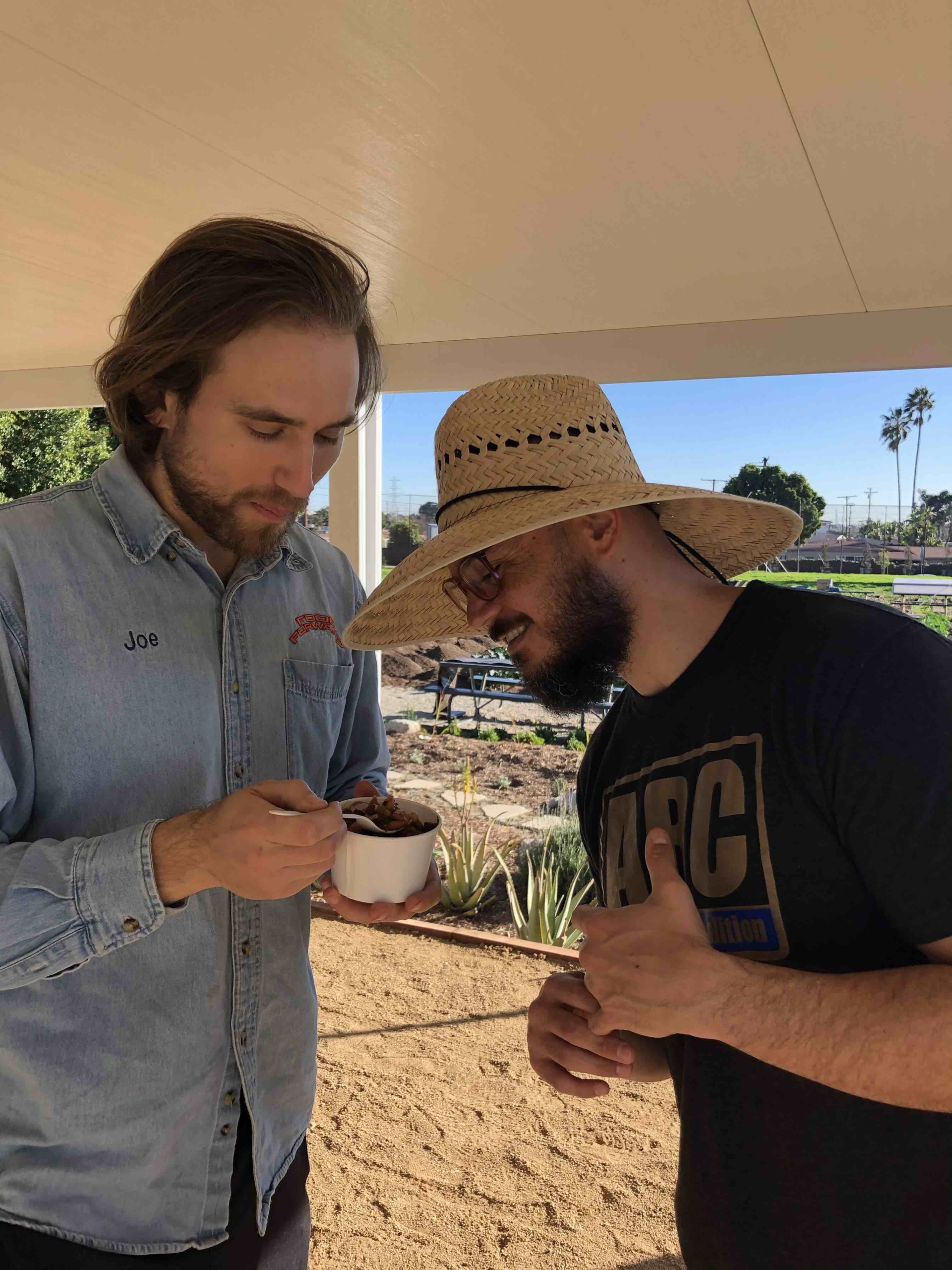 Food Forward's Technology & Engagement Manager Joe Bobman and ARC Life Coach Jarret Keith sample the vegetarian chili they helped make, January 2020. 
During the visit, we helped turn soil in the compost pile and for a soon-to-be soccer field. We also prepared ingredients for resident chef Mia Aguilar's vegetarian chili using vegetables grown on site. According to Food Forward's Agency Relations Field Coordinator, Michele Chase: "I can see how regular visits to this urban farm would provide a real opportunity to practice these skills in a safe and dignified environment." Beyond building skills, Alma knows that being at the farm and growing food has a transformative impact on people's lives.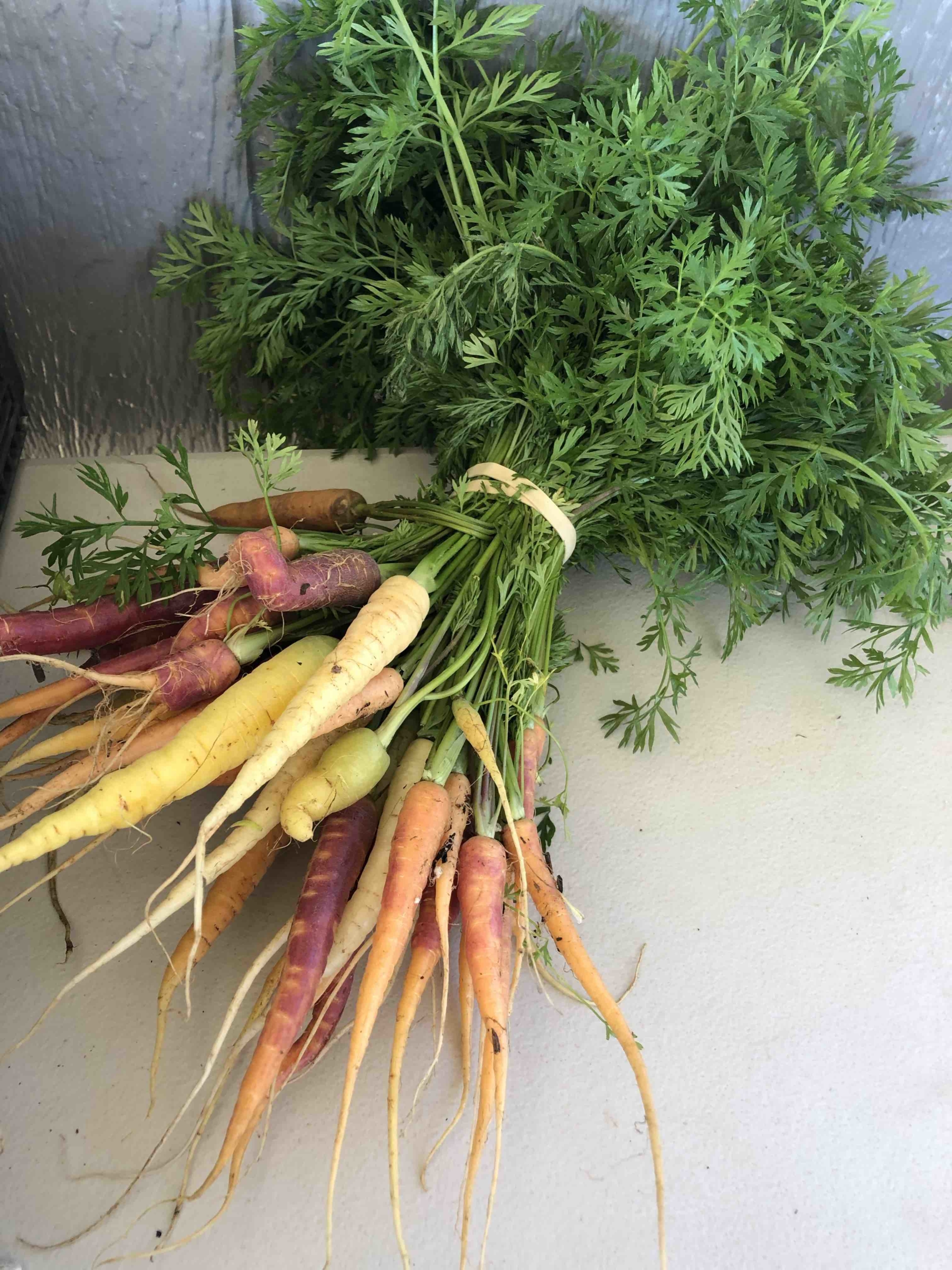 Beautiful rainbow carrots grown at Alma Backyard Farms. 
Both ARC and Alma Backyard Farms are working to provide support, mentorship, and dignified work and volunteer opportunities to formerly incarcerated people. But beyond a surface level comparison, there's a sense of transformation that ties all these partnership together. ARC helps Food Forward repurpose food that would otherwise be wasted, and feed people with it—in the process, they learn valuable skills and have the opportunity to give back. Alma takes what can't be eaten and turns it into compost, so that it can fertilize new life. And such is the effect their farming program has on its participants—through learning how to grow food, they experience, as Richard puts it, "the ultimate rehabilitation."
We are truly grateful to be aligned with these two organizations who are transforming their communities. Through our partnerships, we have all grown in different ways—just like a garden. Throughout the workday, Richard continued to reiterate to the group that "[This farm] is your home. You are welcome back anytime." This reminded Jarret Keith, an ARC life coach, of a fitting quote from Muhammad Ali to close out the day: "Service to others is the rent you pay for your room here on Earth."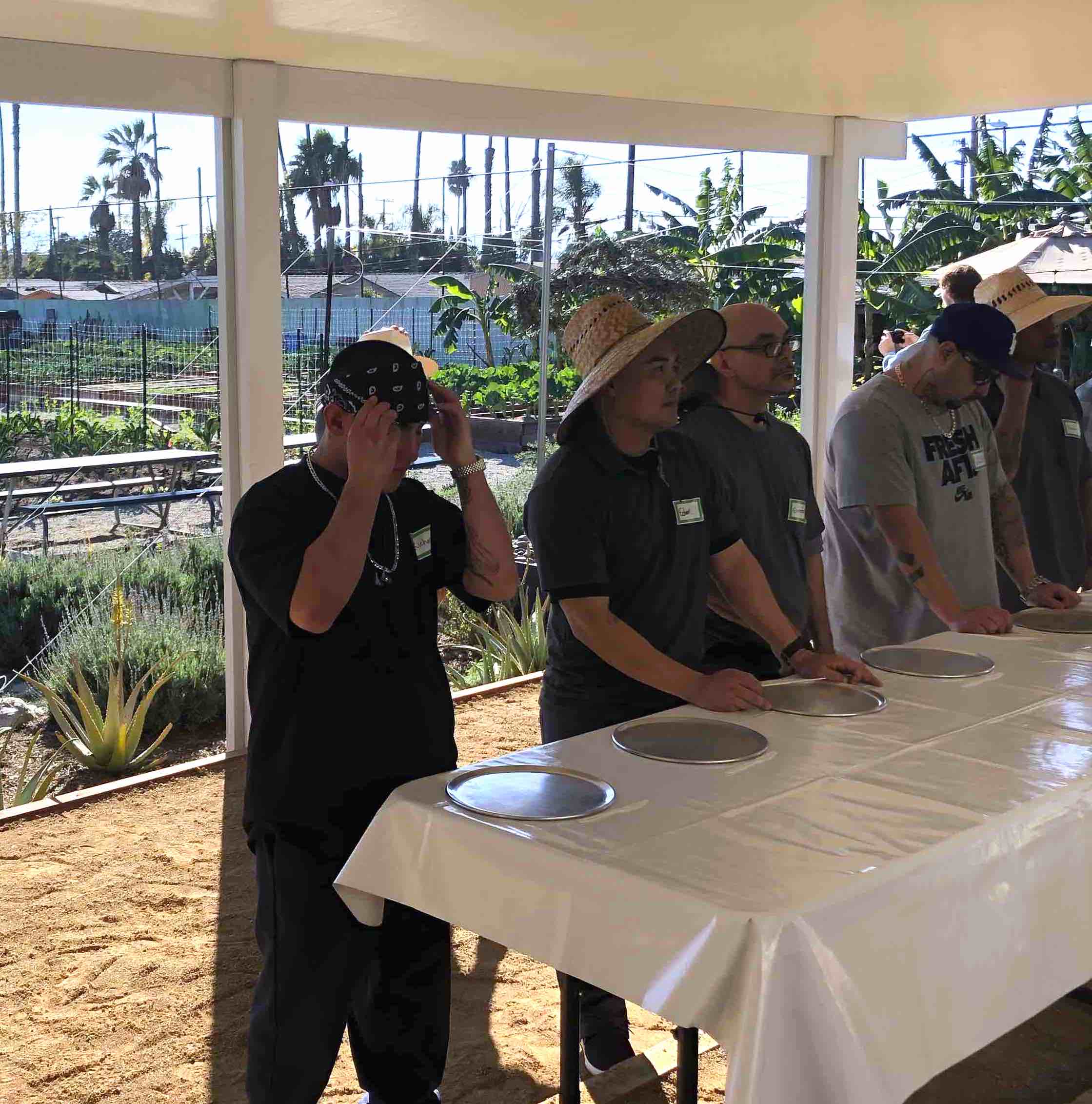 ARC members watch a cooking demonstration at Alma Backyard Farms, January 2020.