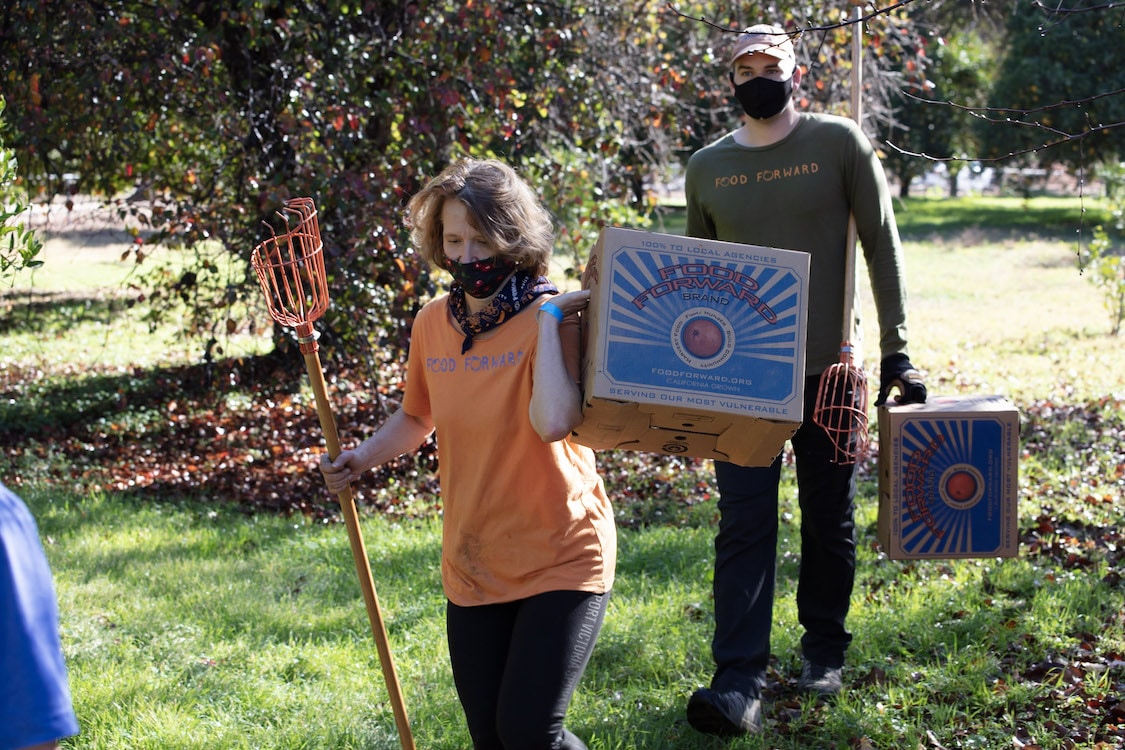 VOLUNTEERING
DURING COVID-19
Instructions to Volunteer
We are thrilled that you are interested in volunteering with us! Please note that Food Forward has limited volunteer opportunities during the pandemic, and we may not have events available near you. Below are the required steps for each person (including children) to register for a volunteer event.
Read our COVID-19 protocols below, and complete this one-time form confirming that you will follow them.
Look for an email from volunteer@foodforward.org with the link to our volunteer calendar. Check your spam if you don't see it.
Register to volunteer on our volunteer calendar, and save the link to sign up for future events! Questions? Head to our FAQ page.
Please note: Each person you plan to volunteer with must complete the COVID-19 form AND register via the volunteer calendar. Otherwise, they won't be able to volunteer if they show up.
Food Forward's COVID-19 Protocols for Volunteer Events
Updated 7.16.21
Food Forward is committed to promoting the health and well-being of everyone in our community, including our volunteers, agency partners, fruit and vegetable donors, produce recipients, and staff. To help us do so, volunteers are required to follow the instructions below to participate in Food Forward's Backyard Harvest events. We may update these protocols as needed and as we open volunteer opportunities in other programs.
Stay home if you are not feeling well or have been near someone who is sick.
If you have traveled via airplane or cruise ship, refrain from participating in a Food Forward event for 7 days after your return.
Keep at least 6 feet between yourself and others.
Wear a face mask over your nose and mouth for the duration of the event.
Upon arriving at an event, use alcohol-based hand sanitizer with at least 60% alcohol.
Clean and disinfect frequently touched objects and surfaces.
Do not touch your eyes, nose, or mouth. Cover coughs or sneezes with your elbow (not your hands), and use hand sanitizer after.
Follow all instructions given by Food Forward staff and Event Leaders.
What to Bring to a Harvest:
A clean face mask.
Hand sanitizer, if possible. We will also have some on site if needed.
Gloves are not required, but if you prefer to wear them, bring a clean pair with you.

During the Harvest:
Upon arrival, apply hand sanitizer, thoroughly!
If you begin to feel unwell (snotty, achey, etc.), please leave the event immediately.
Stay 6 feet away from others (i.e., volunteers, receiving agency volunteers, or staff), and keep your face mask over your nose and mouth.
Do not share boxes with other volunteers. Individuals will build their own box for harvested fruit and carry it to the designated place once filled. If a full box (approx. 40 pounds) is too heavy for you to carry, fill your box halfway to make transporting easier.

After the Harvest:
Follow any instructions given by your Event Leader to sanitize your equipment.
Please apply hand sanitizer before leaving the harvest. Upon returning home, we recommend washing your hands for at least 20 seconds with soap.

Thank you for your cooperation and support! If you'd like to volunteer, complete this one-time form and check your inbox for a link to our volunteer calendar.
Sign Up For Our Newsletter