We are lucky enough to have not just one, but two Volunteers of the Month for December: Culver City Farmers Market Glean Team Leads, Jeff Feldman and Tanya Silva!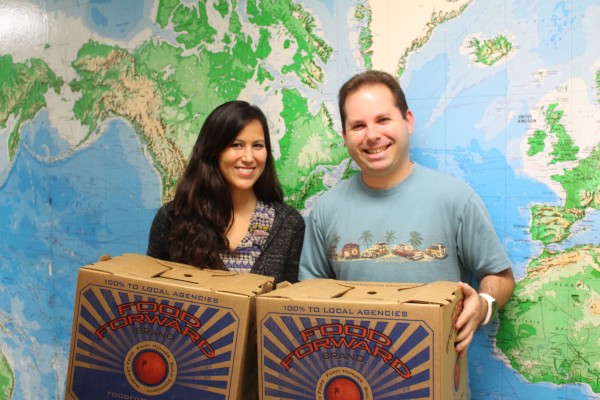 Jeff and Tanya are a gleaning dream team at the Culver City Farmers Market! They are both employees at STAR Education, one of the amazing agencies that receives produce from Food Forward's Farmers Market Recovery Program, and have been mainstays at the Culver City market since we started gleaning there in late 2013. Jeff and Tanya help with equipment storage and produce collection every single Tuesday evening and, if that's not enough dedication, they are constantly going above and beyond to make the CC market gleans more enjoyable and productive for all the volunteers, vendors and staff involved. Read more about this awesome duo below and, hey, why not join them at the Culver City Farmers Market soon?!
So tell me, how did you get started with Food Forward?
Jeff: A little over a year ago, STAR Education, the company I work for was chosen as a receiving agency for the Culver City Farmers Market. In addition to picking up the food, I also became a volunteer and lead to help collect what we and other agencies were receiving. I have been attending almost every Tuesday since then, and it continues to be a rewarding experience and a great opportunity to meet other volunteers from Culver City that are passionate about helping others.
Tanya: I heard about it while I was volunteering at a school garden from Mary Baldwin.
What are some other projects you're working on that you'd like to share?
Jeff: About the same time last year that I joined Food Forward, I embarked on a mission to have a hamburger in every state. So far I have visited 21 of 50. Besides eating a lot of hamburgers, it has given me the opportunity to see more of the United States, as well as visit friends that have moved away from California. I am also working on a website to teach people what to do with leftover parts of foods that they would usually throw away like banana peels, apple cores, or artichoke stems.
Tanya: I am currently an active Los Angeles County Master Gardener. I volunteer at Carthay Elementary School and Culver City High School's Learning Gardens. As a school garden volunteer I spend my time teaching children where their food comes from, basic gardening skills, nutrition and science. I also teach Beginner Adult Gardening Courses through University California Cooperative Extension. I love gardening and I also have 8 backyard chickens in the city.
What is your favorite memory working with Food Forward?
Jeff: Out of all the great memories created, the one that stands out the most is when a local poet at the Farmers Market wrote us a poem about sustainability. All the volunteers that night gathered around as we did a reading.
Tanya: It is difficult to pin point one favorite memory because there are so many. But I will mention that I am always amazed at how generous the farmers are at the markets and how Food Forward attracts the most incredibly passionate volunteers and staff.
Any wisdom you'd like to share with the world about life?
Jeff: Don't be afraid to try new things. You never know what new experiences await, what new friends will be made, and what new opportunities will be presented.
Tanya: We make a living by what we get, but we make a life by what we give. It's a Winston Churchill quote but it's always meant a lot to me.