8.31.18 —  Meet our Volunteer of the Month for August, Rebecca Brandt. Rebecca is a Pick Leader in Ventura County and has been known to lead fruit picks 7 or 8 times a week! Since she started volunteering with Food Forward a little over a year ago, she's contributed 89 hours and participated in an extraordinary 44 events. Rebecca is hardworking, funny, and very dedicated to Food Forward's mission, and we couldn't be more grateful to have her in the Fruit Family. Thanks for you all you do, Rebecca!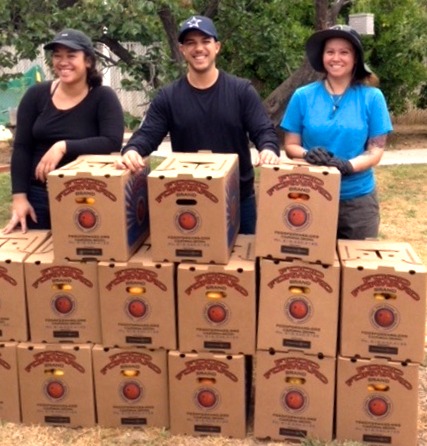 So tell me, how did you get started with Food Forward?
I discovered Food Forward through VolunteerMatch.com. Just signed up for a backyard harvest that was 

within 30 minutes

 of home and was hooked!
What drew you to Food Forward's work and mission?
The work itself drew me because it's outdoors, it's active, I get to meet and influence interesting people, and being around the fragrant fruit blossoms is a plus. The mission is honorable. Our efforts to redistribute food that would normally go to waste makes a huge impact on those less fortunate!
What do you do when you're not volunteering with Food Forward?
When I am not volunteering with Food Forward I work for the Navy, currently in logistics for the Seabees. Sometimes I travel to Fresno or Sacramento to visit family, or take a little time for myself to relax at home and catch up on errands.
What is your favorite part about volunteering with Food Forward? 
My favorite part about volunteering with Food Forward is knowing that I am helping people in a number of ways. First there's removing unwanted produce from a property, and then of course feeding people who need it!
How would you describe the volunteer experience at a harvest?
The volunteer experience at a harvest is always an opportunity to influence people to continue to make an impact. Everyone shares stories, learns from each other, and grows from being a part of something greater than themselves. We have fun while making a difference!
What was your first volunteer day like?
My first volunteer day was memorable and positive. It was a large backyard harvest in a lemon orchard with 20 or so other volunteers. The pick leaders, Joyce and Ally, were informative, inspiring and bubbly. The experience of collecting fruit, seeing the support of other volunteers, and simply chatting with Joyce and Ally inspired me to eventually become a pick leader.

What have you learned from volunteering?
From volunteering I have learned that there are more people out there who do want to make a difference. From the middle schoolers just logging in volunteer hours to the significant other just trying to make their partner happy by tagging along, people enjoy uniting for a greater cause to help others, and this makes me happy :)  

Any words of wisdom you live by?
When being true to yourself: "Those who matter don't mind, and those who mind don't matter!"