This December we are recognizing two volunteers – Grace and Katie! Tanzi Jackson, Farmers Market Recovery Program Supervisor, says: "I would love to nominate Grace and Katie, a mother-daughter duo that has been killing it at the Encino market! Since they began leading at the start of May, they have co-led 22 gleans (plus their two training gleans in April), which means that by the end of 2021, they will have gleaned that market 25 times in a span of 9 months! Not to mention that they also led 9 gleans in a row in the summer, when we really need the extra help because of how much produce the Encino gleans have, and how hot it gets. They also once filled in at quite literally the last minute, when I called them 15 minutes before the event started because two people canceled and I was out of town. So many other volunteers have let me know how much they enjoy working with the two of them, and I am so happy to have them on the team!"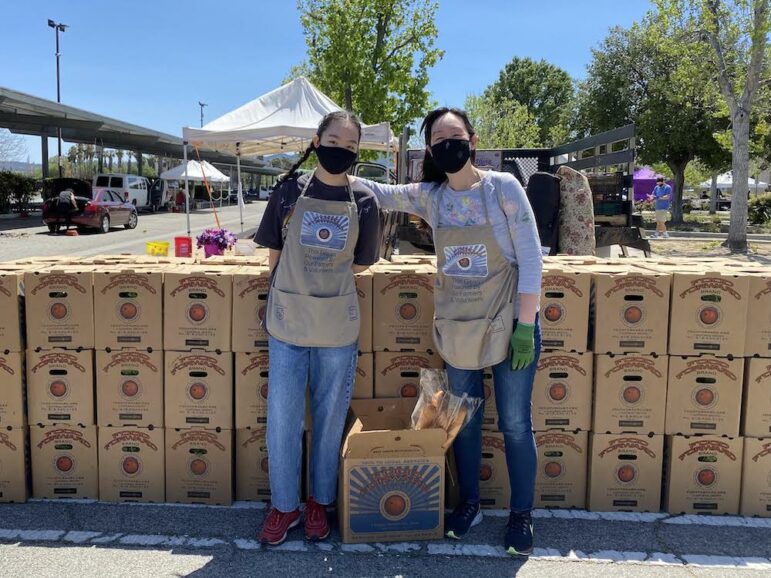 So tell me, how did you get started with Food Forward?
Grace: I liked the idea of volunteering with my daughter Katie so we could spend time together doing
something meaningful. Volunteering is a great way to build fun memories as mother and
daughter.
Katie: I enjoy growing fruits and vegetables in my home garden, experimenting with seed varieties and growing methods. When I learned about Food Forward, I was excited to help others have
access to the fresh produce that I appreciate every day.

What drew you to Food Forward's work and mission?
Grace: I have always believed that eating healthy, fresh foods makes people feel happier and able to
engage in productive and fulfilling activities. Everyone should be able to fuel themselves with
nutritious foods which will help them to be their best selves.

Katie: Understanding that food waste is a growing problem, I was spurred by Food Forward's mission
to fight hunger relief with food recovery programs. Farmer's Market gleaning seemed the perfect
way to meld my interest in gardening while tackling the food waste problem.


What do you do when you're not volunteering with Food Forward?
Grace: I teach Transitional Kindergarten, so I spend my days with 24 little four-year-olds, teaching them to love learning and work collaboratively. We currently have a flower and vegetable garden
project that we started from seeds, and the kids appreciate every single bloom! I enjoy
exploring the outdoors with the students and teaching them the ABCs and 123s.

Katie: I am a full-time student, and in my free time I work in my garden. I also enjoy sewing and visiting thrift stores.

What is your favorite part about volunteering with Food Forward?
Grace: I have enjoyed working with the other Glean Team Leaders (GTLs) who have guided me through the food recovery process. Meeting other volunteers who take the time each week to help the community is always encouraging. I am also inspired by the all beautiful produce since I enjoy cooking and eating!

Katie: I love to pack all the fresh vegetables that the farmers donate each week. I am always
impressed by the variety and quality of the produce. After each volunteer event, I feel inspired to
try a new seed variety in my garden or reexamine the plants I already have growing.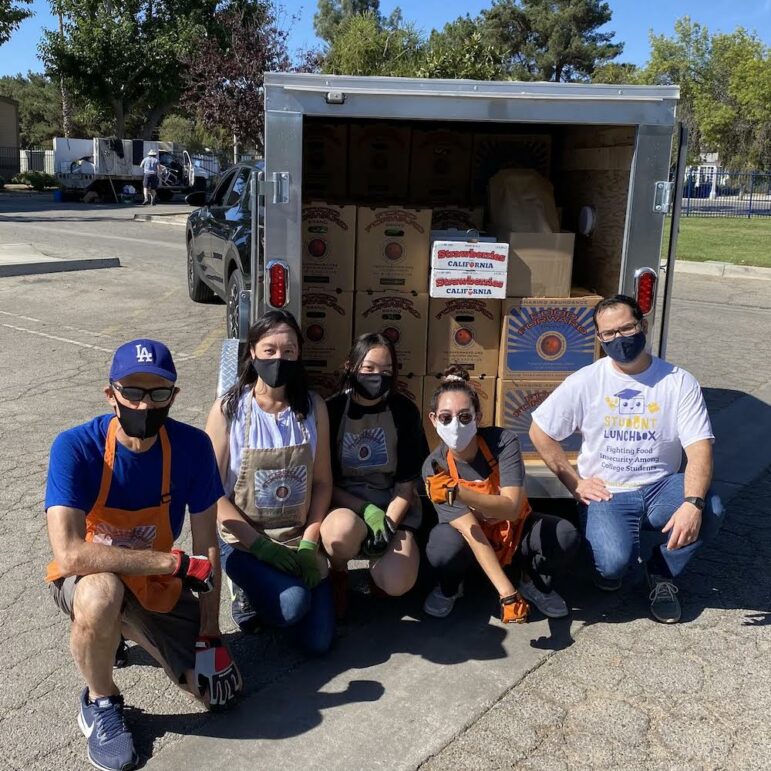 How would you describe the volunteer experience at a glean?
Grace: Volunteering always feels lively. I appreciate engaging with the farmers and vendors, as well as watching all the shoppers browsing for produce. There's a unique feeling of community that can
only be felt at a farmer's market.

Katie: The gleans often go by quickly, moving from one task to another, with everyone working at a
diligent pace. The routine is comforting and energizing at the same time. I look forward to each
event and leave feeling glad that I was able to contribute in some way to my community.

What was your first volunteer day like?
Grace: I enjoyed walking by each produce stand, getting a sense of the types of fruits and vegetables
which were being offered. As I helped collect the donations, I was impressed by the generosity
of the farmers who shared the fruits of their hard labor.
Katie: Everyone who helped train me was encouraging and kind. I learned from watching every step,
and I continue to rely on the other GTLs for support. I was convinced after my first glean that
Food Forward is a great match for me because everyone on the team is positive and dedicated
to the cause.

What have you learned from volunteering?
Grace: I have learned from working with other volunteers, farmers, and receiving agencies that shared goals bring people together, giving us the opportunity to learn from each other.

Katie: I see the power of collaboration at work every time. Each person, whether farmer, GTL, or
receiving agency, has an important role in the recovery process, making it possible to bring over
a thousand pounds of fresh produce to help others each week.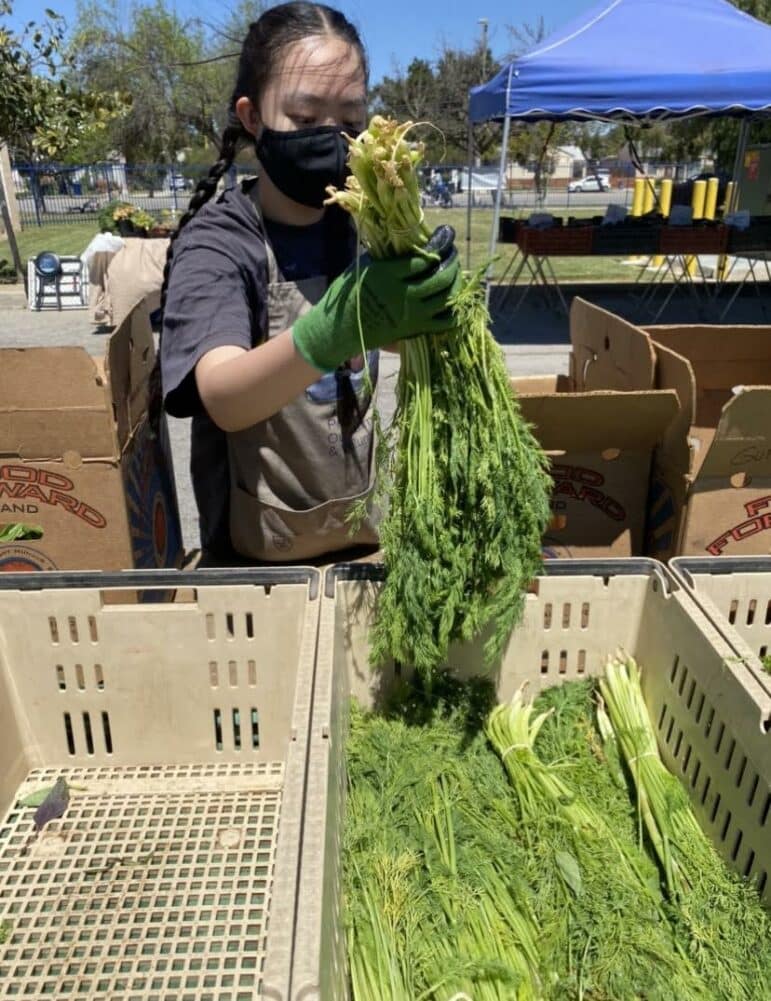 Is there a particularly powerful volunteering moment you'd like to share?
Grace: I've enjoyed working alongside the other GTLs, getting to know their interests outside of
volunteering, as well as connecting with them through the food recovery process. It's
encouraging to work with volunteers who are committed to serving the community and value the
spirit of giving.

Katie: It has been great working with my Mom, packing produce, pulling the cart, or making boxes.
Although we do other activities together, I think volunteering brings us closer together since the
goal is to serve others rather than ourselves.

Any words of wisdom you live by?
Grace: Be kind and appreciate each of life's blessings every day.

Katie: "Learning by doing…"