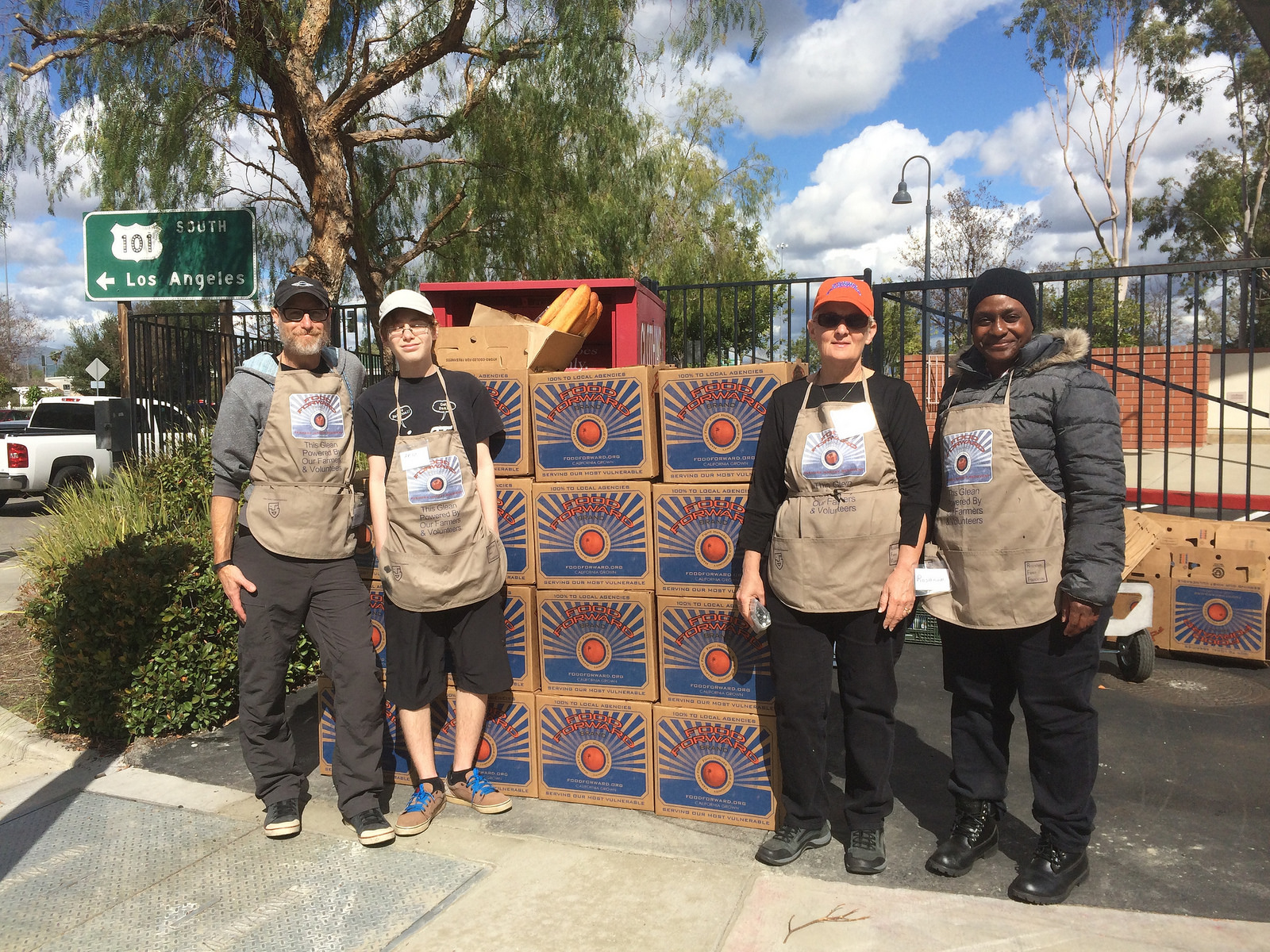 Rosanna, at right, at the Calabasas Farmers Market
Meet our Volunteer of the Month for October, Rosanna O'Guynn! Rosanna joined Food Forward in the summer of 2014 as a volunteer at our Farmers Market Recovery Gleans, and never looked back. As an active Glean Team Leader and Community Ambassador, Rosanna might just be our most well-travelled volunteer: she has volunteered at (at least) 8 different Farmers Markets, picked fruit in Ojai, and made it all the way out to Pomona recently for the L.A. County Fair. We find that all the more impressive because Rosanna is an avid public transportation user, and because we know that she's an active volunteer at other Non-Profit organizations besides Food Forward. As her answers will show you, Rosanna is an incredibly generous and compassionate Angeleno who puts her passion into her work.
So tell me, how did you get started with Food Forward?
I saw Food Forward on the L.A. Works website and said "What's this!" Then I signed up for a gleaning at the Pacific Palisades Farmers Market and was immediately on board with the concept of redirecting produce to social services in the area instead of wasting it.
What drew you to Food Forward's work and mission?
The idea of food not going to waste.
What do you do when you're not volunteering with Food Forward?
Nothing but enjoying the sense of peace and tranquility.
What is your favorite part about volunteering with Food Forward? 
Knowing that there's a difference being made.
Any particular memories you'd like to share?
Presently, the ongoing memories would be the farmers who donate.
You're one of our very first Community Ambassadors. Why did you want to become involved with our outreach program?
Because it's something practical to be a part of for change and good will.
Any words of wisdom you live by?
Keep learning.