Bethany Harris is a shining star that goes so far above and beyond the call of duty with Food Forward, that we would like to officially announce Bethany as our Food Forward Volunteer of the Year.  She joined Food Forward in September of 2011 and was trained to be a fully-fledged Pick Leader by December of the same year. Bethany volunteers in the Food Forward office, at special events, in the farmers markets, at Private Picks, and anywhere else there arises a need.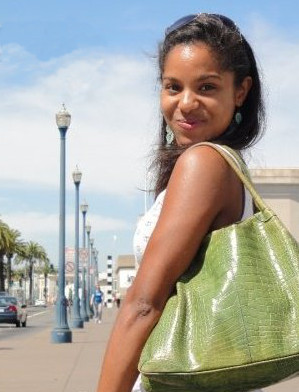 The Food Forward mission and Bethany's personal passions and never-tiring motivation are a match made in heaven.
Beginning in October of 2012, she connected the wealth of resources at her fingertips and in her own neighborhood with her drive to relieve hunger with local abundance.  She launched the Starbucks fruit drive campaign that continued into spring of 2013, each month raising awareness and collecting over 1,500lbs every time.  Utilizing the help of her fellow co-workers, Starbucks stores became the launching pad for public outreach to bring backyard fruit, and doubled as the drop off locations for neighborhood fruit donors.  Bethany organized Starbucks employee fruit picks on donation days, overlapping first shift and second shift workers to pick fruit at multiple locations consecutively.  All of her hard work paid off, and she was able to contribute 7,500 lbs of fresh produce split between local direct-service agencies One Generation, SOVA, and MEND Poverty.
After so many years of service, she is now blossoming into her true inspirations and goals; to help children in Los Angeles connect with our nutritious resources.   We interviewed Bethany to give the fruit world a little more insight to the inner workings of a truly amazing volunteer.
What drew/draws you to the Food Forward mission?
Back east, my Starbucks location was actively involved with a local food pantry that had its own community garden. Most of our used coffee grounds and end of pastries went there. Customers and baristas that didn't have their own plot were also able to dig in and help on monthly work days.
Around the same time a new farmers market came to town and I was hooked. My sister and I would faithfully go on Thursdays – have a picnic on the library lawn and have our time. We would tend to linger to the end of the market before heading home and in doing so we took notice that at the end of the market, a van from the food pantry would pick up what the farmer's weren't taking home.
There was a plum tree in front of our Starbucks, and one day a barista and I picked it clean, then shared it with coworkers and regulars. Talking to another barista, we discussed a recent article on ample harvest and we lamented that it would've been nice to share some of the plums with the food pantry (realistically there wasn't THAT much to share, but it was the idea that stuck.)
The next time I did a drop off I asked administration about whether they accepted seasonal produce from neighbors and such, which they did, but it was hard to come by since the food pantry was kind of out of the way for most Falmouth residents.
Eager to do something, my manager, a few baristas and I started brainstorming ideas of ways to encourage customers to donate their produce.
Timing was as such that I was unable to see the idea thru, due to my planned move out to California.
However, once I got out here I started researching organizations with a similar mission to the work I wanted to do. I found Tree People's Fruit Tree Program and Food Forward and started planning.
Our first pick we (Chris myself and one other barista) went on was September 11th, 2011 at CSUN. Starbucks was hosting a day of service downtown but with limited transportation, we were thrilled to find a local and accessible volunteer opportunity for that day.
After that event I was hooked and was trained as a pick leader, with the goal of engaging the Starbucks community to be involved. For Starbuck's Annual Global Month of service 2012, we had 50 partners come out!
We started doing Friday Fruit Drives series (in-store backyard harvest collection with satellite picks at barista and customer backyards) from November of 2012 – April 2013 – finishing the six-month series with 100 partners and their families coming out for Global month of service 2013.
What are you working on? How does it work?
Realizing in order to make this partnership be sustainable, I stepped back and began focusing on fine tuning the Fruit Drive program – essentially an alternative to the traditional can drive – and have narrowed it down to three models: community fruit drive, school fruit drive and a version based on the Starbucks fruit drives for local business.
Community Fruit Drive – partnering with neighborhood councils to encourage stakeholders to sign up their trees and drop off ripe fruit at an event we are tabling at (farmers market/green living fair/etc.)
School Fruit Drive – doing a presentation about food forward, encouraging students to bring fruit from their backyards and talking about the local food system
Business Fruit Drive – tabling at a local business' event – social media outreach to their customers to sign up their trees/volunteer/donate to food forward.
What are the successes that you've seen so far?
Between the Starbucks and community fruit drives, we have harvested/collected nearly 20,000 lbs – engaged over 300 baristas – with hopes of more at this years CSUN pick and our upcoming community fruit drives in Tarzana and Toluca Lake.
What are your future goals with the project?
My hopes are:
– To launch a Starbucks Green Apron Gleaning campaign in the fall – sending out information to each of the districts in LA and Ventura County encouraging partners to become pick leaders and bring the Fruit Drive program to their neighborhood.
– To work with LACGC, Network for a Healthy LA, City Year, LAUSD and Neighborhood Councils to set up equipment hubs in their communities so that parents and teachers have the resources they need to "share the abundance" – being trained as Pick Leaders and incorporate gleaning into their curriculum (food justice, environmental studies).
Next time you see Bethany out on a pick or glean, please giver her a big hug or high five for all her amazing efforts that have helped so much in the community around her!