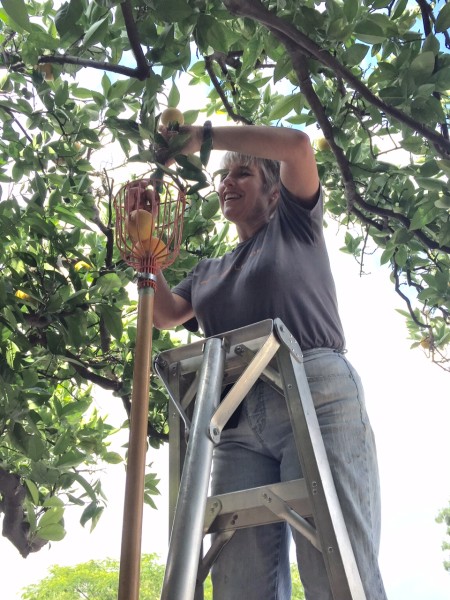 Meet our July Volunteer of the Month: Pick Leader Extraordinaire Tessa Lucero! Tessa started volunteering with Food Forward in 2014 and became a Pick Leader shortly after. She has helped us to establish a presence in her neighborhood of Santa Clarita by harvesting at houses in the area, while involving her church and a local food bank. Tessa is a true food rescuer and is always eager to harvest at properties with fruit that won't last much longer on the trees. More often than not, she has tasty creations made out of split fruit on hand and even wrote a blog entry about how to use all of that grapefruit you may find yourself with. Read more about this awesome Super Volunteer below!
So tell me, how did you get started with Food Forward?
I saw an article about Food Forward in the L.A. Times several years ago. I wasn't able to volunteer then, my husband's health was declining and I needed to spend as much time as I could with him, but I signed up for the mailing list and figured I'd volunteer at some point. I'm a runner and spend a lot of time on the streets of the city, and I was sad to see the number of trees with fruit falling to the ground to spoil. I was widowed in March 2014 and soon after that I put my name down for a pick. I liked what Food Forward was doing and was impressed by the amount of fruit one back yard could provide to the food pantries. When I saw an announcement for pick leader training I thought "I could do that!" and signed up. That was in June 2014. All it involves is one morning's training, a pick where you shadow an experienced leader, and another pick you lead with a leader shadowing you. We're asked to commit to one pick a month for at least six months and I had no problem with that — I like being able to decide when I'm going to volunteer. Since then I've led or co-led a number of picks all over the north county area.
What are some other projects you're working on that you'd like to share?
I'm involved with my church, St. Stephen's in Santa Clarita, and with Operation Hope which promotes financial literacy by bringing programs to junior and senior high schools. I'm also a marine insurance broker, 17 years at Marsh & McLennan, and I have been leading courses preparing insurance professionals for the CPCU (Chartered Property Casualty Underwriter) designation since 1991. I'm an avid distance runner with 71 marathons and 22 ultramarathons under my belt, or more precisely under my running shoes, with races in 25 of the 50 states. Mother of two fine young adults, Camilla who's 22 and a senior at South Dakota State and Gabriel who's 19 and a sophomore at College of the Canyons. Cat lover who shares her home with Edmund, Fernanda, and Guinevere, all rescue cats. I'm a baker and quilter and reader and diehard public transit user. And one ongoing project is finding new recipes to use up split grapefruit!
What is your favorite memory working with Food Forward?
Favorite memory: mostly it's the homeowners and fellow volunteers who stick in my mind. I love hearing the stories of what the Valley used to be like. The tree climbers are memorable, as are the many homeowners who have been so happy that their fruit is going to a good cause and not rotting on the tree or on the ground. I particularly enjoyed bringing a group of colleagues to a pick in May as part of a volunteer drive. Harvesting tons of fruit at the Huntington last year was also memorable, even though I dented the rollup door track at Food Forward headquarters when pulling the stake truck out of the garage!
Any wisdom you'd like to share with the world about life?
Advice I gave to graduating seniors in 2008 that hasn't changed:
Explore your options.
Keep an open mind.
Stay fit. Exercise. The best way to see a place is to walk or run its streets.
Always be able to support yourself and any dependents you may have. Never rely on someone else to pay your living expenses.
Whether you're adopting a pet or creating a child, remember you are responsible for its life. Don't do anything you're not willing to see through.
Have an emergency fund.
Don't think "I deserve…" about tangible things. You deserve respect. You don't deserve electronic gadgets.
Get involved. Volunteer. Reach out. Do things for others.
Never, EVER piss off the receptionist, the mail room clerk, the department secretary, or the front desk person. They have power and they will use it. Have them on your side.
Take care of your teeth. You won't grow another set.
Keep reading and stay informed.
Take time for yourself as well as for work.
Practical advice: Start contributing to your retirement fund as soon as you find a job, at least enough to take full advantage of any 401k matching funds, and don't raid those funds. Particularly don't spend a retirement distribution when you change jobs. Fund a Roth IRA, too. Look at compounding interest and consider how much more that money will be when you retire.