Our volunteer of the month for March is a huge hit!  She came to us one morning bright and early for a Pick Leader Academy training, ready to step up as a leader and make huge changes in Granada Hills (even though she never volunteered with us before!).  After watching the film, A Place at the Table, Susan knew she wanted to focus on hunger and food waste in her community.  A member of her church introduced her to Food Forward, and she knew that it was fit!  Food Forward's mission mirrored what she wanted to do in her community to both educate folks on their ability to make a difference in local hunger and to feed fresh fruit to those in need.  Since then she has taken off running in her neighborhood, leading multiple harvests every month, and has opened the doors for all the members of her congregation to both donate their fruit trees and join in on the picking.  Fruitland, I'd like to present to you Susan Gorman-Chang!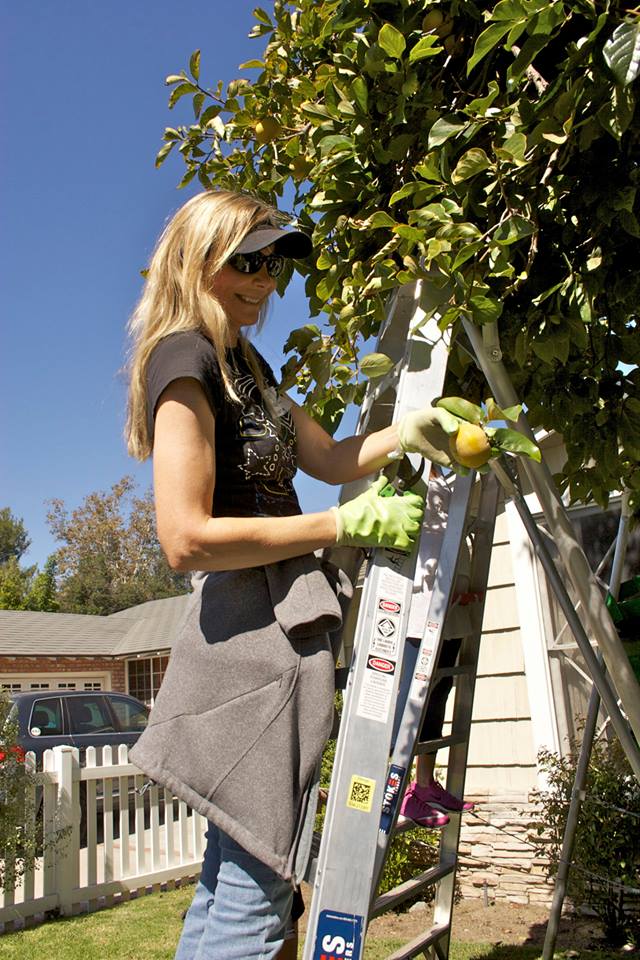 Here's Susan's story:
I had already been involved in feeding the hungry through Hope of the Valley. I got involved in Food Forward during the federal government shutdown last October, when I had some time on my hands.  My friend Roberta & I decided to attend the October 5 Pick Leader training. Some of the older members of our church congregation wanted to make a contribution to help alleviate hunger in the San Fernando Valley. Many are not physically able to cook or serve the food at the dinners we make for the homeless/needy, with Hope of the Valley, but wanted to contribute in some tangible way.  Since our church, First Presbyterian Church, is located in Granada Hills, many congregants have fruit trees left over from the old orchards in their yards producing more fruit than they can possibly pick or use. So Food Forward is such a perfect fit! Many congregants have signed up to have their fruit picked with Food Forward and donated to local food banks. I then went to Food Forward Scout Training so I could scout their properties and better answer their questions about fruit ripeness.
I am Elder of the Community Concerns Ministry at my church. We partner with various organizations to alleviate hunger and provide fresh food to those in need. We cook & serve a dinner for homeless individuals with Hope of the Valley the first Thursday of each month.  Last year, we organized the first fresh vegetable drive to include fresh vegetables in Family Rescue Center of Canoga Park's Thanksgiving boxes of food to 80 local needy families. I also organize volunteers to purchase and/or pick up excess, unclaimed weekly boxes full of Abundant Harvest Organic fruits & vegetables and donate them to Hope of the Valley, Family Rescue Center, and Valley Food Bank.
My favorite memories are seeing the smiles on homeowners' faces when they realize just how much fruit we were able to pick from their trees!  Their smiles are a combination of surprise, joy, and the knowledge their fruit is going to a good cause.  It is so beautiful!  A special memory of mine was when a very little girl from one of our private picks asked my friend why we were picking fruit from her tree. My friend Inge explained that there are other children just like her who don't have fruit trees or even enough fruit to eat, and what a wonderful girl she is for sharing her fruit with them. Then we saw that same smile on the little girl's face.
I think compassion is what make us human, connects us to one another, and is definitely contagious. I think when we put our compassion into action, like Food Forward enables us to do so well, it grows even more and gets even stronger.
Thank you for the opportunity to serve with Food Forward!