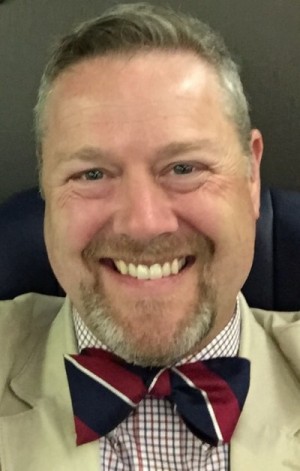 Meet our April Volunteer of the Month, Glean Team Leader all-star Ralph Peschek! Ralph started leading at the Hollywood Farmers Market in spring of 2014 and was instrumental in the launch of our Farmers Market Recovery Program at the Pasadena Farmers Market. As an employee of a local school district, Ralph works to ensure food insecure students have access to healthy food, which is what brought him to Food Forward. Now, as a Farmers Market Glean Team Leader, Ralph inspires other volunteers by being an amazing ambassador of produce recovery! He is incredibly welcoming to the many volunteers that help out at the markets, and explains the gleaning process and work of Food Forward like a complete pro. Ralph has also become such a staple at the markets that he has cultivated wonderful relationships with the vendors, who are always happy to donate their lovely produce when they see him. Thanks, Ralph – you are a HUGE part of our Food Forward family!
So tell me, how did you get started with Food Forward?
I was looking for an opportunity to volunteer  with an organization that worked with getting resources to those who needed them. We have such an abundance of food that goes to waste each day in the United States. I had instituted a food donation program in my local school district to assure leftovers were shared with community feeding organizations to reduce food waste. When I heard about Food Forward and its mission, I knew that it was a great fit for me.
What are some other projects you're working on that you'd like to share?
Currently, my team is working with our community partners  to increase visibility and outreach to children at risk during summer months when they are out of school. Many families in CA live at or below the poverty level. Their children rely on school meals (Breakfast, Lunch, Snack, and Supper) as their primary source of nutritious food. In summer months, when school is out, those meals go away. There are options in the community in the summer, and we are working hard to encourage more families and children to access free meal programs when school is out by developing outreach and social media campaigns that target these at risk students.
What is your favorite memory working with Food Forward?
I'm not sure I have one. I've had the great opportunity to work with some amazing volunteers over the past two years. They all come to Food Forward for different reasons.  But, as you talk with each new volunteer, you learn that at some level they all come with a passion to serve.
Any wisdom you'd like to share with the world about life?
Mame Dennis – "Live! Live! Live!  Life's a banquet! And most poor suckers are starving to death."
Ralph (far right) with a team of volunteers at the Pasadena Farmers Market