Our August Volunteer of the month is the highly impressive, always active, saint of a Backyard Harvesting Program gleaner, Paula Kleihauer!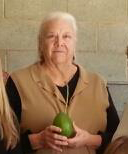 In Paula's words:
I first heard about Food Forward in April of 2009.  I was attending a class on tomatoes at CSUN sponsored by their Botanic Garden.  Rick made a brief presentation before the class saying that he was starting a volunteer organization to glean backyard fruit for donation to food banks.  He wrote his email address on the board for anyone interested in joining.  I copied it down, but didn't get active right away.
February of 2010 I attended a Food Forward Meet & Greet at MEND.  The next Sunday I started volunteering as a Picker.  In the Spring of 2011, Erica Kenner Kopmar took me on a property scout, sharing tips and how it was best done.  With that, I added Property Scout to my Food Forward volunteer positions.  Another year passed, and in the Spring of 2012 I was convinced by several staff members that I should graduate from Picker to Pick Leader, and so I added Pick Leader to my Food Forward volunteer positions.  I wonder what is next, and look forward to expanding my roles.
Other principal volunteer gigs I have include:
As a University of California Cooperative Extention trained and certified Master Gardener in the Los Angeles County, Comman Ground Program, along with two other Master Gardeners, I currently:

work with students at Jack London Community Day School in the garden we have helped them establish
work on a project at Grant H.S. revitalizing the old agriculture area with extensive veggie beds.

As a Tree People Fruit Tree Crew member:

I helped to establish and help to maintain a public orchard of 70 fruit trees in the old agriculture area at Grant H.S.
I will also be helping to guide the project of asphalt removal and tree planting at Jack London Community Day School.

As a member of SLOLA – Seed Library of Los Angeles – a founding member of the San Fernando Valley Branch, and a Board Member I work towards our mission to facilitate the growth of open-pollinated seeds among residents of the Los Angeles Basin.
My favorite memory of working with Food Forward is the warmth with which I was initially, and continue to be, received into the group.
As far as wisdom to share, I can only second the concepts that:
The more you share of yourself, the more you have to share.
When you volunteer, you receive more than you give.