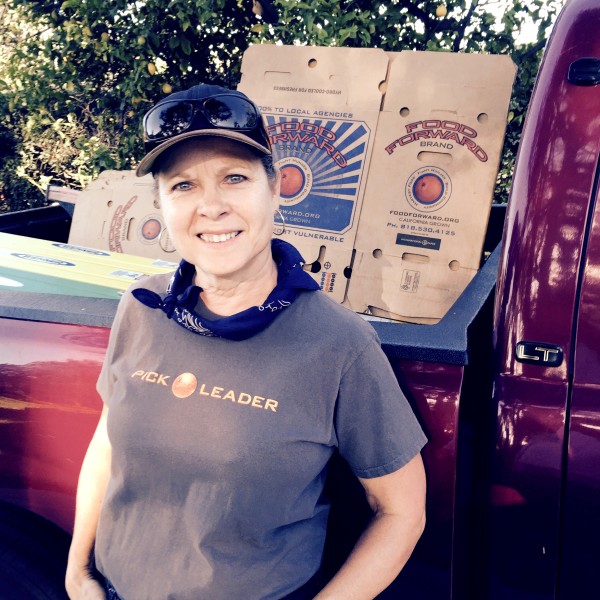 Meet our May Volunteer of the Month: Judith Selby! Judith and her family became harvesting trailblazers in the San Gabriel Valley by founding
Fruit For All
, a family focused citrus gleaning organization that began its work in 2010. When her sons went off to college, Fruit For All joined forces with Food Forward and Judith became one of our most active Pick Leaders. Just this year, she has led 21 harvests which yielded 9,117 pounds of donated fruit. Judith and her husband Brad have been instrumental to Food Forward's expansion into the San Gabriel Valley and offer generous support to staff and volunteers alike in blossoming Food Forward's backyard harvest program in the area. Judith has a true passion for feeding those in need in her community and delivers fresh citrus from her picks to Foothill Unity in Monrovia as often as she can. She is a wealth of fruit tree and gardening information and shares it with all who are interested. Her warmth is infectious and her dedication is inspiring, and we are so grateful to have Judith in the Food Forward family. Read more about this SUPER volunteer below!
So tell me, how did you get started with Food Forward?
When my boys were in high school, our family started a backyard harvest group in the San Gabriel Valley called Fruit For All; with the help of our friends, we picked 100,000 pounds in our first 2 1/2 years. The boys and their friends were my workforce, so when they went off to college, we hitched our wagon to Food Forward. It was a perfect match; we both had the same goals, and Food Forward was able to give me the volunteers and support I needed to keep picking fruit for all of the Fruit For All families.  Today, we're building the San Gabriel Valley branch of Food Forward.
What are some other projects you're working on that you'd like to share?
When I'm not picking fruit, I'm probably in my own garden, tending my trees and harvesting my own fruit. A couple of years ago, I jumped on the save-every-drop-of-water bandwagon, including a catchment system for the water that runs off of my driveway. Now, if it would only rain so I can test my system! I truly believe every person can make a difference if they stop and think about their actions.
What is your favorite memory working with Food Forward?
I can't think of a favorite memory, but I can tell you that I look forward to each pick, waiting to meet a new friend or welcome an old friend. It's a wonderful feeling to build a community.
Any wisdom you'd like to share with the world about life?
Everything looks better with Christmas lights. We can recreate the world each day by how we act in it. We can dress it up or we can dress it down. Optimism or pessimism, we choose. So, put on the lights.