Say hello to October's Food Forward Volunteer of the Month: Gunther Schulz aka Mr. Glean!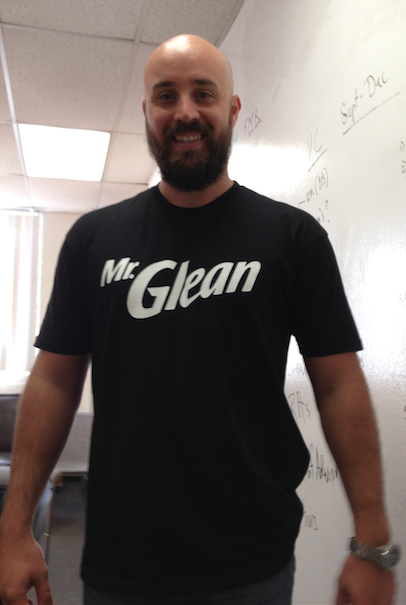 Gunther came onto the scene last spring and blew us away with his powerhouse picking! Since then, he has attended nearly every fruit harvest in the San Gabriel Valley and began leading picks earlier this summer. Gunther is so dedicated that he is also currently volunteering as an assistant for the Backyard Harvest Program, with a focus on our SGV expansion. He works incredibly hard and always lends a helping hand, whether he's driving a FF vehicle or carrying bucket after bucket of oranges, and still manages to crack jokes! His positive attitude and genuine kindness make him a true Super Volunteer. And, check out that sweet t-shirt he rocks! Read more about Gunther below.
So tell me, how did you get started with Food Forward?
I first found Food Forward when searching for an opportunity to learn more about local food access and distribution for a class I was taking. My major field focuses on Earth, Society, and Sustainability and food security is a topic that interests me greatly. When I read about Food Forward, I knew I had found the perfect opportunity to not only learn more, but to be a part of something important and meaningful.
What are some other projects you're working on that you'd like to share?
As I mentioned, I am currently working on my BS degree at the University of Illinois in Urbana-Champaign. In addition to food security, I am interested in water conservation and energy consumption issues related to food production. I think it is important to be aware of our footprint and to work toward sustainability. I am also a stay at home dad to a beautiful daughter with special needs. She is really what makes all of this so important as she makes everything better and has made me realize that what I do impacts others. I want to make her proud.
What is your favorite memory working with Food Forward?
I enjoy all of my memories of Food Forward. I think the best feeling is when I hear how many pounds of food we have gleaned at the end of a pick and knowing how many people will be able to eat fresh and healthy food because of it.
Any wisdom you'd like to share with the world about life?
Be present, take responsibility, work hard, and all things will work out. It may not be the way you want it to but it is usually the way that gets us out of our comfort zone and expands our horizons. Life is sometimes hard, but the struggles are what make us better people.