We first met Devyn at the beginning of her summer break from Notre Dame High School after she participated in a harvest and wanted to become more involved with Food Forward's work. It quickly became clear that Devyn was not only a motivated and dedicated volunteer but that she was a real pro with social media! She worked all summer long to perfect a social media schedule with the staff while also doing regular fruit picks. Devyn is super creative, smart and articulate, and it's been a real joy to have her on the Food Forward team! Read more about this awesome volunteer below.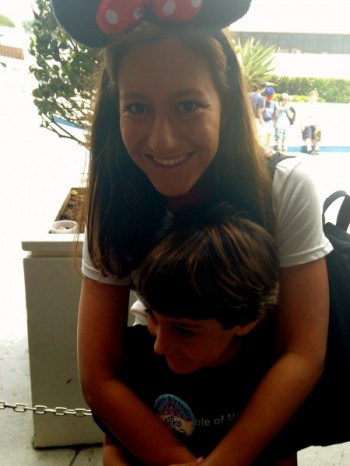 So tell me, how did you get started with Food Forward?
I was first introduced to Food Forward about 2 years ago when I did a pick with my family, but I didn't really get involved until this past June. Like any other teenager, I was looking for a way to spend my summer, but I wanted to find something that was both fun and fulfilling. I've had a passion for philanthropy since I was 10, and I loved (loved LOVED) what Food Forward was doing, so it seemed like a perfect fit. A few emails and a meeting later, and I had an internship.
What are some other projects you're working on that you'd like to share?
Currently, I'm working on social media at Food Forward, and having an absolute blast! Much of what I do requires aggregating social content from the bright minds at Food Forward, as well as reading and research (to find the best content to post on Twitter, Facebook, and Instagram). What amazes me the most is how much I've learned, not just about global environmental and hunger issues, but about the incredible things other NPOs are doing. I love being in a position to share what inspires me, and, hopefully inspire others.
What is your favorite memory working with Food Forward?
If I had to choose one memory, it would have to be when we were surprised with a kayaking trip down the LA River as a team-building exercise. It was something so completely unexpected and out-of-the-box, but so much fun! The people at Food Forward are amazing, and I had a great time hanging out with them.
Any wisdom you'd like to share with the world about life?
It's a bit strange sharing 'words of wisdom' at the age of 16, but I can say that as a swimmer, one of the many things I've learned is to focus on what is directly in front of you. When you approach a race, you don't get up on the blocks thinking about how you're going to pace it, or what your turn is going to be like; you think about your dive. After your dive, you think about your first stroke, then your second stroke, and so on. It becomes about enjoying the process and then celebrating the end result, which Food Forward does every day. Food Forward is such a community-powered organization, where volunteers spend countless hours with their friends and family, enjoying the company and picking fruit that will be delivered that day to someone who, otherwise, wouldn't get it. It makes the deliveries – and the cause, in general – so much more meaningful and rewarding.
Everyday that I'm at Food Forward is such a humbling and wonderful experience. The people who work there are all so bright and passionate about what they do, which happens to be something that's impacting the community in such a powerful and positive way. It's incredibly inspiring.