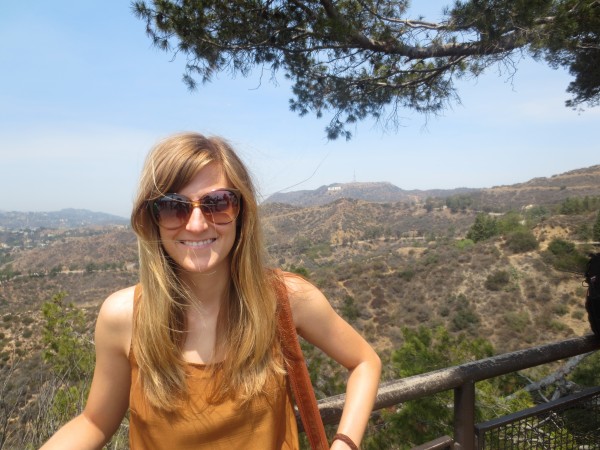 Say hello to our June Volunteer of the Month, Chelsea Frazee! Chelsea has been one of Food Forward's most reliable Glean Team Leads since she started at the Hollywood Farmers Market back in September 2013. One of the biggest markets we glean at, Hollywood requires many volunteers to collect the 1,000+ lbs of produce that we donate to five different receiving agencies, which Chelsea handles each week with a great smile and awesome attitude. Her love for gleaning makes her an amazing Food Forward ambassador at the Hollywood Farmers Market as she inspires vendors, volunteers and receiving agencies with her hard work and passion. Thanks Chelsea, you rock!
So tell me, how did you get started with Food Forward?
I had spent two years working in LAUSD. I hated seeing all of the junk that the kids were eating. More than what the kids were eating, I hated seeing that junk food was the only food readily available. I started looking for ways I could help more people have more access to healthy food. That's when I stumble across Food Forward's website.
What are some other projects you're working on that you'd like to share?
I have been wanting to break into the blog scene for quite some time but never knew what I wanted the theme to be. I have started developing a blog centered around food security and sustainable food. I want to feature ideas, individuals, and organizations (like Food Forward!) who are contributing to a better future for our food system.
What is your favorite memory from working with Food Forward?
There was one Saturday that me and one other volunteer were the only two people gleaning at the market. She was weighing all of the produce while I was collecting all of the boxes. We were obviously really behind, and several of the vendors had already left. Their boxes were sitting on the street and people were trying to go through them. A couple of the farmers helped out by watching the boxes as we tried to collect all of them. It really showed how much the farmers really support our mission. That's also the day I made a few friends at the market.
Any wisdom you'd like to share with the world about life?
Give more than you think you can.