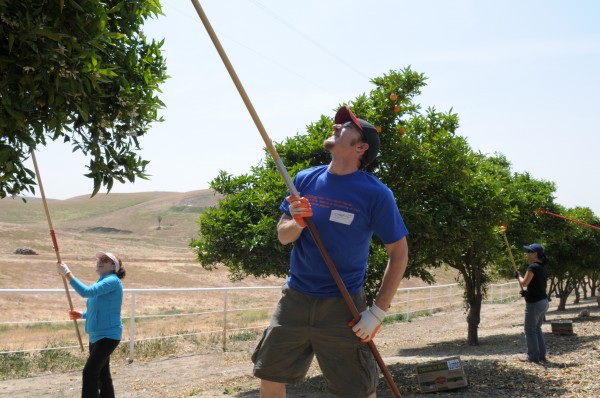 Meet our August Volunteer of the Month! Charles Dinkel has been with Food Forward since the early days of 2010 and became a Pick Leader almost immediately. Due to his love of large power pickin' harvests, he has led over 50 picks in both Ventura and Los Angeles counties and has contributed to the recovery of over 200,000 lbs of fresh fruit. Charles is a creative and thoughtful volunteer with an awesome ability to bring a "MacGyver Approach" to his picks. He constantly goes above and beyond the call of fruit duty, and we're always inspired by the work he does with us! Thanks for everything, Charles!
So tell me, how did you get started with Food Forward?
I first started working with Food Forward, when I was first getting started as an Operations Coordinator at Sova Food Pantry in 2009.  At that time Food Forward was just getting off the ground, so it was an exciting time to witness, the birth of this amazing nonprofit. In 2010, I started to volunteer with Food Forward as a pick leader, and I've been a pick leader ever since.
What are some other projects you're working on that you'd like to share?
For the entire decade of my 30's, I worked as an Operations Manager, first at a recycling company in Seattle, and then at a local food pantry here in Los Angeles.  I've come to realize, I'm a very idealistic individual, so I am now gravitating back towards my roots, as an artist, writer, and poet.  I'm taking photography classes, and retooling, career wise, finishing my writing degree, and looking to launch my own non profit, and creative endeavors.  I've experimented with non profit fund raising, grant writing, and event building.
What is your favorite memory from working with Food Forward?
I recently, in February, led a pick in Fillmore, which was probably the best pick ever.  In a day that started off with a bit of rain, and the van breaking down, a pick came together, in which 16 volunteers, almost all first time pickers, harvested this amazing grove, which was loaded with amazing organic gigantic oranges.  We harvested 5,500 lbs in under 2 hours, about 350lb per volunteer.  It was by far, the most amazing harvest yield, per person, ever, and the ranch owner was amazing too.
Any wisdom you'd like to share with the world about life?
Everyday you vote with your choices, what you buy, what you say, who you love, those are your investments in the world we share.  Shop consciously, love generously, and error on the side of giving/caring too much, not too little.  People are people, everyone is in this together.