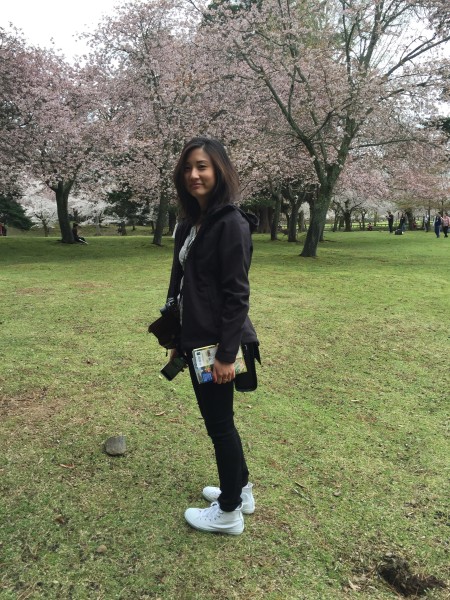 Say hello to our August Volunteer of the Month, Ashton Yoon! Ashton is an all around superstar Super Volunteer. When she is not busy with school, she is volunteering with our Backyard Harvest as a Property Scout and with our Farmers Market Recovery Program as a Glean Team Leader. She is incredibly detail oriented, which makes her a total pro when she is scoping out properties with fruit trees all over LA County to help prepare Pick Leaders for successful harvests. Ashton is also an amazing Food Forward ambassador at the Brentwood Farmers Market where she leads regularly and continuously inspires volunteers with her positive attitude and dedication to food recovery. This fantastic volunteer always gives 110% and we are so grateful to have her on our team! Read more about Ashton below.
So tell me, how did you get started with Food Forward?
Last Fall I wanted to get involved and volunteer with a food-related organization in LA. A Google search and a couple clicks later, I was instantly captivated by Food Forward's admirable mission statement.
What drew you to Food Forward's work and mission?
In the future I would like to be able to dedicate my career towards providing healthier food to a wider demographic of people while mitigating waste from food production. I was drawn towards Food Forward's mission as the work they do is largely dedicated to these same goals.
What do you do when you're not volunteering with Food Forward?
In my everyday life I take classes at UCLA Extension in preparation for application to graduate school in Food Science. I am also an avid home chef!
What is your favorite part about volunteering with Food Forward? Any particular memories you'd like to share?
For me, the most rewarding parts of volunteering with Food Forward are forming relationships with the farmers at the markets and the knowledge that I am aiding in providing food to those in need.
One of the standout memories in my time with Food Forward is when it poured buckets of rain during the entire market. I was training to be a Glean Team Leader with Leah at the time and even though we were beyond soaked was very satisfied and proud of us that we persevered and collected almost 1,000 pounds of produce.
Any words of wisdom you live by?
Always approach life with a thirst for knowledge, curiosity, and sense of adventure.