Our Volunteer of the Month for May, Carol Gravelle, is an instrumental voice for our Ventura County Program and for Food Forward as a whole. Carol has been volunteering with us in Ventura County ever since we began working there in 2011, but she has taken on a huge role in leading the program in the past two years. She has become our committed Farm Glean Leader, leading volunteers in harvesting organic vegetables from McGrath Family Farm and Abundant Table Farms in Camarillo, and helped us secure a local storage site as well. We cannot emphasize enough how important her leadership has been to our young and rapidly growing Farm Glean efforts. Carol also offered up her services as a talented graphic designer, creating a flyer for distribution through our partnership with Laemmle Theaters.*
So tell me, how did you get started with Food Forward?
Three or four years ago I happened upon the group and what you do, I don't recall how, probably through social media. I saw there was an orange harvest near me, and that was my first pick.
What drew you to Food Forward's work and mission?
I saw, and continue to see, it as the perfect win-win-win. Reducing food waste, aiding those who benefit from donated fresh produce, and at the picks, enlarging my community of people who feel those things are important.
What do you do when you're not volunteering with Food Forward?
I'm a freelance graphic designer, organic gardener, hiker, and I volunteer regularly with Channel Islands Restoration to help restore native habitat on the islands.
What is your favorite part about volunteering with Food Forward?
I really enjoy the people I meet on the picks and hearing what led them to volunteer.
Any particular memories you'd like to share?
A memory that lingers: Jim Mangis, who was Food Forward's Ventura County Manager, became a friend and his sudden passing is a great loss. I remember at my first pick Jim gave instructions to the volunteers, requesting that any blemished produce be left in the field, that only grade A goes into the box. At first I thought this was wasteful. But the larger message was that the people receiving the produce, our fellow community members, whatever their circumstances, deserved the best the fields and our efforts could offer. It was a gentle message about social justice and food justice, compassion and dignity that I carry with me.
Any words of wisdom you live by?
"The level of our success is limited only by our imagination and no act of kindness, however small, is ever wasted." – Aesop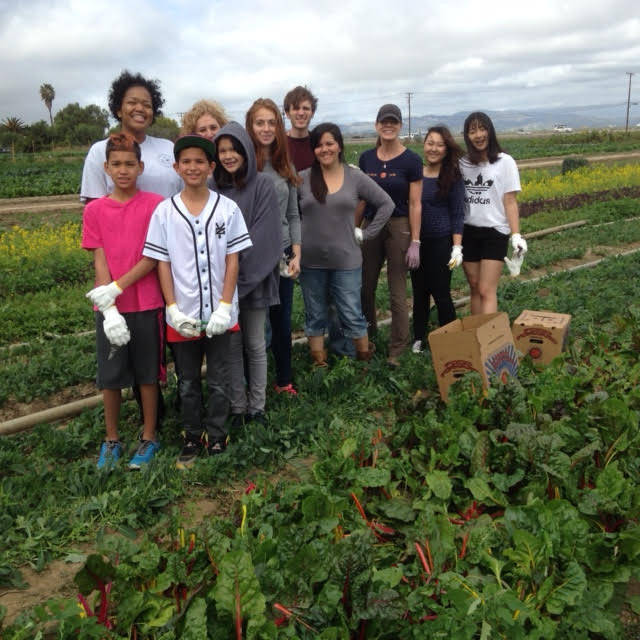 * Check out your local Laemmle in the next weeks to see Carol's generous contribution and fine work!