1.3.17 – Do you know that Food Forward has a special Pick Leader who is growing gardens for people in need? That's right! John Parmenter, our Volunteer of the Month for January 2017, has been cultivating gardens at two locations – one in a backyard of a Food Forward fruit donor and one at his community garden – for over 6 months now and donating the gleanings to Turning Point Foundation in Ventura. Every Thursday, John tends to the gardens, harvests any ripe produce, and delivers it all to this local agency. If that isn't fresh produce, we don't know what is!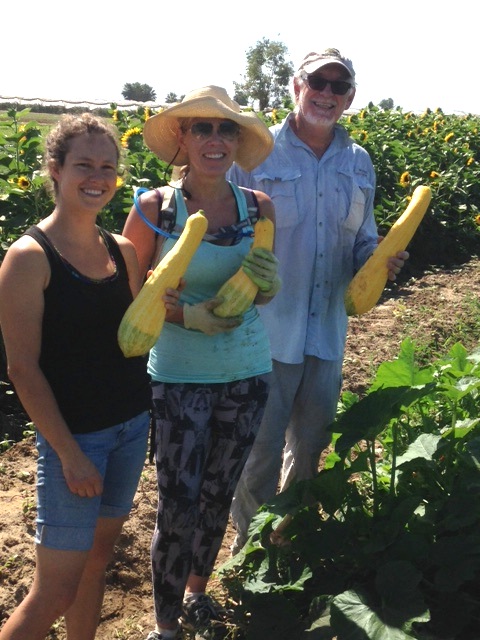 So tell me, how did you get started with Food Forward?  
Well, my wife and I retired from teaching in the Los Angeles Unified School District a few years ago, and with more time on our hands we looked to volunteer some of that free time to help others. I went online and found the Food Forward site, and felt it was the right fit for me.
At that time I remember reading about the need for volunteers to pick squash in Camarillo so I signed up. It was very hot work that day, but we managed to fill quite a few boxes. That was my first pick.
What drew you to Food Forward's work and mission?
The Food Forward mission makes perfect sense to me. With an abundance of food to share in our community there's no need for anyone to go hungry. It's simply a matter of gathering the surplus and delivering it to those in need.  

What do you do when you're not volunteering with Food Forward?
I try to stay active to fill my days, and so far it seems to be working. I've been an avid fly fisherman for many years and this interest has kept me busy with a number of projects. When I'm not out fly fishing in the local Ventura surf, I'm usually doing something fly-fishing related like tying flies, writing about the sport, or crafting bamboo fly rods.
I also enjoy organic gardening and have been maintaining small garden plots for years. Currently I have two plots at a community garden in Ventura, and most of what I grow now is donated to Food Forward.
What is your favorite part about volunteering with Food Forward? Any particular memories you'd like to share?
Whenever I finish a pick, and run a delivery to one of our agencies, I always walk away with a good feeling knowing that people will benefit directly from my efforts. What could be better than that?
Any words of wisdom you live by?
Stay active, stay involved, and allot time in your life for helping others!