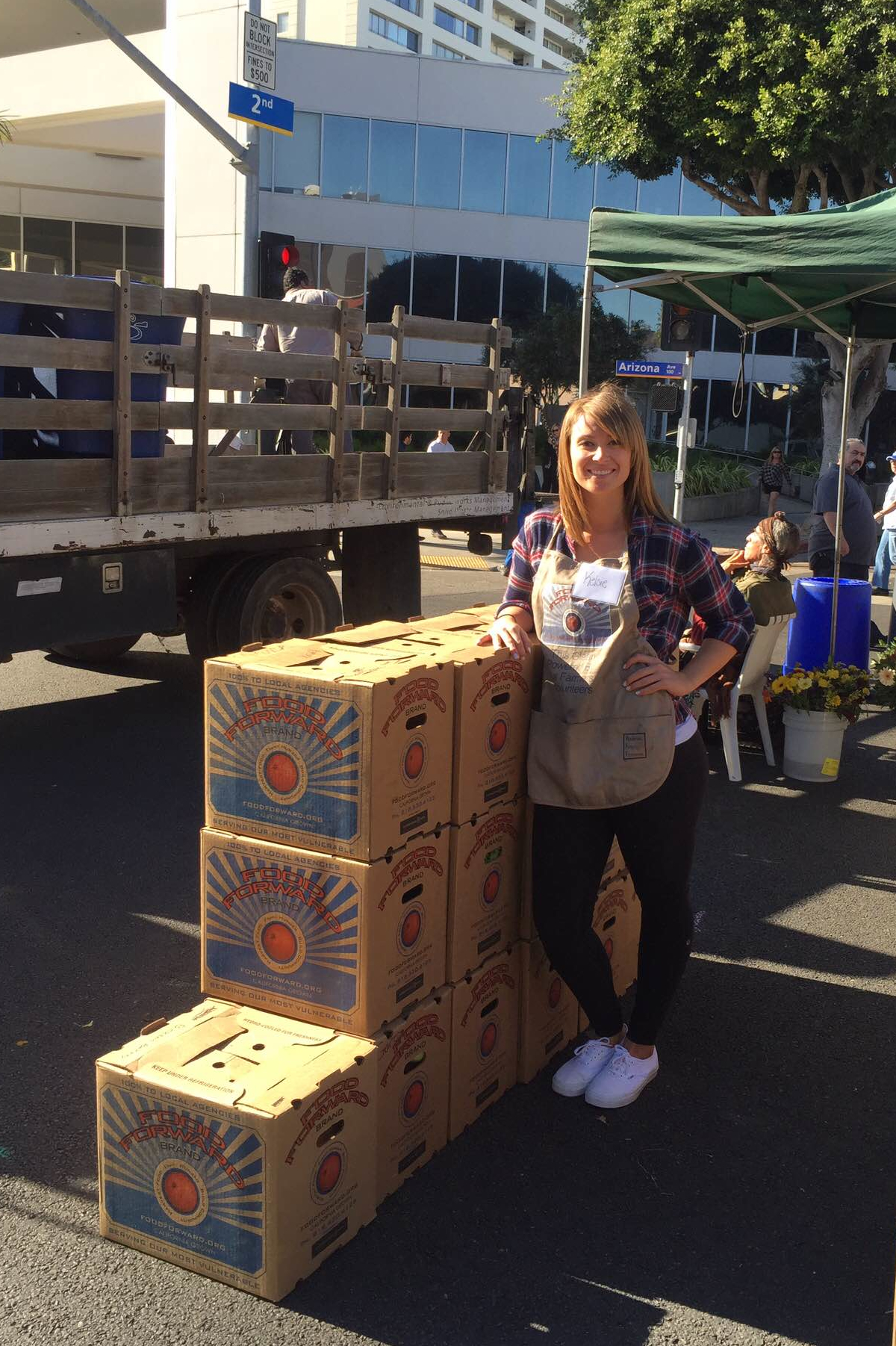 We're so happy to introduce our Volunteer of the Month for November, Kelsie Silva-Neto! Kelsie jumped on board the Food Forward family this past February and has already made a huge impact. She's an experienced Glean Team Leader and Community Ambassador, and when she's not doing that she has been volunteering at the office for our Backyard Harvest Program. Here at the Fruit Cave, we've come to love Kelsie for her warm, open, friendly aura, and for how awesome she is at spreading the Food Forward love to everyone she meets. Kelsie has been representing Food Forward at all sorts of event across Los Angeles County – farmers markets, college fairs, even a Polo Tournament (!) – and we are so lucky to have her out there sharing our story. Whether she's gleaning, tabling, or sending thank you notes to homeowners, Kelsie has brought a lot to Food Forward and our network of volunteers and donors. So make sure you say hi to her the next time you see her at the market!
So tell me, how did you get started with Food Forward?
I got started with Food Forward by volunteering at the farmers market in Santa Monica on Wednesdays. After that market I was hooked. I volunteer regularly at Santa Monica on Wednesdays and once a month in the Pacific Palisades, and took on a Community Ambassador position as well.
What drew you to Food Forward's work and mission?
Food Forward's two-fold mission of reducing food waste and helping those in need was what got me interested. I'm in recovery from an eating disorder so volunteering with Food Forward has helped me create a different relationship with food. When I see others in need of something that I have spent a long time taking for granted, it reminds me to take a step back and keep a healthy perspective.
What do you do when you're not volunteering with Food Forward?
When I'm not volunteering with Food Forward I'm usually writing, reading, singing, hiking or spending time exploring LA!
What is your favorite part about volunteering with Food Forward? Any particular memories you'd like to share?
My favorite part of volunteering with Food Forward is seeing how generous our vendors are. They consistently give to this program and it makes being a volunteer really satisfying. Some of my favorite memories are when vendors surprise us with a huge donation or when a vendor who normally doesn't donate chooses to give us a donation. It's also been a great opportunity to meet like-minded people in the city.
You're one of our very first Community Ambassadors. What's that like?
Being a Community Ambassador is a lot of fun! I get to go to different events and neighborhoods to talk about how cool Food Forward is. A lot of people are really on board with the idea and eager to get involved. I wouldn't have nearly as much fun being a Community Ambassador if people weren't getting excited about what we're doing.
Any words of wisdom you live by?
"You have to give it away to keep it"