This November, we would like to shine the spotlight on Suki Sir, one of our amazing Glean Team Leaders in Ventura. She is the Marketing and Fund Development Director for the Turning Point Foundation, one of our receiving agencies. As a volunteer, she leads regularly at our farmers markets in Ventura and Channel Islands. Suki also serves on the Ventura County Branch Advisory Council and is always willing to run by the office to pick up a box of fruit to distribute any time we have extras. Thank you Suki, for all you do for our community! 
So tell me, how did you get started with Food Forward?
I was always saddened by food falling off trees and not being eaten when there were hungry people in our community.  I also work with people that are mentally ill and homeless and we buy food from Food Share to feed them. I started by getting to know them for our agency, Turning Point Foundation. I started volunteering at backyard and orchard gleans and I was hooked!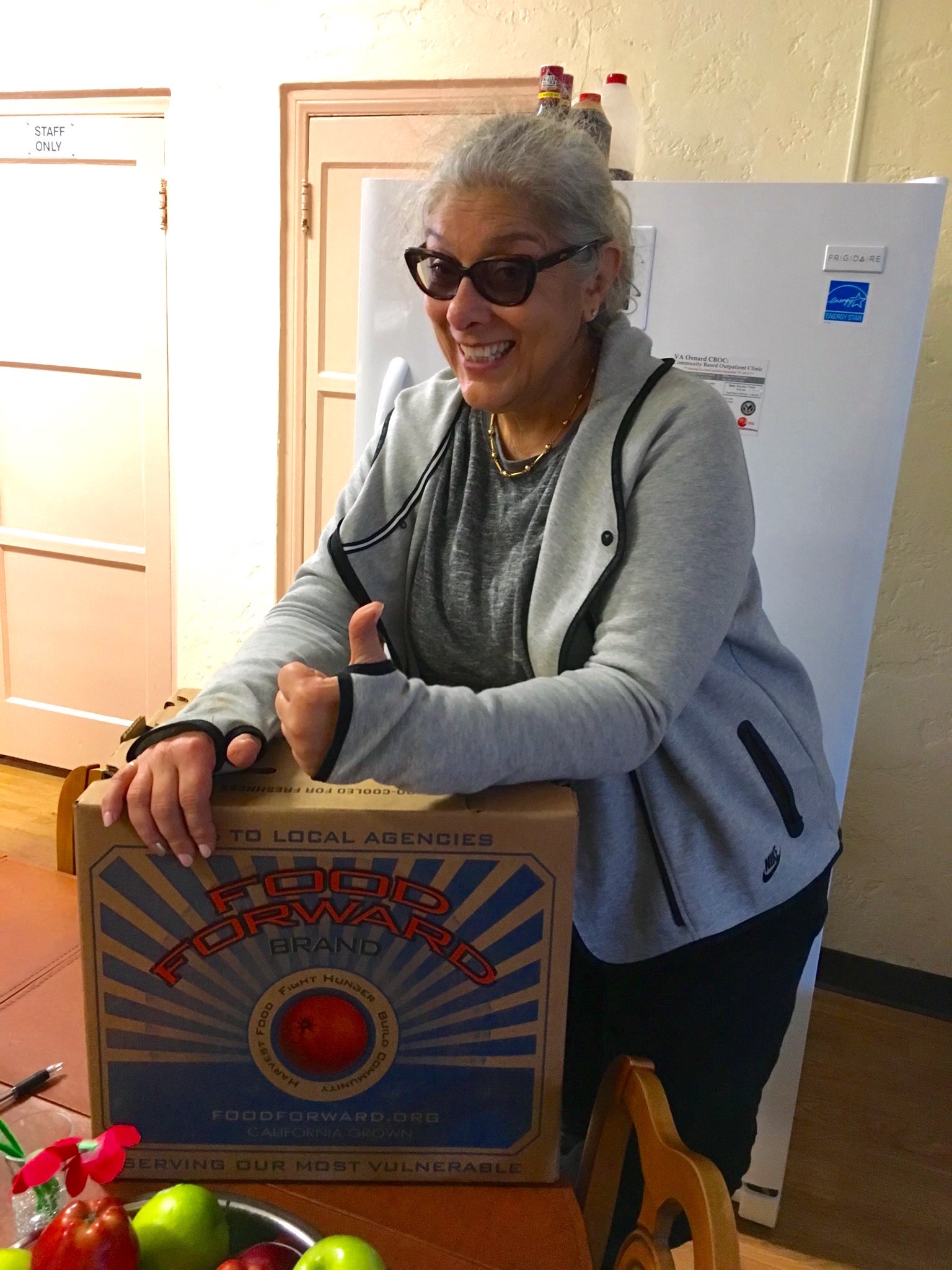 What drew you to Food Forward's work and mission?
I am a Master Gardener and edible gardens are my passion. Well, I guess food is my passion and I believe no one should go hungry in America.
What do you do when you're not volunteering with Food Forward?
I work in my garden and make my plants happy!
What is your favorite part about volunteering with Food Forward?
Meeting with other volunteers and chatting with the farmers at the markets.
How would you describe the volunteer experience at the market?
Volunteering at the market is so awesome!  You get to see some produce that you've only read about and experience the change of seasons.
What was your first volunteer day like?
It was a blast! We were gleaning a 100-year old avocado tree right on Poli Blvd. in Ventura. I got to climb ladders and use those fruit pickers and wear the collection bag! I'm really corny and easy to entertain!
What have you learned from volunteering?
I can always give a little more.
 
Is there a particularly powerful volunteering moment you'd like to share?
When I was dropping off a donation to the Veterans Transitional Housing Program, the vets were waiting at the window for me to pull up and were so excited that I had fresh vegetables and fruit for them!

Any words of wisdom you live by?
A candle loses nothing by lighting another candle.