Meet our Volunteer of the Month, Matt Sanderson, who has been volunteering with Food Forward since December 2019. Matt finished his Pick Leader training in January 2020 and made a huge impact in very little time! In only 10 months Matt has led over 25 gleaning events, including leading 7 harvests alone in May! He brings his passion for food justice and policy to each harvest event and we're grateful for his support, creativity, and hard work. Matt has been an amazing addition to the team and we couldn't be more grateful to have him in our fruity family. Thank you Matt!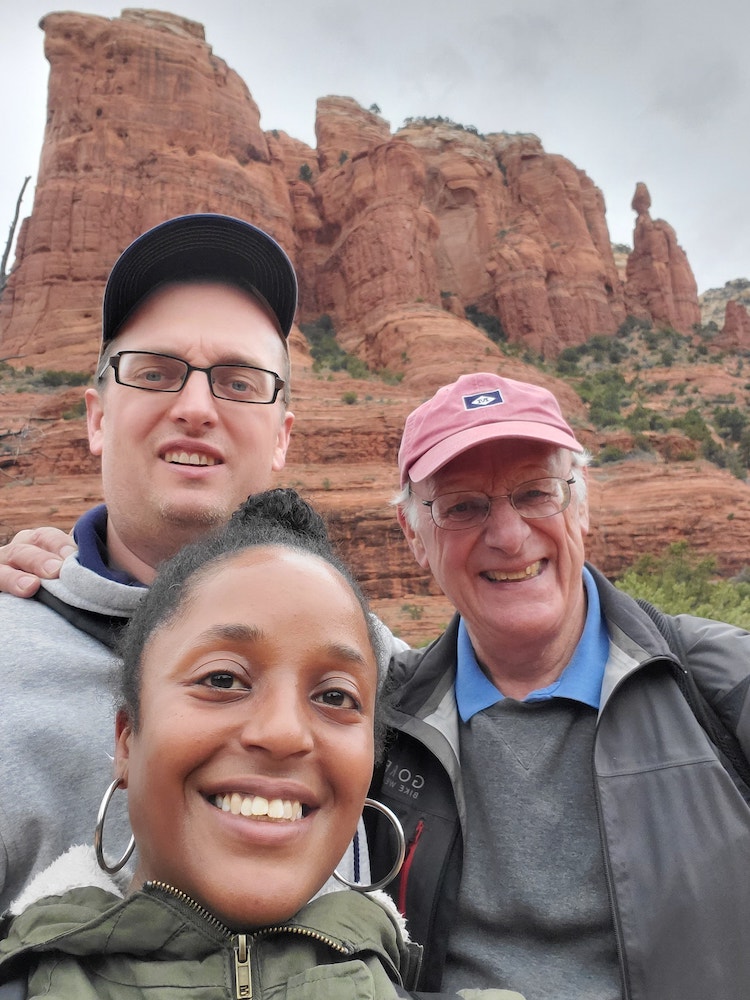 Matt, his father Ian, and girlfriend Kibby, visited Sedona, AZ last December.
So tell me, how did you get started with Food Forward?
It began with an email to the LA Food Policy Council's Food Waste Prevention and Rescue Working Group last December. They sent a group email to recap the past month's meeting, and in the announcements section was a call out to help Food Forward. I signed up to glean at my local farmer's market in Burbank and from there, I was quickly introduced to the Backyard Harvest Program.
What drew you to Food Forward's work and mission?
I like seeing a portion of the fruit growing on all these trees in the region actually get redistributed to organizations that directly help people who need it, instead of seeing it rot and get wasted. Between farmer's market gleans and fruit harvests, Food Forward delivers on a simple promise to make the best use of what's around us locally to help others. Regardless if you live in a state like California with the climate and access to this abundance of fresh produce, I believe every single global community needs a Food Forward model operating to fill a void of food waste.
What do you do when you're not volunteering with Food Forward?
I walk, ride my bike, go for hikes and cruise these SoCal roads, man! I also cook a lot and subconsciously, what led me to finding Food Forward was actually cooking. I had an epiphany in 2019 as my cooking prowess grew at home. I wanted my career to align more with my passion deep down for cooking and all things food. It led me to reaching out to the LA Food Policy Council. I believe wholeheartedly in food justice, especially with how you act at home—cooking a variety of local, healthy food, composting, and taking an interest in gardening.
I like exploring, even if it's an urban adventure in LA. I camp when I can and I used to camp more. I traveled a fair amount in recent years but before the pandemic I've had to buckle down and budget a bit more. I've been active my whole life based on my upbringing, so I still fall back into my sports, playing volleyball, baseball, softball, basketball, tennis. I'm also trying to get back into drawing and poetry.
I used to see a lot of concerts and I keep a lot of music on me. I'm also very interested in vlogging and blogging about my hobbies and passions and need to do it more. I'm a cinephile and love finding classic films I've never watched.
Now during the pandemic, I cook even more. Reading more and listening to audiobooks are slowly creeping up my list, too. And don't forget the importance of a good nap. Wow, okay, this was too much info!
What is your favorite part about volunteering with Food Forward?
Well, it used to be connecting with new people on group picks. However, I also really like solo picks and evolving my strategy and approach to picking a tree when I arrive. I think of it like a video game. Is that weird?
Also, I like gawking at the landscape design of people's yards. Some homeowners really take pride!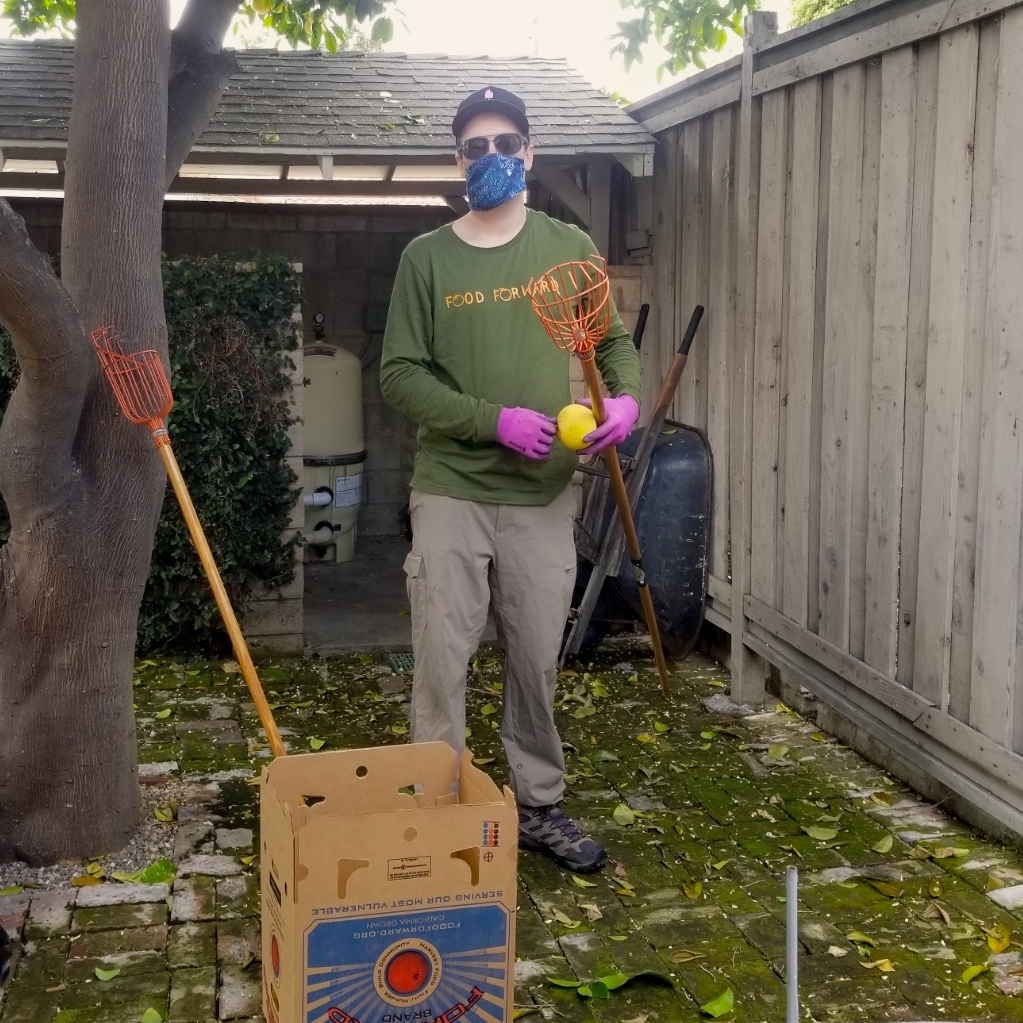 Matt started volunteering with us right before the pandemic, and has since become an avid solo harvester. 
How would you describe the volunteer experience at a harvest?
Well, that was only 1.5 months for me before the pandemic started, but before becoming a pick leader, I liked learning from experienced pick leaders and their approach to a successful harvest. If it's a big harvest you get a lot of freedom to tackle your own tree sometimes, and it's satisfying to fill a box. It's a very easy, laid back 1.5-2 hours before it's over, so it's worth speaking up early and often.
What was your first volunteer day like?
If I remember it correctly, it was in Van Nuys near the airport. The homeowners were outside with the group chatting us up. I distinctly remember this because it was the only time I've asked to use the homeowner's bathroom, and it was the only time I used the new pickers Food Forward acquired with the lever to chop the fruit from the branch. It was a bit cumbersome to learn how to use, but I did get it down. Now I just use a standard picker.
What have you learned from volunteering?
Giving your time is always worth it because you're helping others. I believe that you're hopefully passing along the value of volunteerism to at least one other person who will start offering their time in some way, and then they pass that along to someone else.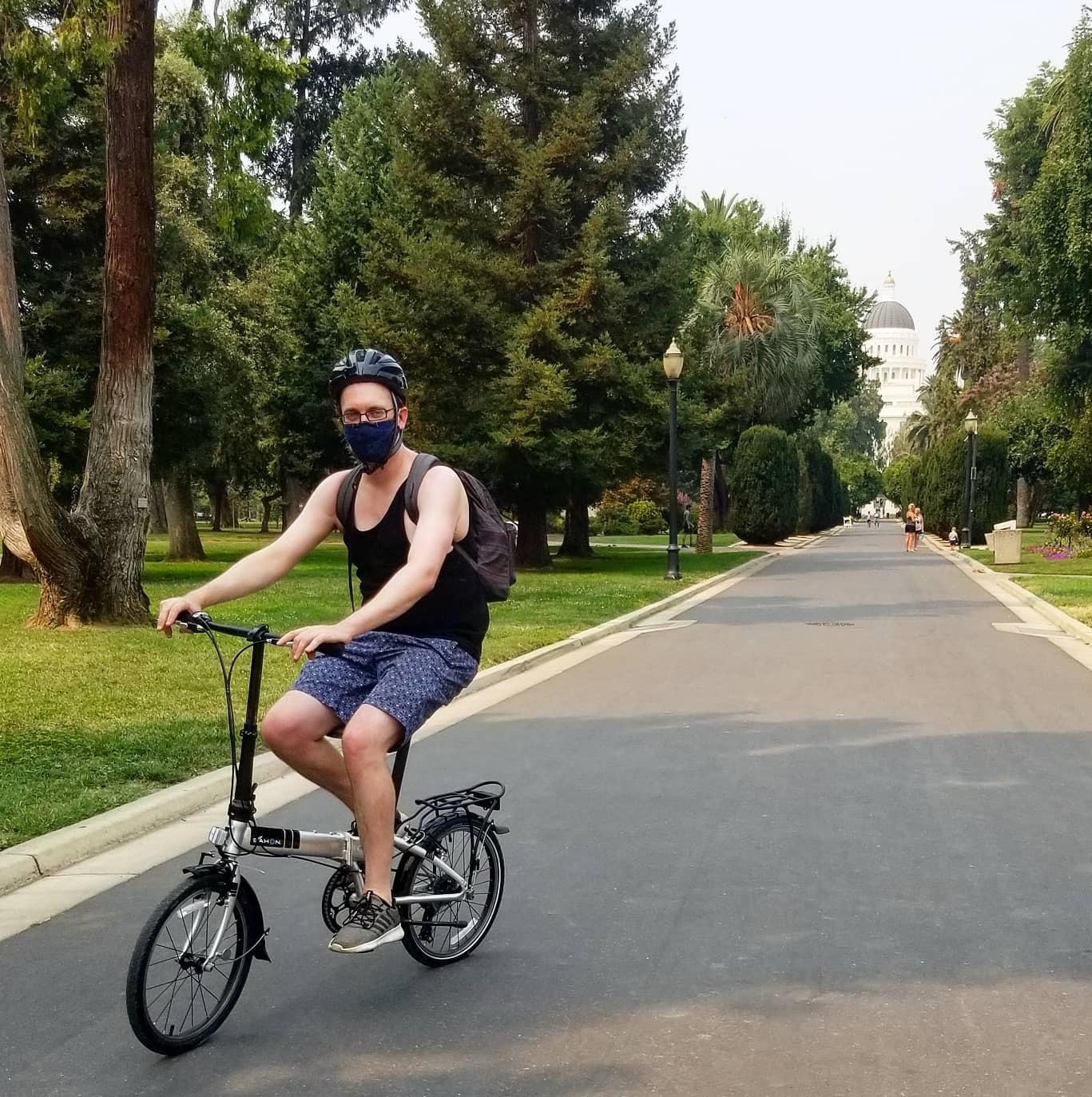 Matt biking around downtown Sacramento near the state capitol. 
Is there a particularly powerful volunteering moment you'd like to share?
For my Food Forward experience during most of the pandemic, I can't reference a specific powerful moment yet. Volunteering in general, sure, and covering community events over the years as a journalist and editor based on the personal stories people have told me.
There was one day in Echo Park where the home was elevated from the street, on the first 95+ degree day of the year. The homeowners had a giant grapefruit tree where the top section was only reachable by their upper floor balcony. I've never seen a grapefruit tree this big before or since this property. When fruit fell, it would roll along the pitch of the property all the way down the steps to street level, banging against the front gate. I would walk down to retrieve the fruit to store back in the boxes. It was the biggest yield I've had picking, and it was alone, all thanks to the homeowners getting some bags of grapefruits. And I loaded and delivered them for my first delivery, which was in Westlake/Koreatown, instead of the agency coming to the property to pick-up. This, along with a few other picks out of the bunch I've done this year, had  quite a uniqueness to them.
At another property I picked near my home in Burbank, the homeowner told me to watch out for a bird's nest. She wasn't kidding. I had to avoid a section of this tree simply for the fact the parent bird was going into protective/potential dive bomber mode. It would chirp loudly and leave the nest to perch on a branch closer to me, and stare at me, or fly above me to a powerline nearby, at a perfect angle close enough to be out of my periphery but making its presence known! Anyway, I picked enough grapefruits and stayed out of that section of the tree, out of respect.
And in September, I picked a homeowner's tree that's been a partnering property for several years. It was apparent soon upon arrival that her orange tree was sick. The fruit was still okay, even with the outer peels uncharacteristically dirty. There were sections where leaves were completely covered in white dots on the underside, and, even more alarming, large black spiders with red would descend quickly from cobwebby areas. There were quite a few.
Aside from the homeowner and I wearing our masks due to the pandemic, she was covered head to toe with gloves, knowing about the spiders before the pick. I advised her to have a specialist look at it, and handed her our pamphlet on the invasive citrus bug. She emailed me later that day thanking for the advice and learned her tree had mites and was going to get treated.
Also, Orcutt Ranch in West Hills is a dream orchard to pick. There were plenty of ants here that I had to keep picking off…but man, those were the best tasting oranges I've EVER had.
And I've met a variety of people who were interesting to talk to, or were retired and had some wisdom or career advice to lend.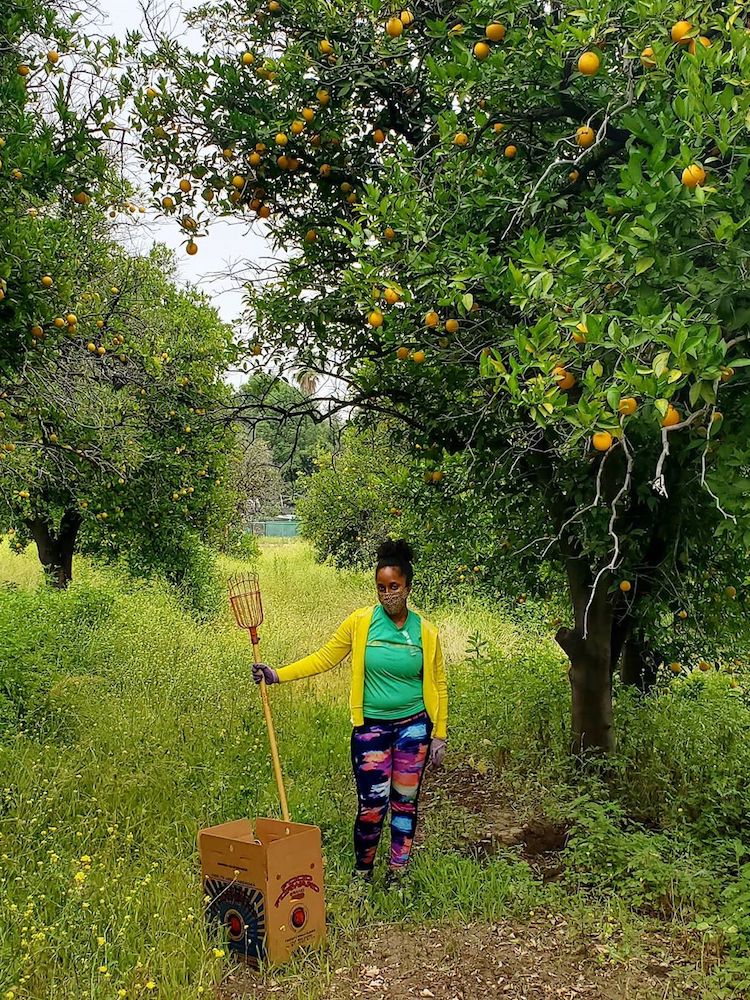 Matt's girlfriend Kibby often joins him at harvests, like this one at Orcutt Ranch.
Any words of wisdom you live by?
Be true to yourself. Nature is always the cure for the soul. Those who do not remember the past are condemned to repeat it.