Meet our Volunteer of the Month, Betsy Vanleit! Betsy has been volunteering with Food Forward since 2016, and before long she trained as both a Pick Leader and Glean Team Leader. In the last few months, Betsy has been "solo" harvesting, helping us get to lots of fruit trees and support our community partners with fresh produce. We're so thankful for Betsy's hard work and dedication to making fresh foods accessible to all.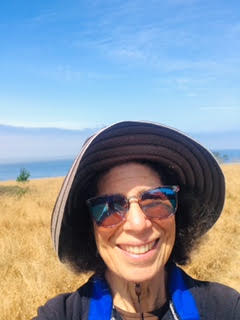 So tell me, how did you get started with Food Forward?  
In 2016 I retired from a career as a university professor, and moved to Ojai to be closer to my parents. I felt really fortunate to have time for volunteer work, and I knew that I was particularly interested in food systems and food justice work.
What drew you to Food Forward's work and mission?
I really appreciate Food Forward's emphasis on rescuing produce and assuring that it gets to people who need it! In addition, I love spending time in orchards and at farmers markets.
What do you do when you're not volunteering with Food Forward?
I love to hike, garden, bake sourdough bread, and cook. I also spend some volunteer time doing habitat restoration work for the Ojai Valley Land Conservancy.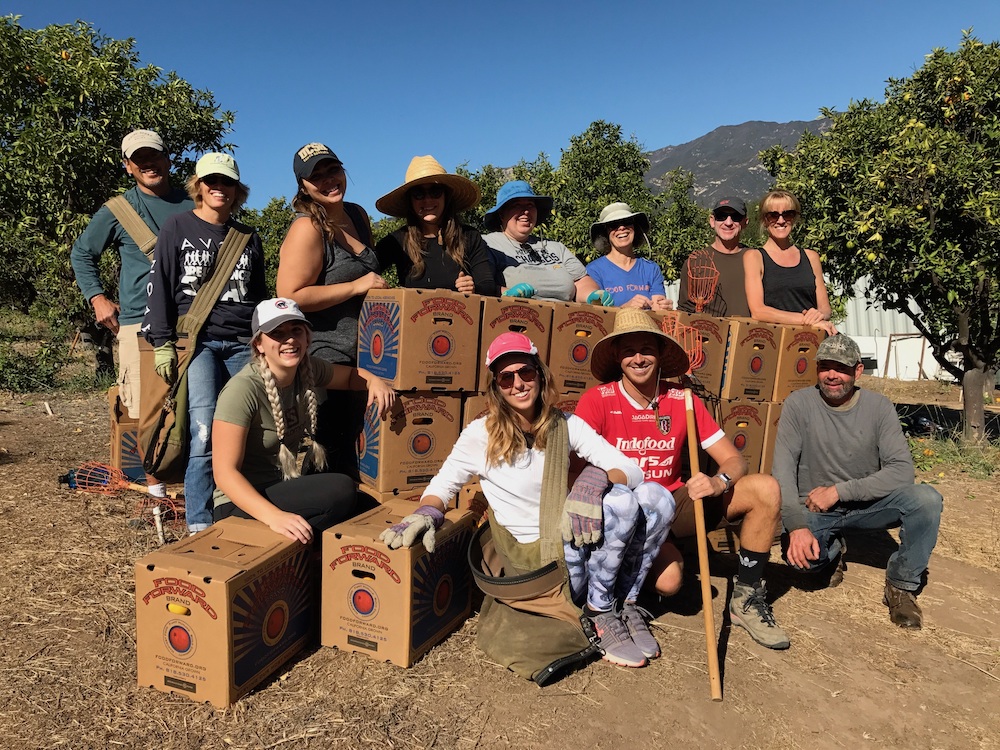 Betsy at a harvest in 2017 (back row, third from right).
What is your favorite part about volunteering with Food Forward? 
When I first started volunteering, we did group picks and gleans, and I enjoyed the people I met. Now I do solitary picks, and I enjoy the time with the fruit trees!
How would you describe the volunteer experience at a harvest or a glean?
It gives me joy to know that we are rescuing fruit and produce that would otherwise go to waste. It is also wonderful to help feed those who struggle to access good quality fruit and vegetables.
What was your first volunteer day like?
I was hooked! I met some great people, picked boxes and boxes of oranges, and felt that I had contributed to something really good.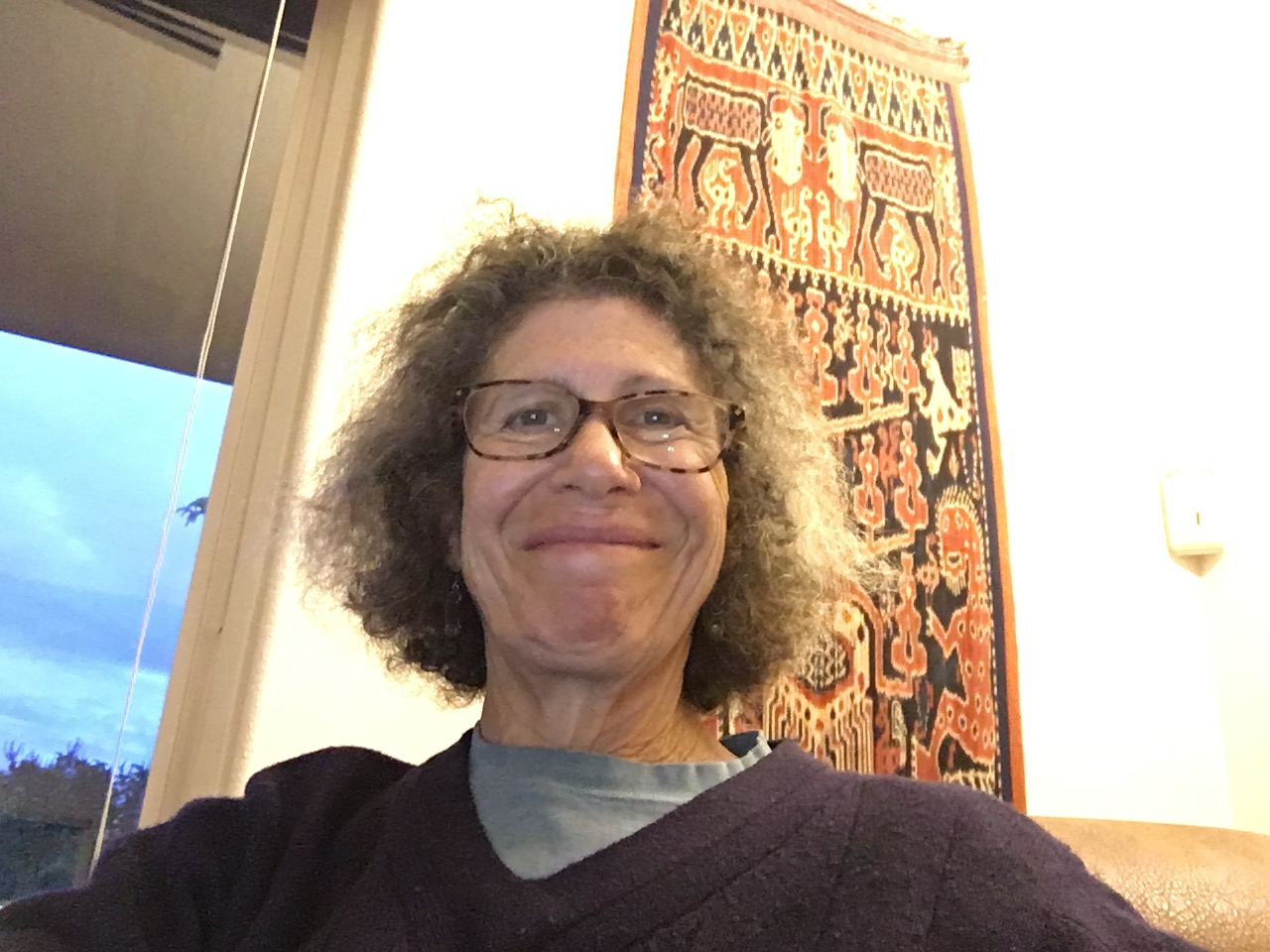 What have you learned from volunteering?
Volunteering is a wonderful way to feel that I am part of something big and important. Even when the world feels crazy or I am having a hard day, picking fruit for Food Forward fills me with a sense of meaning.
Is there a particularly powerful volunteering moment you'd like to share?
No one moment stands out, but there is always a quiet happiness that comes from the simple act of picking fruit and knowing that others will get to eat.
Any words of wisdom you live by?
I try to find ways to act from a place of kindness and compassion. Volunteering with Food Forward is one of the ways that helps me live that aspiration.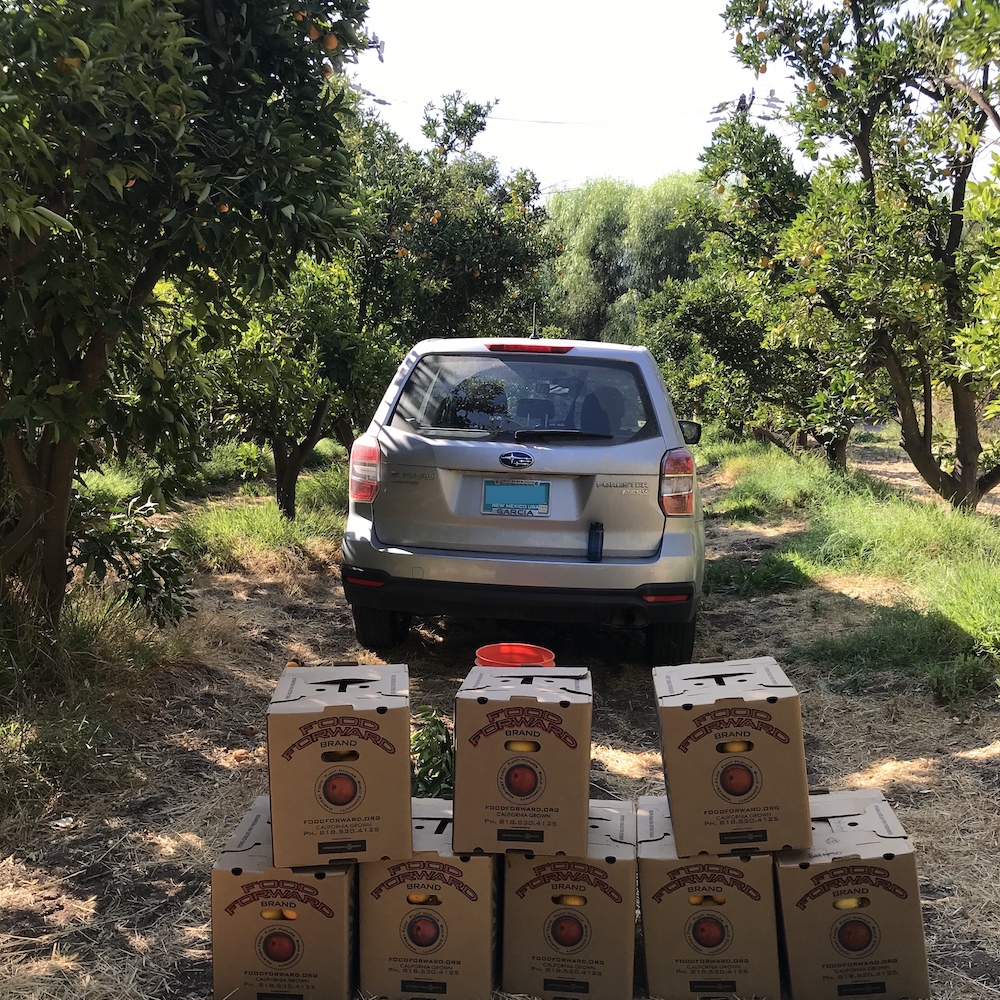 A bounty of oranges picked by Betsy!