Meet our volunteer of the month, Brenda Rees! Brenda has been volunteering with Food Forward for several years and is a trained Pick Leader, Glean Team Leader, and Community Ambassador. As a Pick Leader, Brenda is an active and passionate member of our Backyard Harvest Team, and has led over 60 events! We especially want to highlight Brenda's hard work during this past year. Since the start of the COVID-19 crisis she has led 16 harvest events, yielding 5,240 pounds of fresh fruit! We are very grateful for Brenda's dedication, and are happy to have her on our team. Thank you Brenda!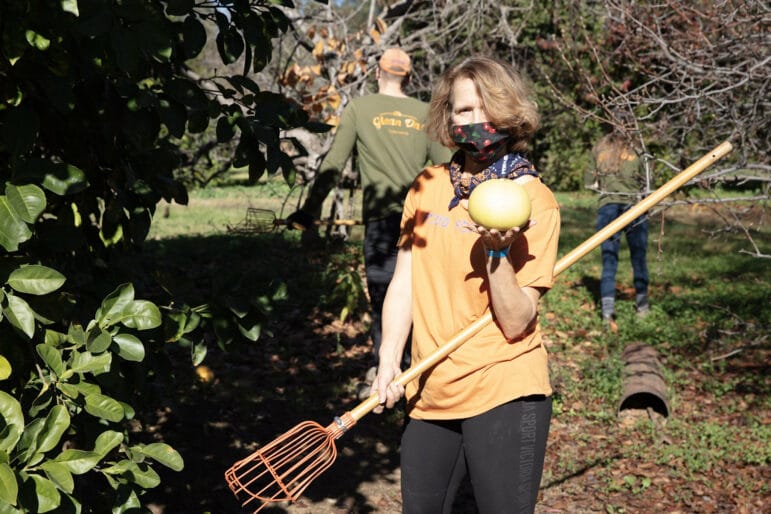 So tell me, how did you get started with Food Forward?
I found out about Food Forward from a writing assignment—LA Parent asked me to find volunteer activities that parents can do with their kids. This was in 2013 and Food Forward was still new. I brought my daughter—then 11 years old—to a fruit pick and we had a blast. Grapefruits. The next time we brought my husband along and it became a family affair for a while!
What drew you to Food Forward's work and mission?
I had tried previously to find activities that we as a family could do that would give back to our community. It was very hard—soup kitchens and food prep can't allow kids under 18 to participate. I love that Food Forward was about feeding folks by using our bare hands.
What do you do when you're not volunteering with Food Forward?
I am a writer working on a variety of projects with clients in addition to doing my own creative writing. I am also on the board of Friends of Griffith Park because I want to see that urban wilderness grow and thrive—it's a place I dearly love. I've done onsite projects with the Channel Islands Restoration and can't wait to go back to the Islands! Yeah, I like the outdoors.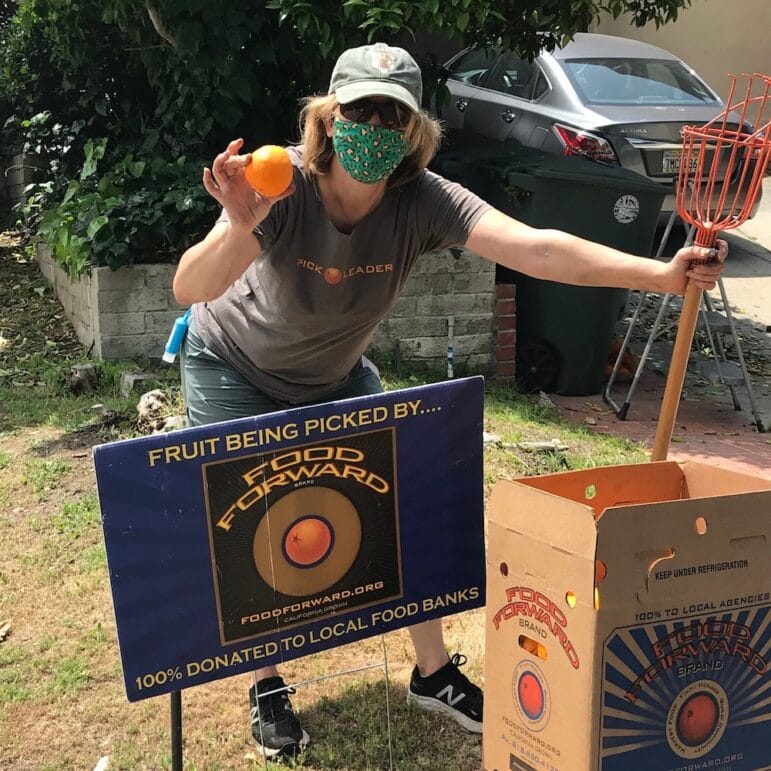 What is your favorite part about volunteering with Food Forward?
Meeting the people! I love the homeowners who open up their backyards to us, who bring out lemonade and cookies for us, who sit back in a chair and visit while we pick. I love helping little kid volunteers learn the joy of filling up a box so others can eat. I love the enthusiasm of the volunteers who come out and work hard. Most of all, I love being in the company of the trees that are always giving.
How would you describe the volunteer experience at a pick?
We are there to work! If I am leading the pick, I tell my vols that they will work hard and end the day with dirty hands but a good feeling inside. I make sure everyone is having a good time, feeling like they are part of something bigger. It's our collective power that will fill these boxes, that will feed the hungry. I like to chit chat and often whatever tree we are picking—grapefruit, pomegranate, persimmons— folks will start talking recipes. That's fun. Especially when volunteers swap recipes!
What was your first volunteer day like?
We were picking grapefruits in a backyard in the San Fernando Valley. My 11-year-old daughter Kate was with me. The tree was monstrously big and loaded, and we had to duck often from falling grapefruit that were the size of baby heads. The pick leader and I joked that Food Forward needed to invest in football helmets to wear when picking such large and heavy fruit. We didn't have the fancy boxes we do now—we piled the fruit in used banana boxes. I loved the easygoingness and camaraderie of everyone involved. I was hooked!
What has volunteering during the pandemic been like?
Before the pandemic, leading picks at the Huntington's citrus orchards meant overseeing big crowds, families, kids and more. Last summer, it was killing me to see the orchards full of fruit and no crowds to pick it. I asked Food Forward if I could invite a few friends to join me in socially distanced picks, and I reached out to friends mainly around the Pasadena area. "Who's willing to help?" I got such a wonderful response, and for two months, some configuration of women met every Wednesday to clean off the orange trees. We called ourselves the 'Wednesday Women's Group' and, during the hot summer days, we met early in the morning to work. We were lawyers, writers, teachers, designers, entertainment professionals, and more. Most of these women didn't know each other at the beginning, but we sure did at the end. We shared a common goal and smiles with each other those early mornings.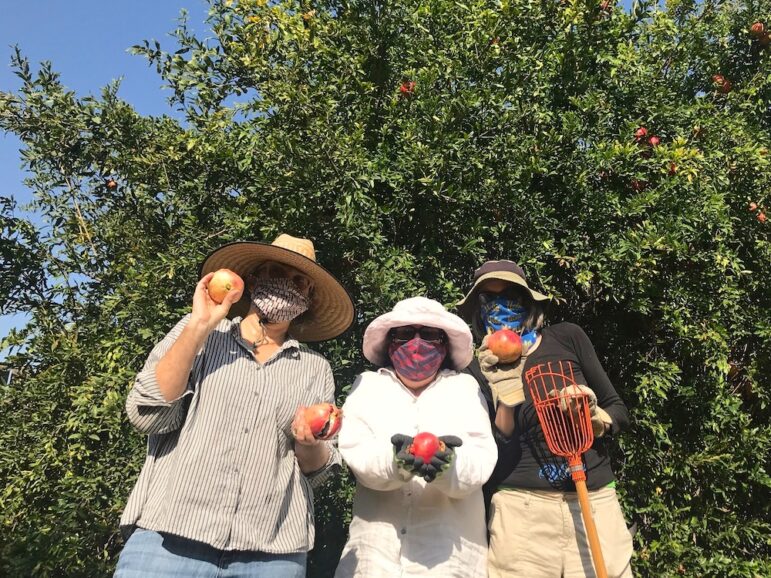 What have you learned from volunteering?
At Food Forward I have learned so much about TREES! I would never have known about certain fruit—sopates, persimmons, guava—had I not picked them. We are so lucky to live in a place where fruit is abundant and grows practically year-round. I've learned how to drive a van filled with clanging pickers in the back. I've learned I'm the happiest when my hands are dirty and my back is sweaty.
Is there a particularly powerful volunteering moment you'd like to share?
Staring out at a large pick—the Huntington, Franklin Canyon—and seeing all the volunteers busy at work. Watching so many groups, individuals laughing, working and sharing with one another can be a mind-blowing experience. "How did we all get here?" I think. We got here because we want to help. We want to give. We are sharing the load to help, to serve, to feed.
Any words of wisdom you live by?
"People. Love them and feed them."
"Trees. Love them and pick them."