This month we're featuring two Volunteers of the Month – Nick Doctors and Patrick McPhilamy. Nick and Patrick have both gleaned all but four Sundays since we started back up at Encino in June—a total of thirteen gleans, plus they're signed up for all four in October already! They both led at different markets pre-COVID but trained at this market in order to help us out. Nick is a relatively new Glean Team Leader who really hit the ground running with us! After he became a Glean Team Leader, he'd still sign up for markets as a general volunteer if someone else was leading. Patrick has been with us for 3 years as both a Glean Team Leader and Community Ambassador. Pre-COVID, he would drive all the way from the Northwest San Fernando Valley to lead at Alhambra and/or Pasadena twice a month! It's been incredibly helpful to have them at nearly every glean, and they've helped show a lot of our other Glean Team Leaders the ropes. Thank you, Nick and Patrick!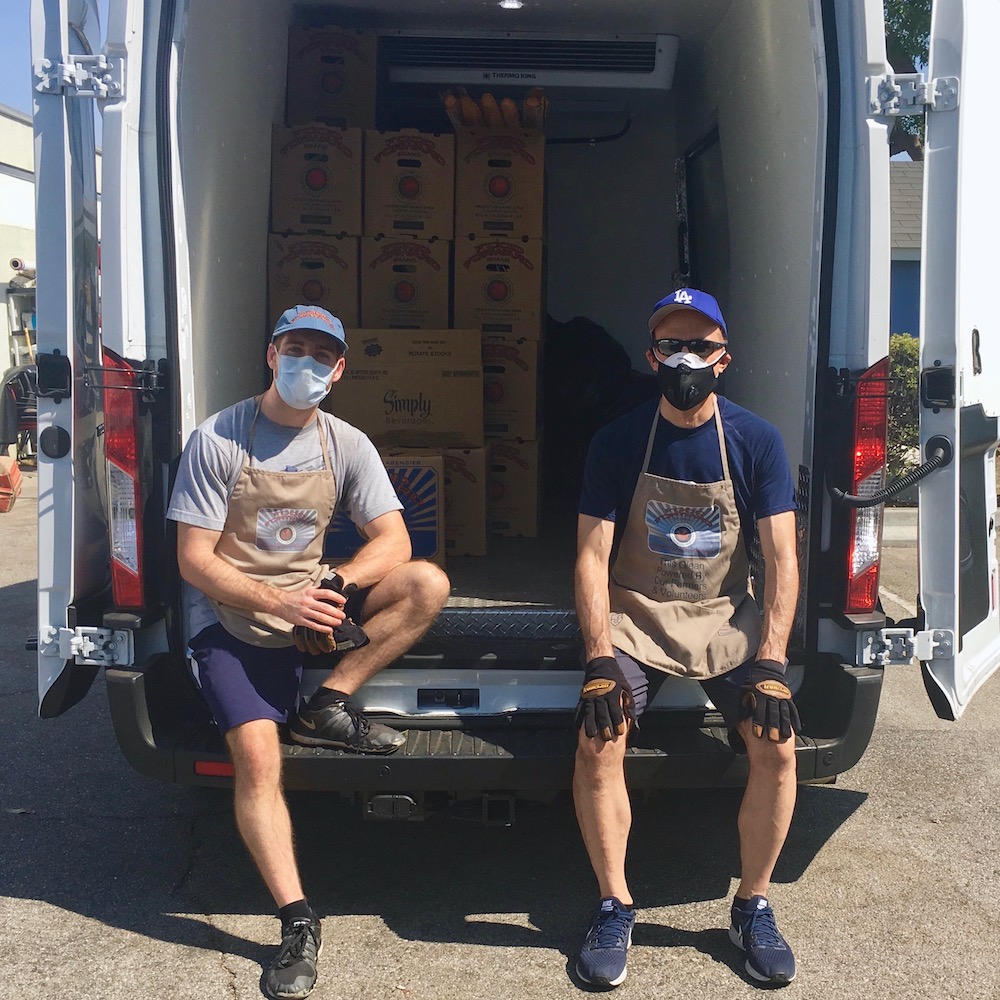 Nick (left) and Patrick (right) pose with the bounty of recovered produce after a recent glean at the Encino Farmers Market! 
So tell me, how did each of you get started with Food Forward?  
Nick: As a frequent visitor to the Calabasas farmer's market, I was always intrigued by the mysterious group walking around with a big cart and boxes. When I later found out what Food Forward did, I knew I wanted to get involved.
Patrick: I started as a volunteer, gleaning at the Alhambra Farmers Market on Sundays, and later became more active as a Glean Team Leader and an Ambassador for Food Forward.
 
What drew you to Food Forward's work and mission?
Nick: I'm a big advocate for people to live healthy lives, and Food Forward delivers high quality, healthy produce to various communities! Plus, this benefits the vendors so it's a win for everybody involved.
Patrick: I had been working with international and national organizations with well-established hunger-relief programs prior to volunteering with Food Forward. However, I wanted to become actively involved with an organization having a direct, tangible, and local impact on hunger relief. This drew me to Food Forward. Its mission to connect abundance with scarcity through farmers markets and other gleans by providing whole, fresh, and nutritious produce to individuals in the local community experiencing food scarcity resonated with me, resulting in my affiliation with Food Forward.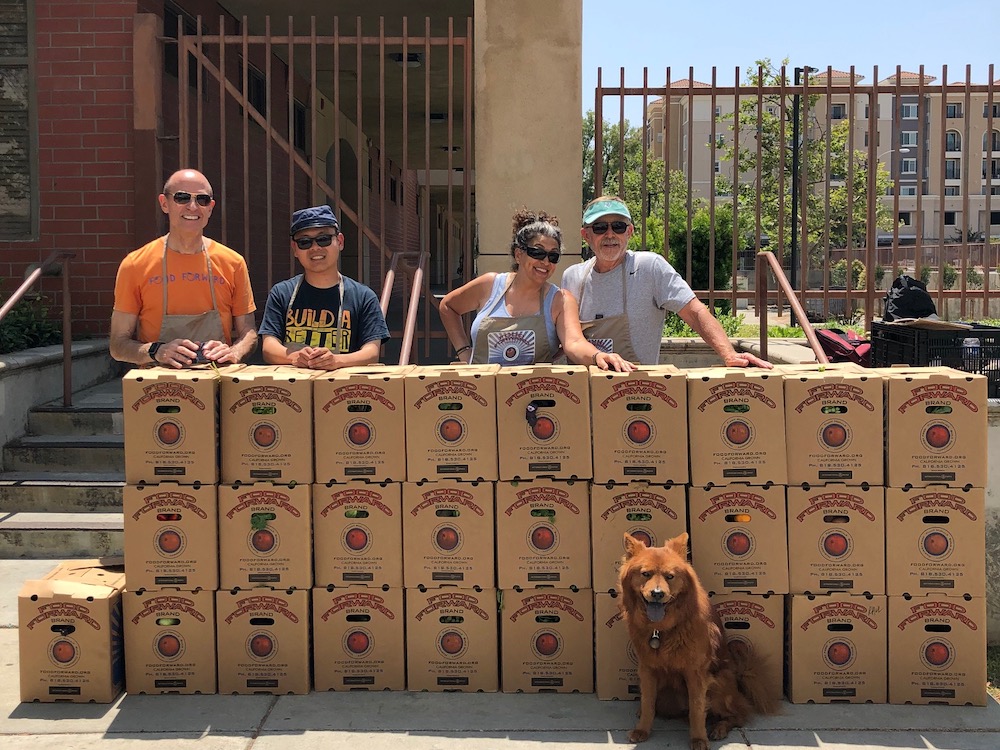 Prior to the pandemic, Patrick (far left) often led gleans at the Alhambra Farmers Market. 
What do you do when you're not volunteering with Food Forward?
Nick: I currently work in a psychiatric office providing therapy for individuals dealing with depression, and in a few months I will be applying to medical school. In the meantime, I also enjoy outdoor activities, such as biking, and watching my fantasy football team underperform yet again.
Patrick: I work in the legal services space as a lawyer, mediator, and arbitrator when I am not volunteering with Food Forward.
What is your favorite part about volunteering with Food Forward? 
Nick: I love the interaction I get to have with vendors, volunteers, and everyone in between while providing a bridge that connects farmers 200+ miles away with those in need.
Patrick: For me, the favorite part about volunteering with Food Forward is working with other volunteers, farmer-donors, and hunger relief agencies to provide healthy, fresh produce to people in need in the local community.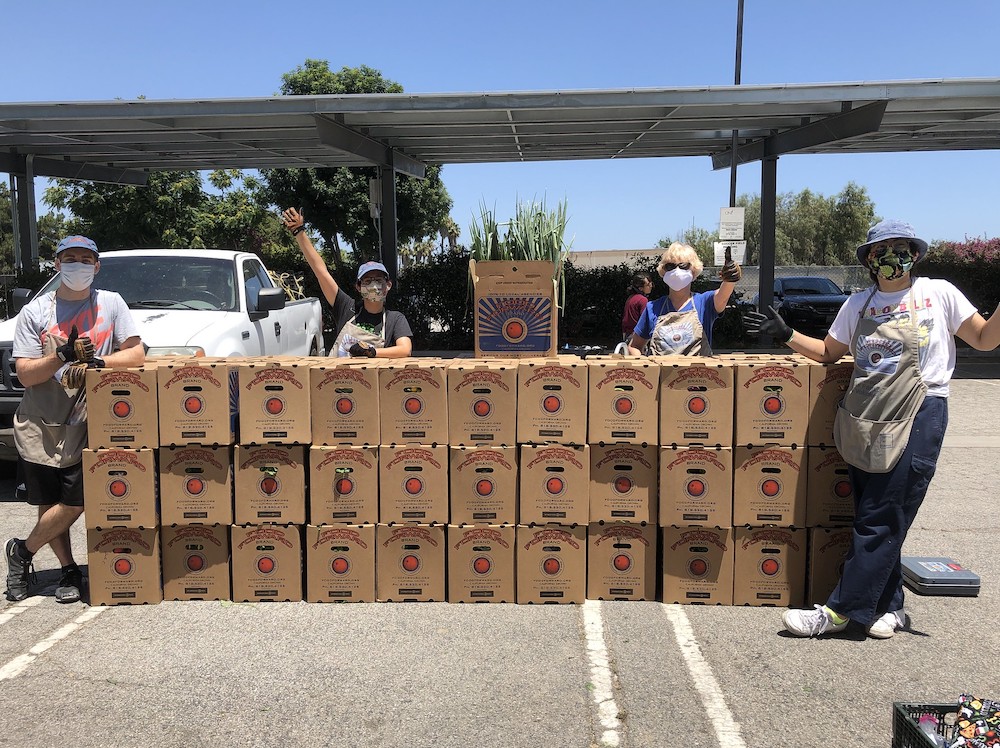 Nick has been a superstar Glean Team Leader during the pandemic, helping us recover tons of fruits and veggies for local hunger relief organizations.  
How would you describe the volunteer experience at a market?
Nick: Engaging, fun, and rewarding.
Patrick: The time passes very quickly during the glean while we rescue produce from farmers who generously donate surplus fruit and vegetables to address food insecurity locally.
 
What was your first volunteer day gleaning together like?
Nick: Since we were both relatively new to the Encino market and the COVID protocols, we immediately gelled, and since then have worked many gleans as a power duo. It's always encouraging to see Patrick's name under the participants so I know I've got another person I can count on!
What was your first volunteer day like?
Patrick: On my first glean, I had the pleasure of training with Pearson King (Food Forward's Agency Relations Manager). It was an excellent experience, inspiring me to continue with Food Forward.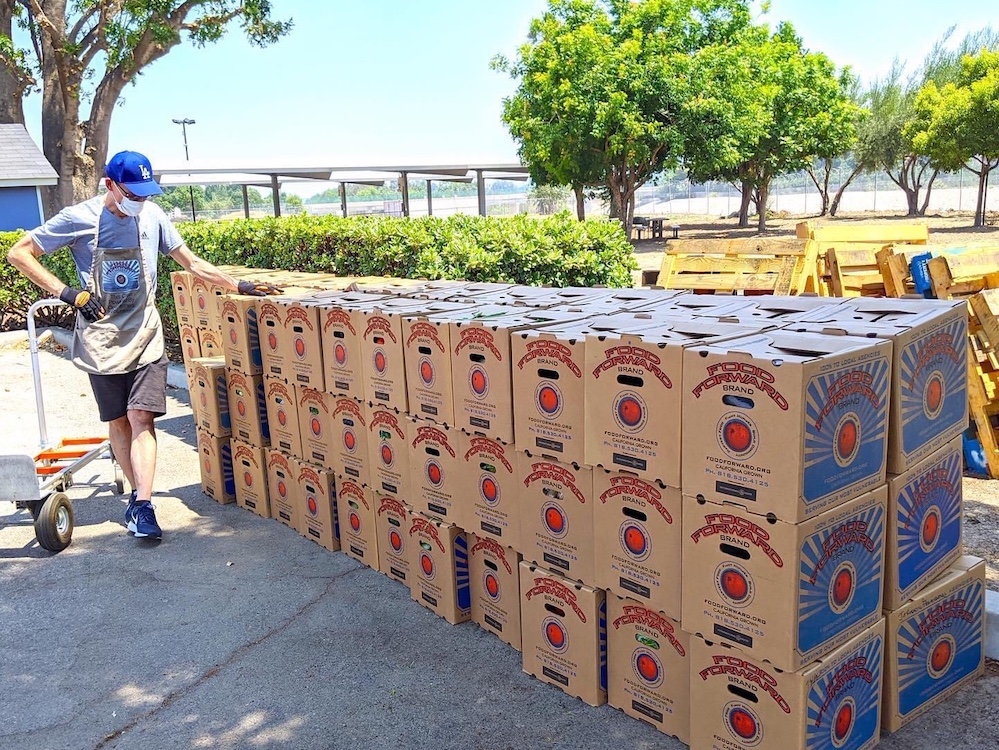 Patrick admires an impressive number of boxes, all filled with nutritious fruits and veggies ready to be picked up by hunger relief organizations. 
 
What have you learned from volunteering?
Nick: To work together as a team toward the common goal of helping others and the value that seemingly small impacts have when compiled over time.
Patrick: It gave me the opportunity to become actively engaged in a hunger relief program that has a demonstrable, positive impact on the local community. From that experience, I learned more about the importance of service, leadership, teamwork, and community, fostering a feeling of interdependence and collaboration with other volunteers, farmers, hunger relief agencies, and the local community.
 
Is there a particularly powerful volunteering moment that you've experienced (separate or together) that you'd like to share?
Nick: We have volunteers with physical aches and pains, car troubles, and some who are recruited to help out with less than 24 hours notice. Despite this, everyone makes the effort every week to show up and volunteer. This shows how strongly we value the efforts of Food Forward and how each of us can contribute to the mission of providing food for insecure and food marginalized communities.
Patrick: I have enjoyed working with Nick. He's very dedicated and professional. It has been a pleasure to serve with him in connection with Food Forward's important mission.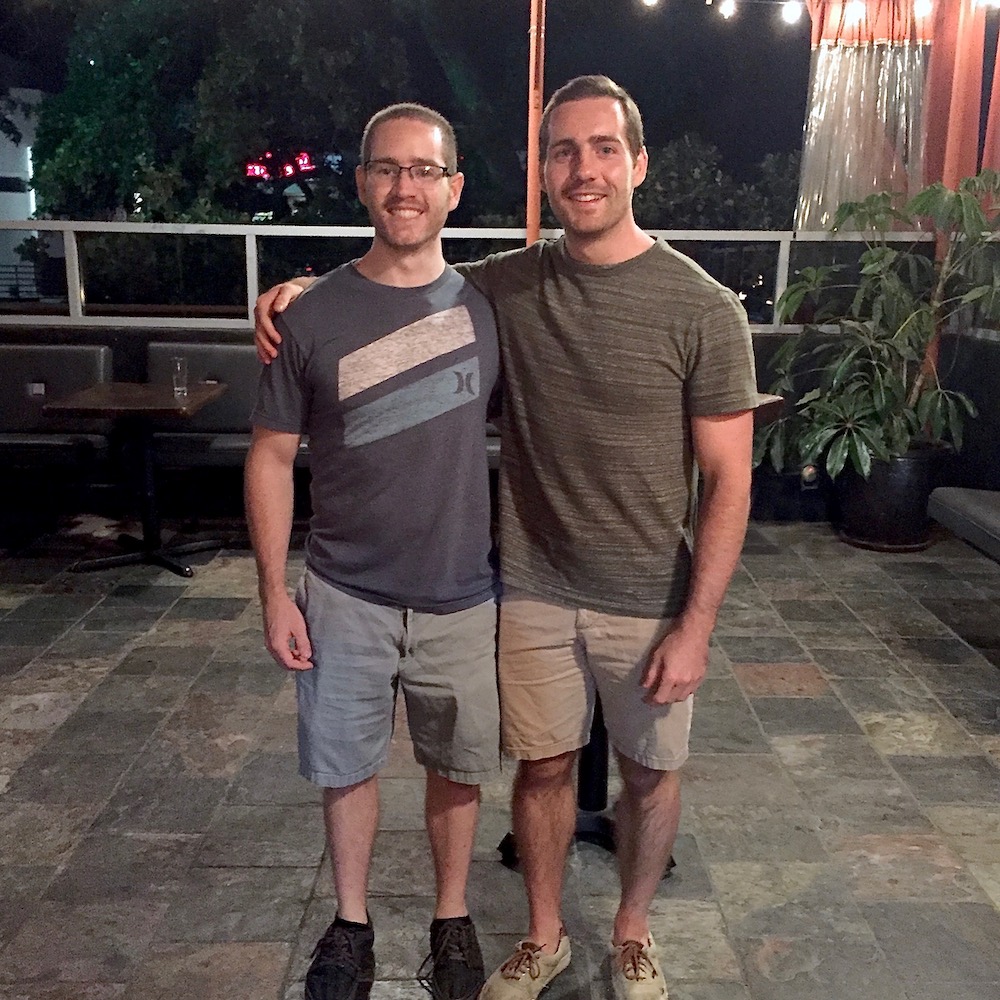 Nick (right) poses with a friend (pre-pandemic.)
Any words of wisdom you live by?
Nick: Push yourself, because no one else is going to do it for you!
Patrick: Service and leadership are inextricably related. Volunteering provides an opportunity to shift the focus from self to others, from the "me" to the "we." Just imagine what an improvement it would make in the world and in the lives of other people if nearly everyone were to lend a helping hand to others, by volunteering their time, at least once a week, if not more frequently.