4.19.18 — In honor of National Volunteer Week, we're excited to introduce you to our Volunteer of the Month for April! If you've been to the Hollywood Farmers Market this year, you've probably met this rockstar Glean Team Leader, Tracy Marquez. She's a dedicated and passionate leader who brings her enthusiasm to each and every market.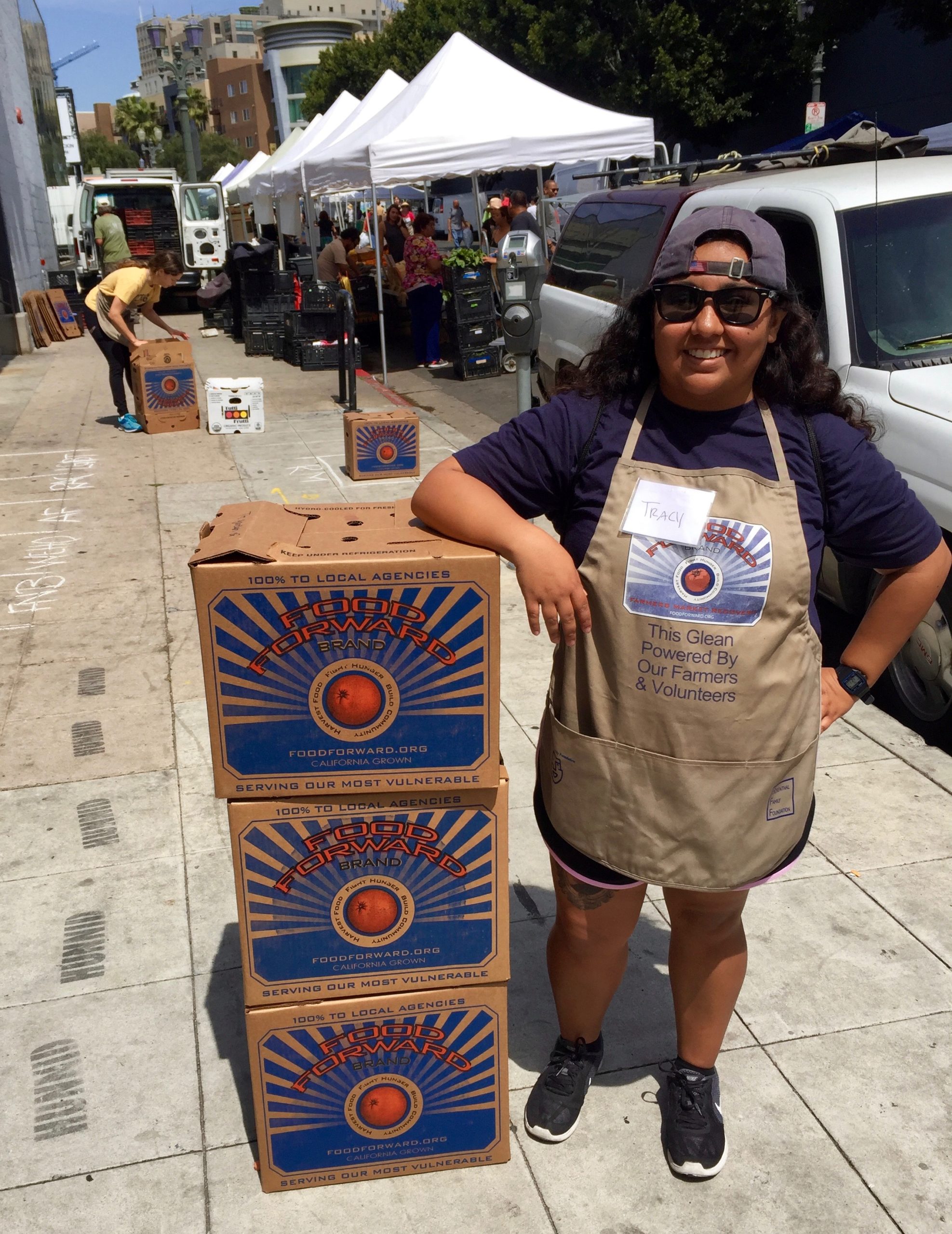 So tell me, how did you get started with Food Forward?  
I found out about the program through the LA Works website. After checking out the Food Forward website I appreciated the mission and goals and the various programs on offer. I love the idea of not wasting food from places I wouldn't even think of collecting from while giving directly back to people in need. On my first day volunteering, I remember I got lost, but as soon as I found the team they were very helpful in training me and the other volunteers were friendly.
What is your favorite part about volunteering at the market?
I really enjoy meeting new people while helping others, and I can only speak for the Hollywood Farmers Market, but because it's one of the biggest markets it's great to see how much food we are able to collect each week.
What have you learned from volunteering?
I learned to appreciate the value of my time. Prior to doing this I felt like I was wasting my Sundays not being productive, but now as Glean Team Leader, not only am I making the most of my time but I also get to help others in need.
Are there any particularly powerful volunteering moments you'd like to share?
There isn't one defining moment but my favorite thing that happens is seeing how eager the volunteers are and how they start off as strangers but then come together to get the job done. I always appreciate the ones who put their all in it and I always make sure to let them know that.
What do you do when you're not volunteering with Food Forward?
Besides the usual, going to the movies, reading books, and hanging out with friends, I'm a development assistant at a production company. I also host a monthly self care workshop, Handle with Care, at an art space in Hollywood. Oh, and I love attending drag shows!
Any words of wisdom you live by?
So many but my favorites are: It always works out in the end and if it's not working out, then it's not the end. Also, a positive attitude doesn't get rid of your problems but it's the most effective way in dealing with them.