Meet our Volunteer of the Month, Christina Alvarez-Novoa! Christina is our intern for the Ventura County branch, and has been a great asset to the team. Earlier this month, she jumped right in and led an event (by herself), where her and the volunteers harvested 1,040 pounds of citrus! Christina has also volunteered at multiple other BYH and FMR events and has helped in the office in countless ways. Thanks Christina!
So tell me, how did you get started with Food Forward?
About 6 months ago I applied to the HLI internship program at CSUCI. This program helps CI students find great matches to a field in our major in hope of getting real life experience. I got accepted to the program and I recall I said I wanted to get partnered with a nonprofit organization who gave back to the community. Next thing I know I was getting started in my internship with Food Forward. It was like destiny—I did not know what to expect but ended up where I belonged.
What drew you to Food Forward's work and mission?
Although I have never experienced the suffering of hunger, my parents had a rough childhood in which they lacked the necessities of life, including food. I grew up in a household where food is sacred and being wasteful was not an option. My father has a small catering business, at the end of every workday he would give away the leftover food to those in need. My father had experienced the hardships of hunger and of extreme poverty and taught me not to be wasteful. Food Forward's mission uses the same approach to life that I learned as a child, so being part of this organization really completes my desire of making a difference. Hunger is something that nobody should experience, and it is unacceptable when we have such an abundance of food. Food Forward works to solve two global issues—hunger and food waste—at the same time, which is amazing to be a part of.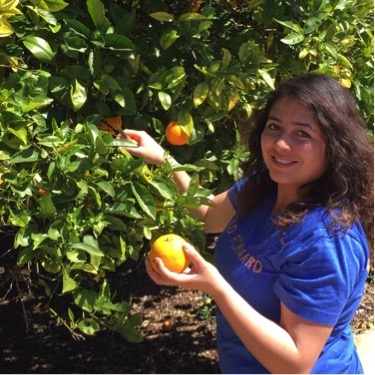 What do you do when you're not volunteering with Food Forward?
I am a full-time student at CSUCI, so when I am not volunteering, I am at school most of the time. When I go back home, I love to spend time with my family and my two dogs. On the weekends I like to go kayaking at the Channel Island harbor and walking at the beach.
What is your favorite part about volunteering with Food Forward?
My favorite part about volunteering with Food Forward is that I know that every piece of fruit we pick is making a difference in someone's life. Every piece of fruit someone gets to eat is one less person that has to worry about food. I like that all the donations go to local food banks because we know we are making a difference starting within our own community.
How would you describe the volunteer experience at a harvest?
It is a new experience every time. It is great because every volunteer is there because they want to be, and it creates a great environment for volunteering. I love to hear the stories about the people and how they came across Food Forward. It's an experience that brings a lot of joy no matter which way you see it.
What was your first volunteer day like?
My first time volunteering was at a harvest in Fillmore and it was raining! Well, the weather was sunshine, then some rain, then some sunshine so it was a day full of unexpected weather. I had never picked navel oranges but was easy to learn. There was so much fruit in the trees that when the time was up I did not want to stop picking because I wanted to donate it all! That day we picked over 86 boxes and then returned to the property to pick it once more.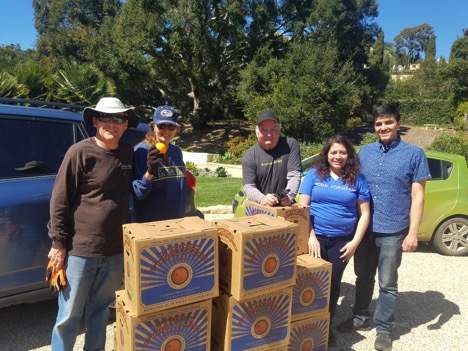 What have you learned from volunteering?
I have learned that there are so many people willing to come together with Food Forward because we are all working towards the same cause. We all want a better society and recognize the importance and the power that a single person has in making a positive impact.
Is there a particularly powerful volunteering moment you'd like to share?
I think every time that I hear a story from our receiving agencies about how happy the people receiving the fruit is a powerful moment. Just last week one of our receiving agencies told us that once she gets to where she distributes the produce, there is a long line of people happily waiting for the food. Hearing stories of the joy we bring to others really is something special, knowing we are making a difference.
Any words of wisdom you live by?
It only takes one simple act of kindness to change someone's life.