This summer, we were thrilled to be chosen as an Occidental College learning site for the InternLA program. And we definitely hit the jackpot when rising Oxy senior Lillian Krovoza joined our team as the San Gabriel Valley Expansion and Outreach Intern! She has been busy leading picks, presenting to volunteer groups, riding her bike in search of fruity properties and creating a strong presence in SGV. She is an integral part of the Food Forward Family and we loved spending the summer with such a creative, smart and spirited student who is so passionate about our mission! Thanks Lillian, you rocked our world!
You can read more about Lillian's work below…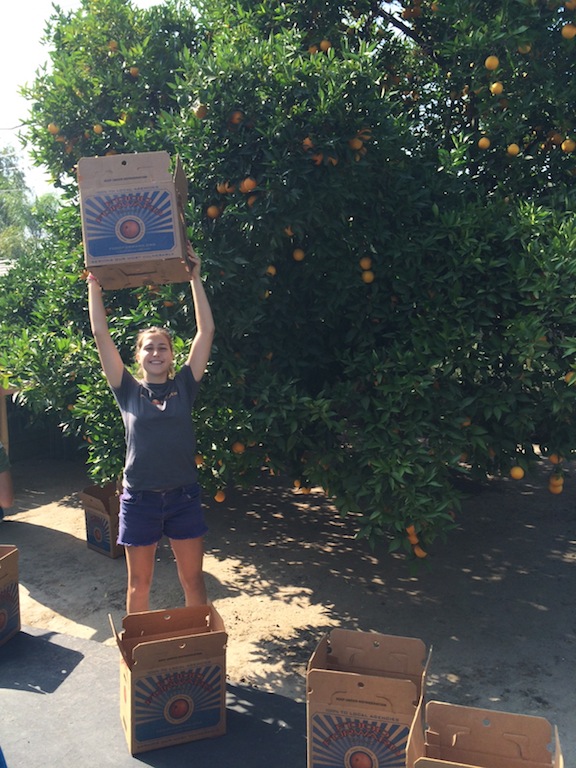 Wow. I can hardly believe it's been 10 weeks since I first set fruit foot in the fruit cave (yikes—I actually wrote "fruit" instead of "foot"… that tells you what's on my mind… they're brainwashing me!). Bright eyed and bushy tailed, I began my summer at Food Forward. As an Urban and Environmental Policy student at Occidental college, I've been bred to think about, and act upon, social justice issues. With my interest in social justice and my love for food, food justice has naturally developed into my academic, professional, and personal passion. That's why when Oxy's summer internship placement program, InternLA, announced Food Forward as a 2014 internship placement site, I jumped at the opportunity. Three months later, I'm just as excited about being on the FF team as I was when I was first welcomed to the team.
I learned a lot this summer. I learned what the heck a Zapote is (try it! It tastes like custard!). I practically memorized every possible fruit adjective (juicy, fruitastic, rooted, citrified, figgin' sweet, the list goes on…). I discovered that sandwich bars are indeed the best way to celebrate birthdays. I can confirm that staff who watch the world cup together stay together. I perfected how to make rocket fuel coffee for 8—with just the right amount of "BAM" and "UMPH" to keep the chains greased, to keep the office humming along.
And don't worry (mom, Laura, Oxy…), it wasn't all sandwiches and world cup, I swear. I honed my communication skills, my organizational skills and my research capacity. I accomplished many goals, and did a job well done (if I do say so myself). I proved myself, to myself. I came to understand the status of food insecurity in Los Angeles, and the efforts being made to combat it, in a way I never could have through my classes. I learned not just about what Food Forward does, but about what the independent sector in Los Angeles is doing as a whole. Whatever the haters say about LA, and what ever crazy ridiculousness ensues in this city every day, you can rest assured that there's an army of Angelenos fighting day and night to make this city the very best it can be.
I am fortunate to have gotten to know quite well the varied and wide-spread projects catalyzing progress in Los Angeles. Every day, I am inspired by the actions that dedicated Angelenos are taking to make their city shine. I may be new to the scene, but I'm confident that in the next decade, Los Angeles will see some of the most drastic improvements to quality of life, social services, sustainability, outlets for creative expression, and overall livability that LA has ever seen. And I'm happy to say that Food Forward is charging on with the best of them, bringing passion and creativity every step of the way.
I learned that Food Forward is the bomb, and that I don't want to leave quite yet. So, I'm not, and I'm happy to say I'll be sticking with them into the season of persimmons (aka the fall). Oh, and speaking of persimmons… go and sign up for a pick in the San Gabriel Valley (it's my job to get you to do that :-])!
Thanks Food Forward, for everything. You're figgin' fantastic.