Kai Boyd started gleaning with us back in December 2013 and quickly became a Glean Team Lead at the Mar Vista Farmers Market. As a lead, Kai is super reliable and professional, in addition to being a really cool and easy-going dude! He's helped to train a number of other Glean Team Leads and has been instrumental in establishing our presence at one of the newest farmers markets in our Farmers Market Recovery Program. Kai's an incredible and personable presence at our Mar Vista gleans, and you can read more about him below!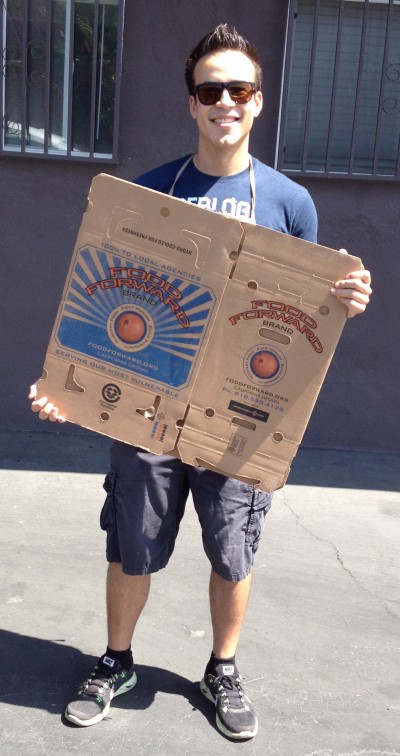 So tell me, how did you get started with Food Forward?
I came across Food Forward on the LA Works website, which aggregates volunteer opportunities across the LA area. I volunteered a few times, and then realized that I wanted to take the next step and really become part of the team as a Glean Team Lead!
What are some other projects you're working on that you'd like to share?
I was just accepted to the Taproot Foundation as a marketing manager, which puts working professionals in touch with non-profits for pro bono consulting. Really excited to use my skills and passion to give back. I also volunteer at the Ballona Wetlands in West LA, restoring the native landscape.
What is your favorite memory from working with Food Forward?
One thing I learned from Food Forward is the importance of good teamwork. More than once, just one volunteer and myself would have to handle the entire Mar Vista market, yet we would do it so efficiently and on-point. I've really met some great people through Food Forward, and it goes to show the quality of person the organization attracts.
Any wisdom you'd like to share with the world about life?
I think it's too easy in a place like LA to get caught up in the small things, like getting a parking ticket or traffic on the 405. We really need to appreciate all the opportunities a vibrant city gives us, whether it's socially, professionally, or personally. Never forget to give back to communities that give so much to you as a person – it's easy to forget and not realize how much they've enabled you to grow.