Meet Calin, our May Volunteer of the Month! Calin is only 16 so his mom joins him on picks. Calin just recently trained to be a Pick Leader (he has done 10 events as a Pick Leader, picking more than 2400 pounds). Calin volunteers almost every weekend with his Mom Tara and brother Aiden. He's volunteered a total of over 290 hours.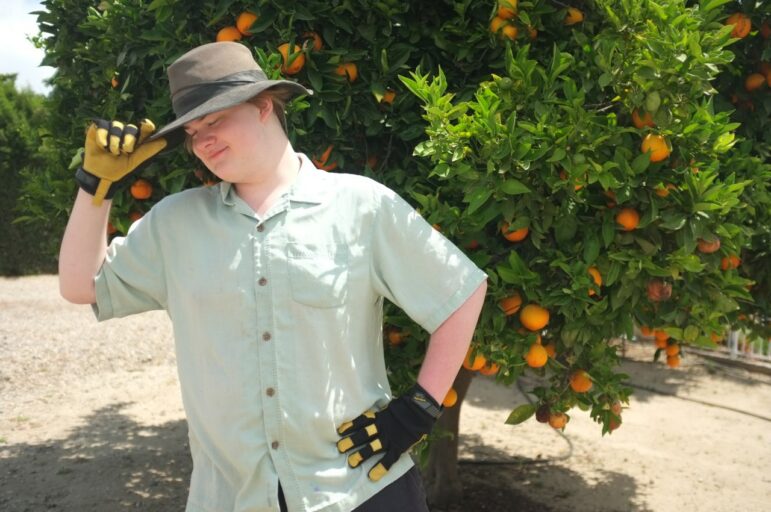 So tell me, how did you get started with Food Forward?
I think I began volunteering with Food Forward in the 6th grade. It is one of the few charities that allows participation from kids at a young age. Picking for Food Forward soon became a family activity.
What drew you to Food Forward's work and mission?
Initially it was just a great activity that we could do as a family. My parents liked that it got my brother and me out of bed early on Saturdays to do something productive outdoors. Over time, I came to appreciate Food Forward's cause. The homeowners are appreciative that their excess fruit is not going to waste. The recipients are grateful for the donation. In addition, we are helping to prevent the carbon emissions that would result if the fruit rotted.
What do you do when you're not volunteering with Food Forward?
School takes up a lot of my time. Whenever possible, I like to play video games with my friends.
What is your favorite part about volunteering with Food Forward?
We have been doing this for so long that we have been able to forge friendships with the homeowners we see regularly. Seeing several of the homeowners each year feels like attending an annual reunion since we catch up on what has happened in the past 12 months. [One] homeowner often picks with us and we have popsicle breaks at the end. Volunteering with Food Forward has created a community.
How would you describe the volunteer experience at a harvest?
During the pandemic, we were able to volunteer as a family when group activities ceased. We were given large orchards to pick that in normal times would have hosted a major volunteer event. It was poignant that when we arrived, we picked off right where we had stopped a few days ago. There was no one else to do this work. The homeowners were not able to hire agricultural workers and volunteer events had ceased. Without our efforts, the fruit would have rotted. We were always grateful that we had something meaningful to do at a time where most people were confined to their homes.
What was your first volunteer day like?
Long.
What have you learned from volunteering?
More than anything, it has taught me to be grateful. There are a lot of people who struggle to get by day-to-day. We saw the food lines grow longer every week during the pandemic when we dropped our boxes off at the Rubin Castro Charities distribution. I am grateful for the security I have and am grateful that we can help those in need.
Is there a particularly powerful volunteering moment you'd like to share?
After picking hundreds of pounds of lemons one Saturday with my mother and brother, we stopped by Underwood Family Farms to pick up some groceries on the way home. I was shocked to see that a lemon cost 69 cents. We had just picked thousands of lemons…so many that I thought that no one would want so many lemons. But seeing the price of produce made me realize that my contribution meant that someone did not need to spend a few dollars on lemons and could redirect this money to something else they needed.
Any words of wisdom you live by?
Be happy in your work.