Our Volunteer of the Month is Payal Patel! Payal led 24 times last year, and she attended the first Agency Spotlight event we opened up to Glean Team Leaders right before the pandemic. She has been a huge help at the Santa Monica Wednesday Farmers Market during the past year. Payal also trained at Mar Vista this past weekend, along with a friend that she is recruiting to become a Glean Team Leader. When she started a new job, she made sure her schedule would allow her to continue volunteering once a month. She often shares photos from volunteering on her Instagram, and it's clear that she loves the Santa Monica Farmers Markets and loves Food Forward!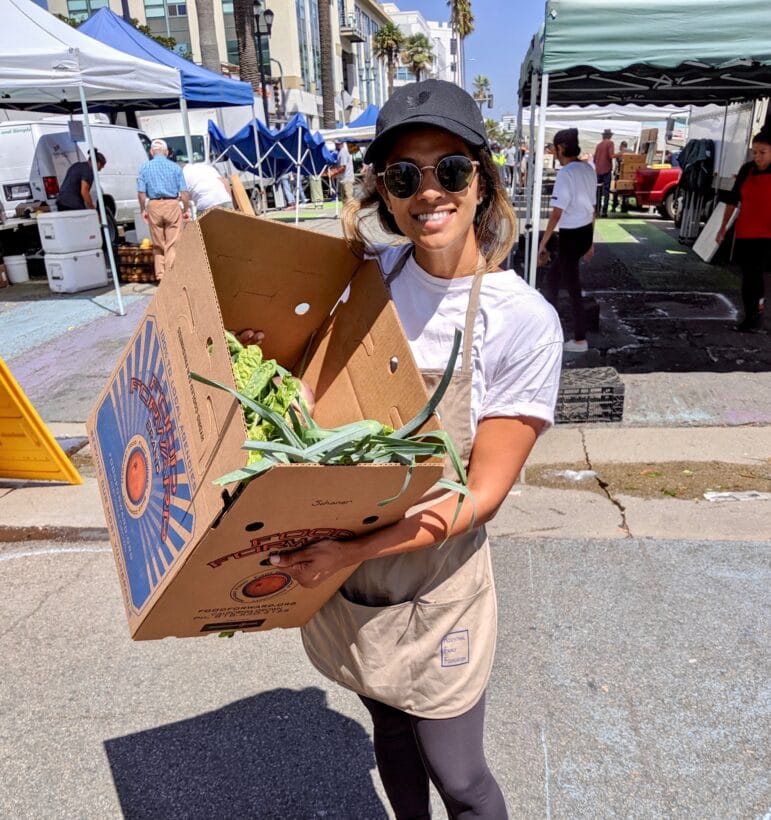 So tell me, how did you get started with Food Forward?
As a lifelong learner, I've always used volunteering as a low-risk way to learn something new and give back at the same time. I've gone through an assortment of volunteerism including roles at performance theaters, horse ranches, libraries, tech mentorship, beach clean-ups—but never found a mission I truly connected with until Food Forward.
What drew you to Food Forward's work and mission?
I find the work and mission extremely personal. My mom is an amazing cook, and my dad loves to garden—they have over 70 types of fruits and vegetables in their home garden. Food, both growing and sharing, has always been a huge part of my life and Indian culture. It's my personal mission for people to understand that nutrition is the bedrock of health and living well, and to make it accessible to all, regardless of one's socioeconomic status.
What do you do when you're not volunteering with Food Forward?
Cook, learn how to live more sustainably, travel, road trip up the California coast, walk my doggo (a LOT—though it's never enough for her), bake, design sustainable South Asian clothes, nerd out about wine and viticulture, read, redecorate my home to name a few things. Last but not least, I work as a Growth Product Manager in technology and have worked across social media, mobile gaming, and communication tools in large tech companies and startups across SF and LA.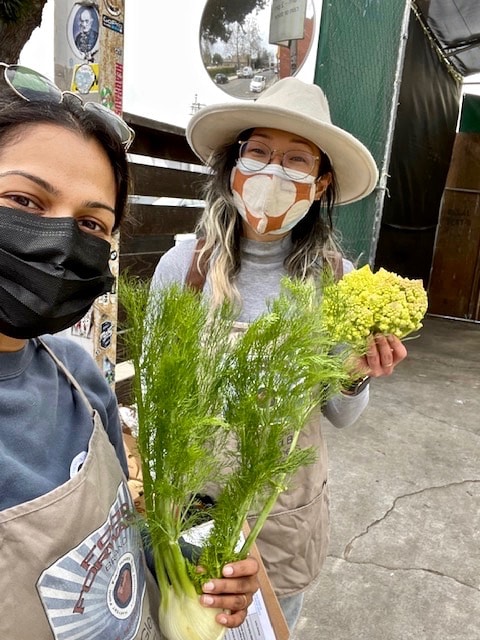 What is your favorite part about volunteering with Food Forward?
100% the people. I adore meeting people from all walks of life, who are connected to food in unique ways. I've met chefs, farmers, restaurant managers, food stylists—the entire foodie gamut. They all care about the quality and integrity of fresh produce in an unparalleled fashion, even more so about getting it into the hands of people that need it most.
How would you describe the volunteer experience at the market
Pre-COVID: a good time in the sun. COVID: efficient, impactful, and deeply humbling. Working with Food Forward makes my heart absolutely burst—I wish that feeling for everyone!
What was your first volunteer day like?
My first glean was a citrus orchard pick at CSUN in 2013. It was a lovely morning, discovering and picking an orchard that I've probably walked past 15+ times at CSUN and never noticed. Actually – I invited my now husband to join me on what became our first date. He did most of the hard work, and I loved the social aspect of meeting people that were interested in food.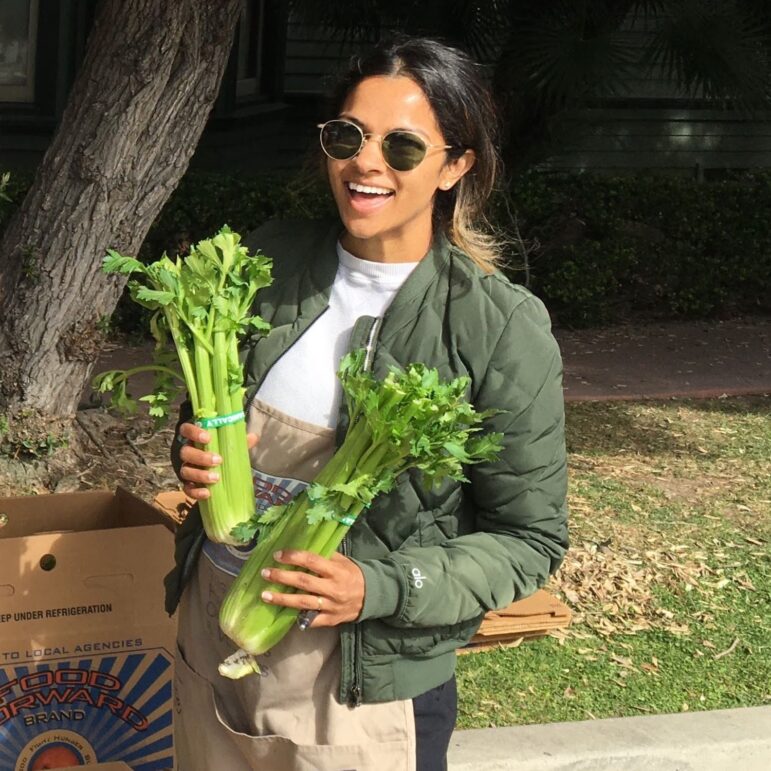 What have you learned from volunteering?
I have learned a TON about who grows my food, the complex history of the US food system, managing food waste personally and city-wide, community engagement, and how interconnected we are with agriculture in California—sometimes without knowing it. While I'm hopeful about improving the state of food waste and food justice, I know there's a lot of work and education to be done that I've only scratched the surface of.
Is there a particularly powerful volunteering moment you'd like to share?
When we started volunteering at the Santa Monica Farmers Market again, one of our agencies mentioned that they went from feeding 300 families on a weekly basis to 800 during the COVID-19 pandemic. It made me realize that every single box we collect makes a huge difference to a local family. No box left behind.
Any words of wisdom you live by?
I have two!
"Things that excite you aren't random. They are connected to your purpose. Follow them." and "Don't ever save anything for a special occasion. Being alive IS the special occasion."