We are so happy to announce that Pooja is our Volunteer of the Month! Pooja has been leading harvests since December 2019. Throughout the pandemic, she's been a super harvester, picking almost every weekend! In her time with Food Forward, she's single-handedly helped recover over 3,500 pounds of surplus produce from backyard trees!
So tell me, how did you get started with Food Forward?  
I started volunteering at harvests in Fall 2019 and became trained as a Pick Leader at the beginning of 2020, right before the pandemic.
What drew you to Food Forward's work and mission?
I have always been interested in the issue of food waste, so when I heard about Food Forward's work, I knew I wanted to get involved. The idea of getting food to community members who need it, while reducing food waste may seem simple, but Food Forward has really created a model and network of local partners to do it well.
What do you do when you're not volunteering with Food Forward?
I love spending time in the outdoors even when I'm not at a harvest, whether it's hiking, camping, climbing, or hanging out at the beach.
What is your favorite part about volunteering with Food Forward? 
The wonderful people are the best part! Food Forward staff, other volunteers, homeowners, agency partners—everyone I meet is so friendly and cares deeply about Food Forward's mission.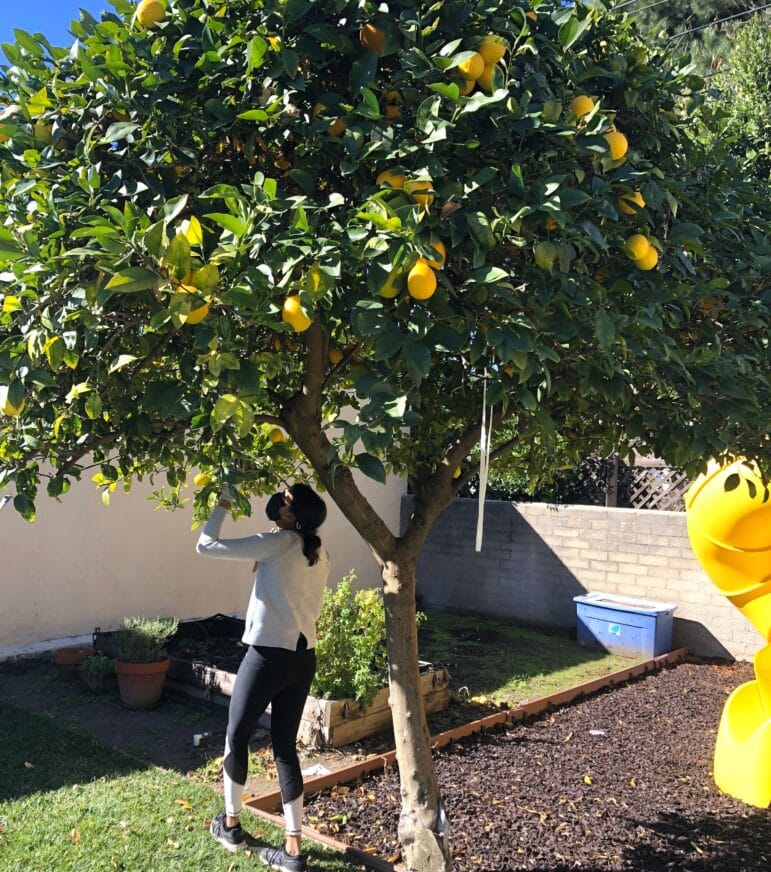 How would you describe the volunteer experience at a harvest?
Volunteering at a harvest is such a fun, rewarding way to spend your weekend morning! Over the past year, I've had the opportunity to bring friends to fruit picks (socially distanced, of course), and everyone has ended the day tired from working hard, but happy and proud. They always ask when they can join next time!
What was your first volunteer day like?
My first volunteer event with Food Forward was a persimmon harvest. Mike (who's a Food Forward legend!) was the Pick Leader and told me all about Food Forward's amazing work. He was super welcoming and encouraged me to continue volunteering and become a pick leader. 
What have you learned from volunteering?
I learn something new every time I volunteer! Sometimes, it's a new fruit picking technique, while other times, it's learning about a partner agency and the work they do. I've also learned that even a few hours of volunteering make a difference.
Is there a particularly powerful volunteering moment you'd like to share?
After a recent harvest, I dropped off a few boxes of oranges at a partner agency site, and they offered to give us a tour of their pantry. It was really moving to hear about their incredible distribution efforts feeding the community and reminded me why these harvests are so important.
Any words of wisdom you live by?
My mom always says, "do your best and do what you can." It's a pretty simple saying but always keeps me going.