7.25.18 — We'd like to introduce you to our wonderful Volunteer of the Month for July, Michele! Michele is a volunteer triple threat: Farmers Market Glean Team Leader, Produce Pop-Up Lead, and Community Ambassador. She is passionate about serving her community and always willing to go the extra mile — and, did we mention she bakes a mean cookie? Thanks for everything Michele, we love having you in our Fruit Family!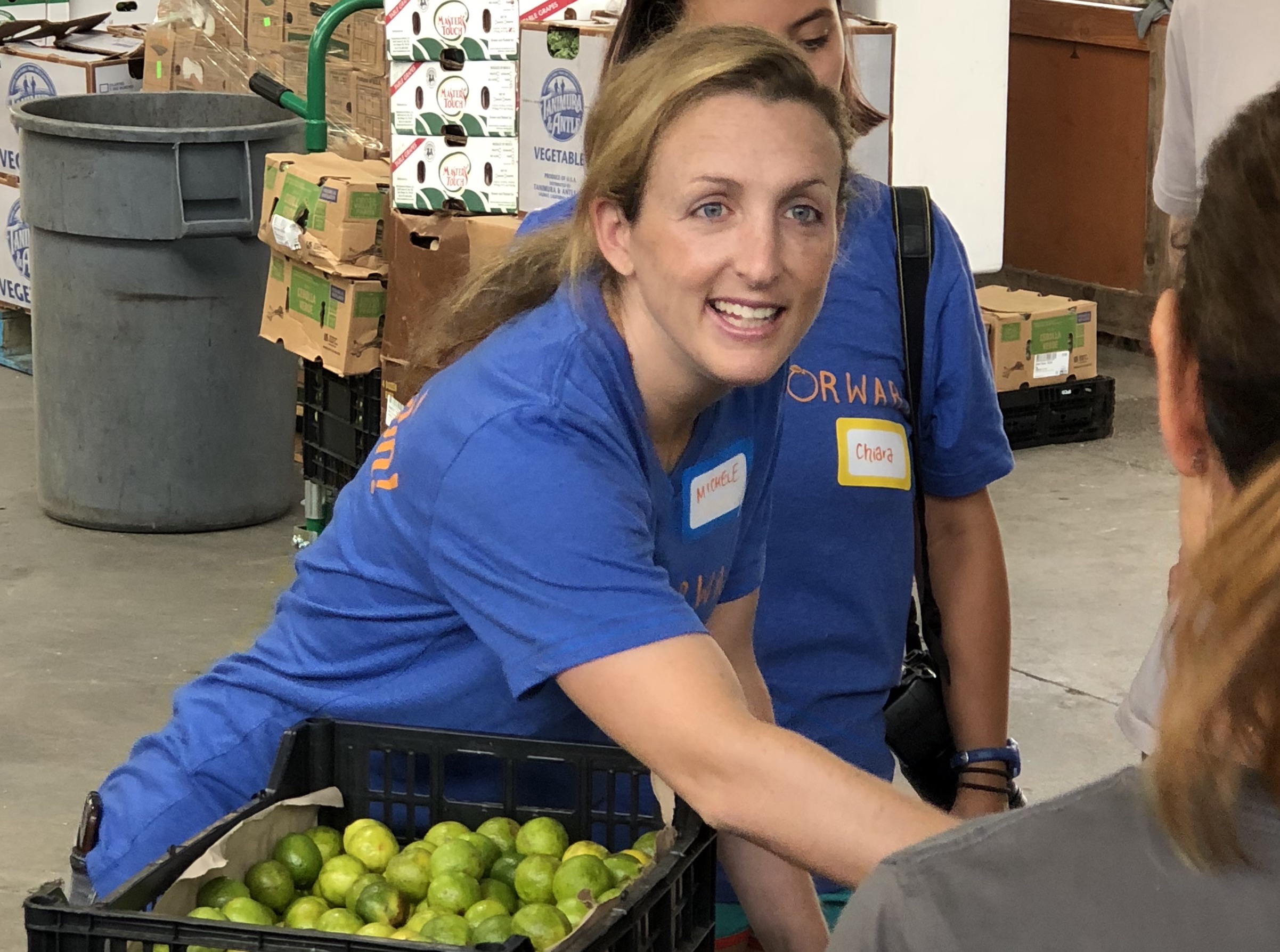 How did you get started with Food Forward and what drew you to Food Forward's work and mission?  
I found Food Forward while job searching when I moved back here to my hometown last year. I come from a professional cooking and farming background, so I was pursuing work in the local sustainable food movement. Food Forward offers so many ways to reach people with their three food recovery programs that I immediately tried them all, doing backyard harvests, farmers market gleans, and produce pop-up distributions.
What is your favorite part about serving as a Glean Team Leader and volunteer at Produce Pop Ups with Food Forward? 
I love that both programs contribute to an "everybody wins" chain of events. Food that would otherwise have gone to the landfill goes to people in need. Farmers get tax deductions for their donations, and individuals with reduced access to healthy, fresh produce receive this nourishment through established receiving agencies and through direct distribution in their communities.
And when we do get to interact directly with the consumers at the produce pop-ups, I LOVE hearing about what people are planning to cook with their bounty of ingredients. Maybe it's because I am chef, but it's truly something special to witness families comparing recipe ideas, like how they stew their collard greens or what kinds of salsas they're going to make with hot peppers.
What are some surprising things you have learned from volunteering?
I didn't know about the Good Samaritan Act, a federal law enabling nonprofits to receive food donations in good faith without legal liability.
Are there any particularly powerful volunteering moments you'd like to share?
One of my favorite moments was last Friday in Inglewood, when one woman was so excited about her produce haul that she ran into the parking lot, put down her box, and peeled open one of these specialty bananas we were giving out. She was just so happy to taste it and extol its virtues to me!
What do you do when you're not volunteering with Food Forward?
I work as a freelance food stylist. I also enjoy being outside (especially in my hometown), hiking, games, family, friends, animals, cooking, gardening, traveling, and eating.
Any words of wisdom you live by?
I try to be present and grateful always. Sometimes it's very hard, but volunteering helps!