After a few months of helping out at harvests as a general volunteer, Marin was subjected to an incessant slurry of requests to train as a Pick Leader. Staff and fellow volunteers noticed right away that she was, well, a citrus-slinging machine. Thank you and congratulations to Marin, our August Volunteer of the Month!
Marin has already logged over 100 hours of volunteering with Food Forward in less than a year. She has shown her continued dedication to leading general volunteers through orange harvests at the Huntington Library, often on her own. Marin is an impossibly dependable and determinedly dedicated member of the Food Forward family. There would be a whole bunch of sad, rotting fruit soaking into the Huntington orchard's soil if it weren't for her help!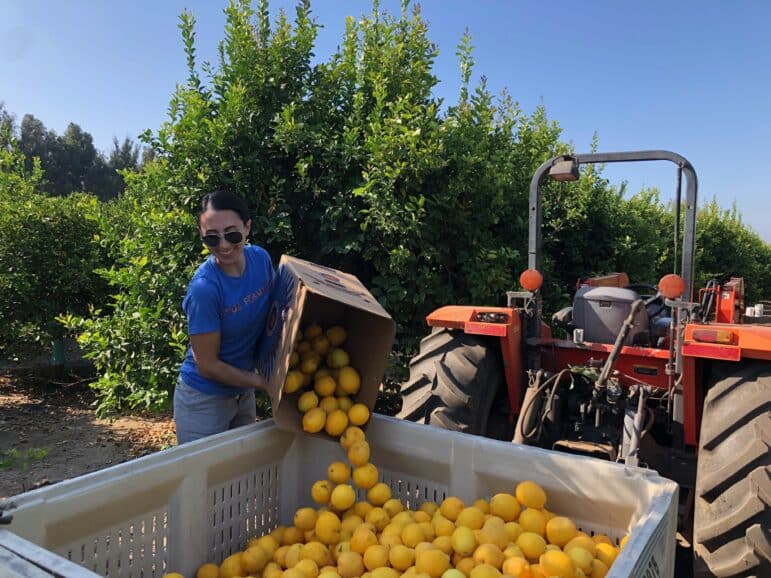 I first learned about gleaning when I started my Sustainability Masters program in Fall 2020. I found Food Forward at that time through the National Gleaning Project database, and then waited until harvests reopened to general volunteers in September 2021!
What do you do when you're not volunteering with Food Forward?
Study! In addition to my master's, I am about to take an entrance exam for another graduate program, so I usually pick in the mornings and then go straight to the library.
What is your favorite part about volunteering with Food Forward?
I think my favorite part is getting to put into practice what I'm learning in school in a way where the benefits are so direct and observable. It's so great to be involved in all the steps from picking the fruit, to dropping it off and seeing the food distribution in progress. Being able to help decrease food waste and food insecurity alongside such great staff, volunteers, homeowners, and agencies has been amazing.
How would you describe the volunteer experience at a harvest?
All picks are wonderful because everyone works so hard and is so motivated to pick as much as possible. The backyard picks are quiet and relaxing, but my favorite are the big picks. There's just something so satisfying about seeing all those boxes lined up at the end!
What was your first volunteer day like?
My first day was in September 2021, and because I had been attending school online for the entire pandemic, it was almost my first interaction with anyone other than my family in that entire time. I felt so welcomed by everyone and felt such a sense of community and purpose. It couldn't have been better!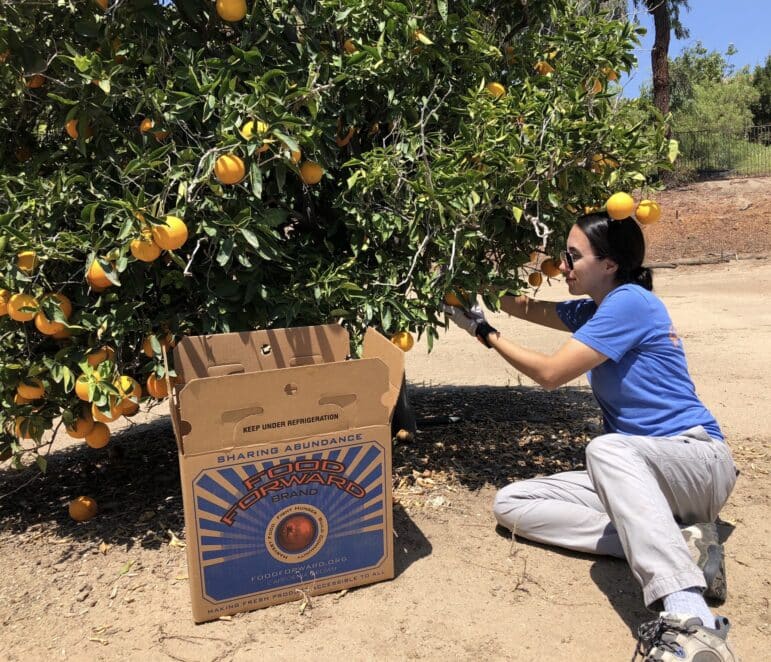 What have you learned from volunteering?
I have learned so much about fruit, trees, and nonprofits in my community. I think I learn something new every time I volunteer. But I have also learned what a big impact we can have on improving both human health and sustainability when we all work together.
Is there a particularly powerful volunteering moment you'd like to share?
I knew by the end of my first pick that this was for me and I wanted to pick again as soon as possible. So I always love seeing other volunteers at the end of their first pick, and their surprise and disappointment that time is up because they've been having such a great time!
Any words of wisdom you live by?
I think I would just say to be open to opportunity. For as much damage as COVID has done to all of our lives, I'm only here with Food Forward because of it. I was unable to complete my last few in-person application requirements for the original grad school program I was pursuing because everything shut down. I didn't want to sit around with nothing to do, so I started my Sustainability graduate program which I had always wanted to do but never had time for. And that has really changed my life immeasurably, including leading me to Food Forward.