10.10.16 – Meet Melanie McQueen, Community Ambassador extraordinaire and our Volunteer of the Month for October!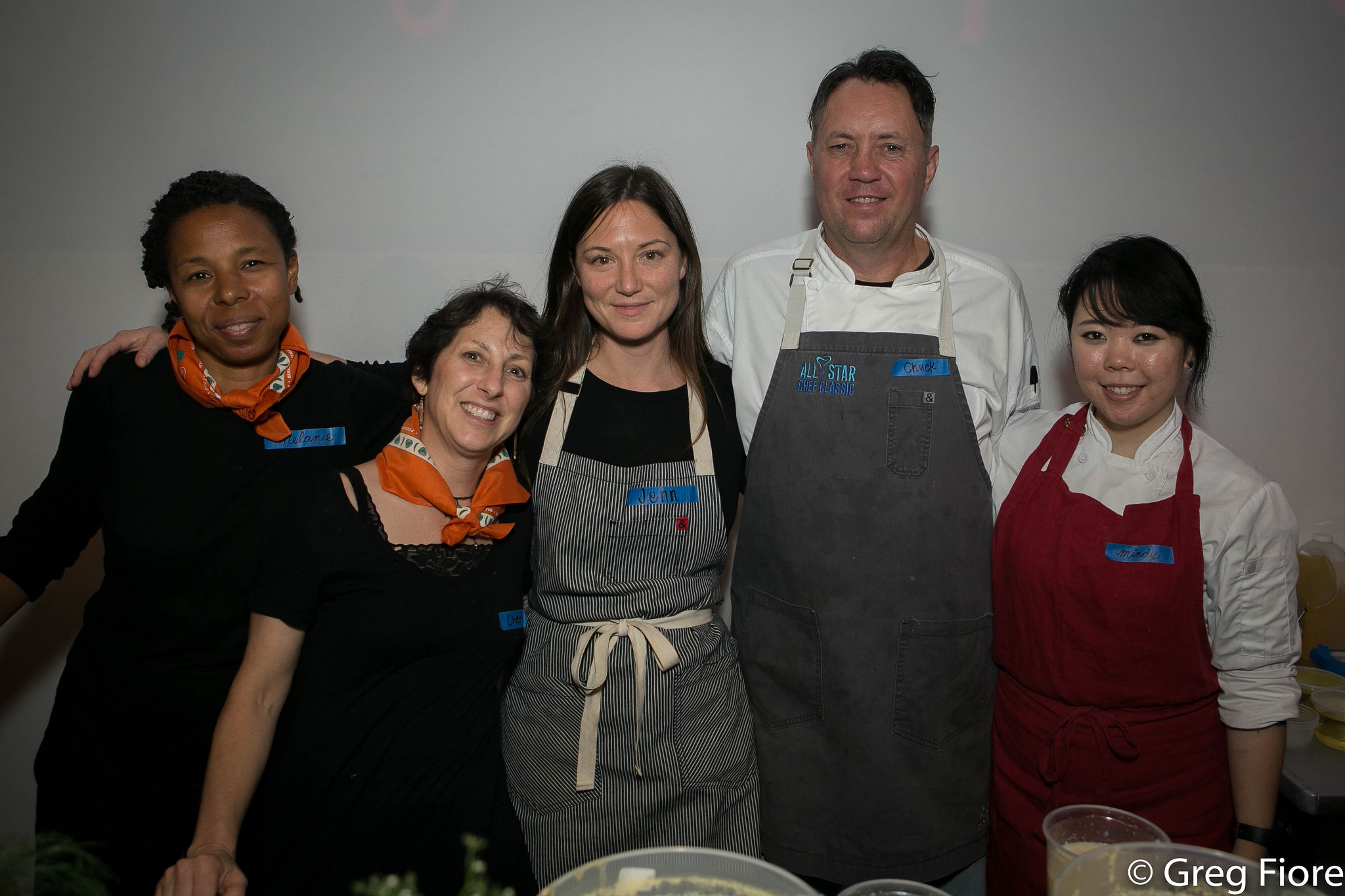 If you haven't met one of our amazing Community Ambassadors at an event yet, I hope that you will soon. These passionate and dedicated volunteers represent Food Forward at community events all across Los Angeles and Ventura Counties. Melanie was one of our first Community Ambassadors, and has been to school fairs, volunteer fairs, internship fairs, environmental fairs, and a fair number of other sorts of events too! Melanie is an amazing ambassador, always friendly and smiling. What's most impressive is her ability to share her enthusiasm for Food Forward, engaging and exciting new volunteers and supporters. Melanie is also fearless in her service – I once saw her go around to every table at a food festival, approaching everyone in attendance and encouraging them to check out the Food Forward table on their way out.
So tell me, how did you get started with Food Forward?
I read an article on Rick Nahmias and Food Forward several years ago in the Jewish Journal, thinking what a great idea and asking myself how can I be a part of this. Much later, I checked out the website looking for volunteer opportunities. At the time, most of the picks were in the San Fernando Valley and not very accessible to me, since I was and still am dependent on public transportation. Also, I had a series of schedule conflicts. However, I would donate something whenever I could to support the work. When there was a call for volunteers at last year's Spring Melt, I immediately jumped at the opportunity to help. Then I became a Community Ambassador.
What drew you to Food Forward's work and mission?
I hate the idea of waste, especially when it comes to food. On one hand, you hear these crazy numbers on hunger in LA County – but on the other hand, you hear even crazier numbers on the amount of perfectly edible food being thrown away in dumpsters on a daily basis. There's something very wrong with that.
The idea of providing high quality, unprocessed healthy foods to those who would normally lack that access was and still is very appealing to me. I gained a lot more clarity while volunteering at a local food pantry for more than a year. I believe it is essential to eat foods in their natural state as much as possible, so it was a battle for me to pack boxes with heavily processed foods, while understanding that a person has to have something to eat to stay alive and that was what was available to give them. Hearing clients saying that they wanted to have fresh fruit and vegetables, but not always being able to provide that for their families, resonated with me. Each time I volunteered, I saw that I needed to be more active in providing access to fresh quality foods.
Food Forward provides a win-win situation for all those involved. The homeowner is relieved of the burden of dealing with excessive fruit and receives a tax deduction, the volunteer is free to participate when their schedule allows, Receiving Agencies are given resources to provide their clients with quality food, and the client now has access to healthy foods for themselves and/or their families. And, we all benefit environmentally by not filling up our landfills so unnecessarily.
What do you do when you're not volunteering with Food Forward?
I am working within my own community beginning with my neighborhood association. Additionally, I live in an area adjacent to one of LA Great Streets and have been working with a group of people in my community to get that activated. I also volunteer every once in a while with my neighborhood council (PICO NC). It's exciting work.
In my spare time, I read a lot and watch old movies. Thanks to the encouragement of people like Jim Mangis, I work in my garden, build soil and am constantly researching ways that I can do a better job with that. Also, I'm a big time sudoku addict. Plus, I find spending time around a body of water is very therapeutic.
What is your favorite part about volunteering with Food Forward?
Meeting all the people who would come to our table, sharing our mission with them, and hearing their stories is at the top. When they get that "aha" moment and decide that they want to be a part of what we do in whatever capacity, there's nothing like it.
Also, working with other volunteers who are incredibly passionate about and so committed to the organization's work is refreshing!
Any particular memories you'd like to share?
One memory – Last year, I was tabling at Sinai Akiba Academy (Sinai Temple's day school) explaining to group of students about Food Forward's mission. A young man about 7 or 8 years old totally got it. He restated the mission in his words so well (he was much more concise than me) that I told him that he should table with me. He was ready to do so but had to go to class.
Any words of wisdom you live by?
Paraphrasing Sun Tzu – Show kindness whenever you can, you never know what battles a person has been fighting that day.
Always be open to learning something new especially from unexpected sources.
Being grateful for what I have even in the midst of challenges. It can always be much, much, much, much worse.
Interested in becoming a Community Ambassador for Food Forward?