Our Volunteer of the Month is James Roncal! James is an incredible volunteer—the first time he ever volunteered with us at the West Hollywood Farmers Market, our partner agency, Mutual Aid Action Los Angeles, couldn't fit all the boxes in their vehicle. James offered to take the extra boxes in his truck and deliver them to the agency! He quickly became a Glean Team Leader and was volunteering at the West Hollywood market several times a month before the pandemic. When we stopped gleaning there due to COVID-19, he trained to lead at Hollywood, and he is regularly there twice a month (or even three times if there's a bonus Sunday). He's such a joy to be around, and other GTLs have mentioned how great it is to work with him. We're so happy to have him on our team!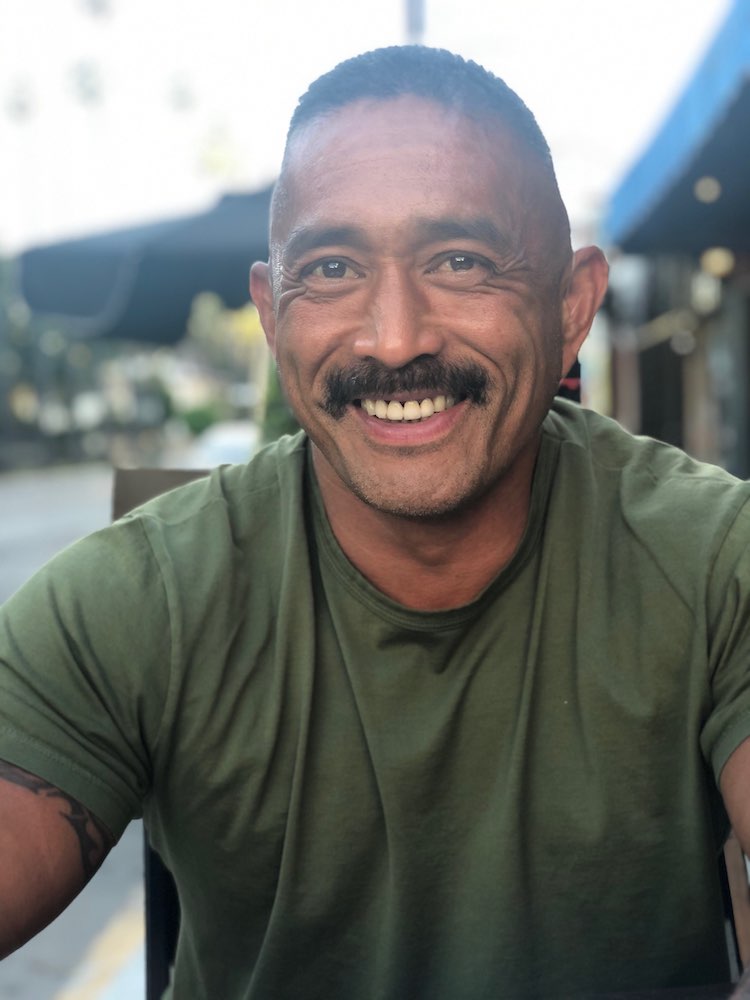 So tell me, how did you get started with Food Forward?
It was by happenstance. My husband and I had a day off (which was rare back then) and were looking to volunteer somewhere. I found Food Forward through L.A. Works, not having any idea what it was about.
What drew you to Food Forward's work and mission?
Growing up poor in LA, I am intimately familiar with food scarcity. And to be able to contribute in helping others maybe not suffer so much from it, and by diverting fresh, organic produce from landfills—it's a win-win for me.

What do you do when you're not volunteering with Food Forward?
I'm a handyman by trade and manage a couple of rentals. When I'm not doing that, I'm usually messing with our doggies or meditating—I'm not on any social media!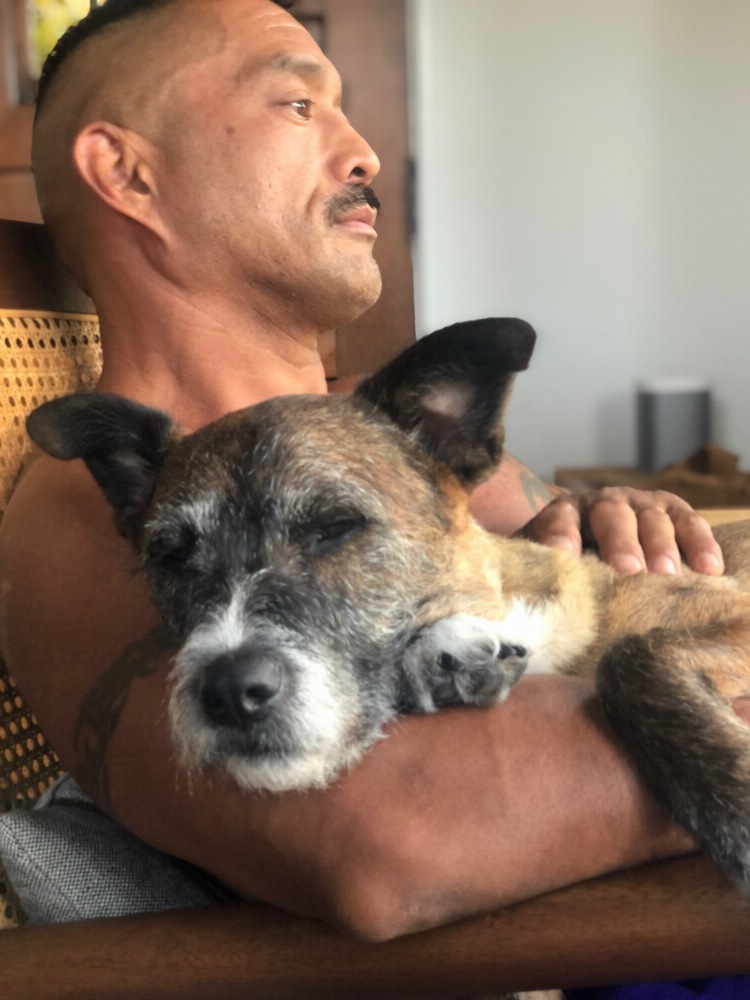 James relaxes with one of his dogs.


What is your favorite part about volunteering with Food Forward?
I would say the people, my fellow volunteers. There seems to be so much negativity and stress going around nowadays and to be with like-minded people whose sole purpose in the moment is to selflessly work for the betterment of others, recharges me and shifts my perspective to the positive.
How would you describe the volunteer experience at a glean?
It's a fun, active, energetic experience with kind, friendly and motivated people. I'm an outdoors kind of guy (sitting behind a desk on a computer is my worst nightmare) so it is really enjoyable to me.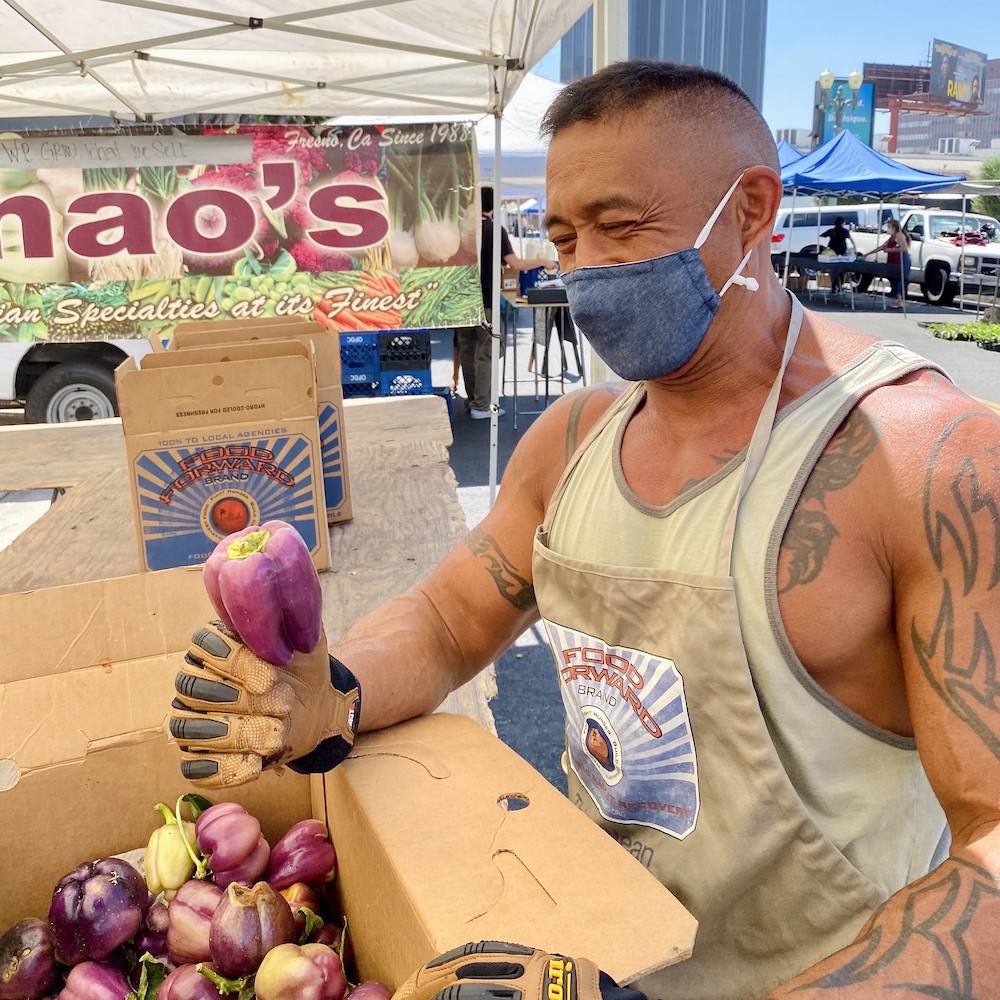 James admires some peppers donated by Thao's Family Farms at a Hollywood Farmers Market glean.

What was your first volunteer day like?
Being an active guy and being told that all we were going to do was pick up boxes and weigh them, I was like, "too easy!" It was at the West Hollywood Farmer's Market and we had collected close to 1000 pounds, I think. And I remember thinking, "That's it?" (because I bench press 225). Then one of the pick-up agencies, Mutual Aid Action LA, came to load their boxes, but their truck was full so I offered to help deliver their boxes since I have a pickup truck. I drove it down to their place in MacArthur Park, one of the places I used to live when I was a kid. Seeing where, and who, and how the boxes we had just collected helped…I was hooked because they weren't just boxes of produce to me anymore.
What have you learned from volunteering?
There's a sense of connectedness and purpose that I cannot attain anywhere else, except from volunteering.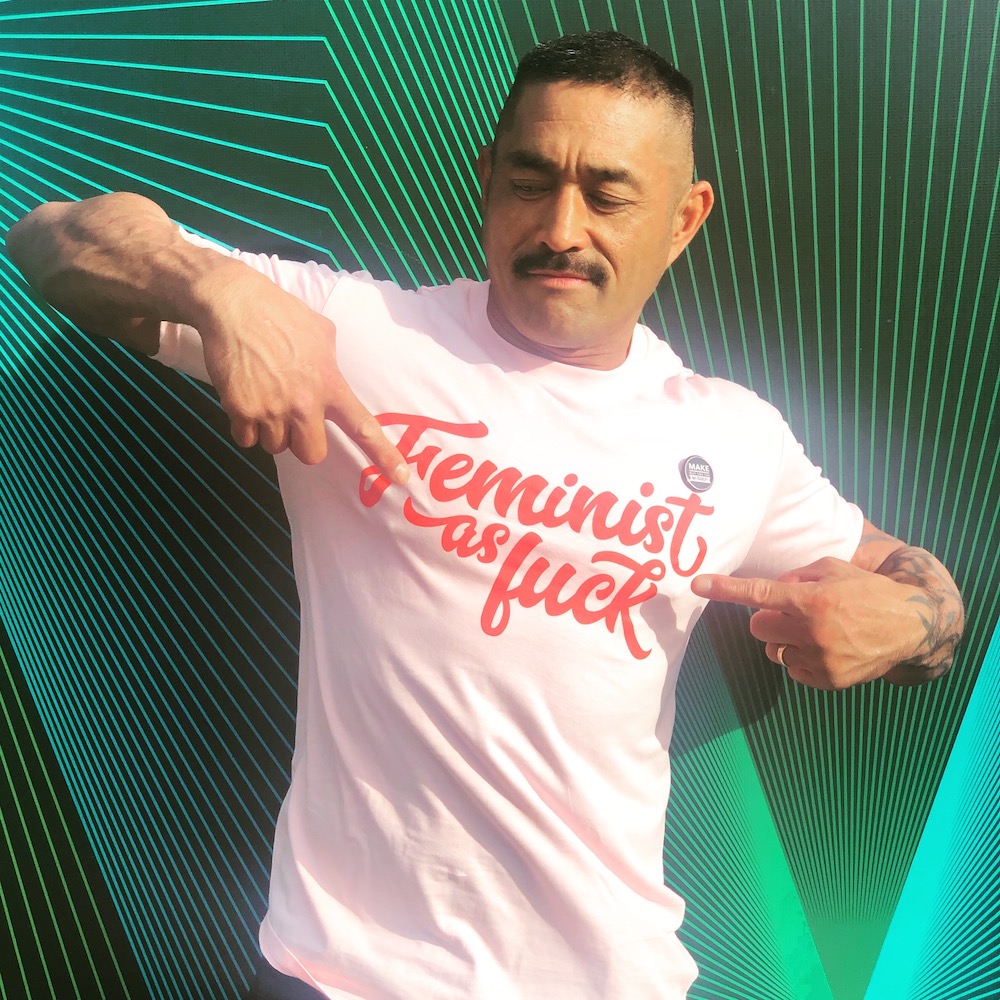 Is there a particularly powerful volunteering moment you'd like to share?
When I was at Mutual Aid by MacArthur Park dropping off the boxes, there was an old lady picking through the produce that was donated. She reminded me of my grandmother, who pretty much raised me and never had access to that kind of food, and it warmed my heart that this grandmother was able to enjoy the simple, yet sometimes impossible, pleasure of eating fresh fruit.

Any words of wisdom you live by?
Stay, if you can, in the present moment because that is all we have.