Celebrating April's Volunteer of the Month: Ekta Garg!
Ekta has volunteered over 90 hours with Food Forward so far! She volunteers in both our Farmers Market Recovery and Backyard Harvest programs, but has really been a staple of the Thousand Oaks Farmers Market throughout the pandemic. She often leads at that market 2-3 times a month! Ekta leads with two of her children, Manas and Navya. We love a family glean team! Between the three of them, they have volunteered over 285 hours with Food Forward!! We are so grateful for the commitment that the Garg family has shown to Food Forward, and we are truly lucky to have them on our team!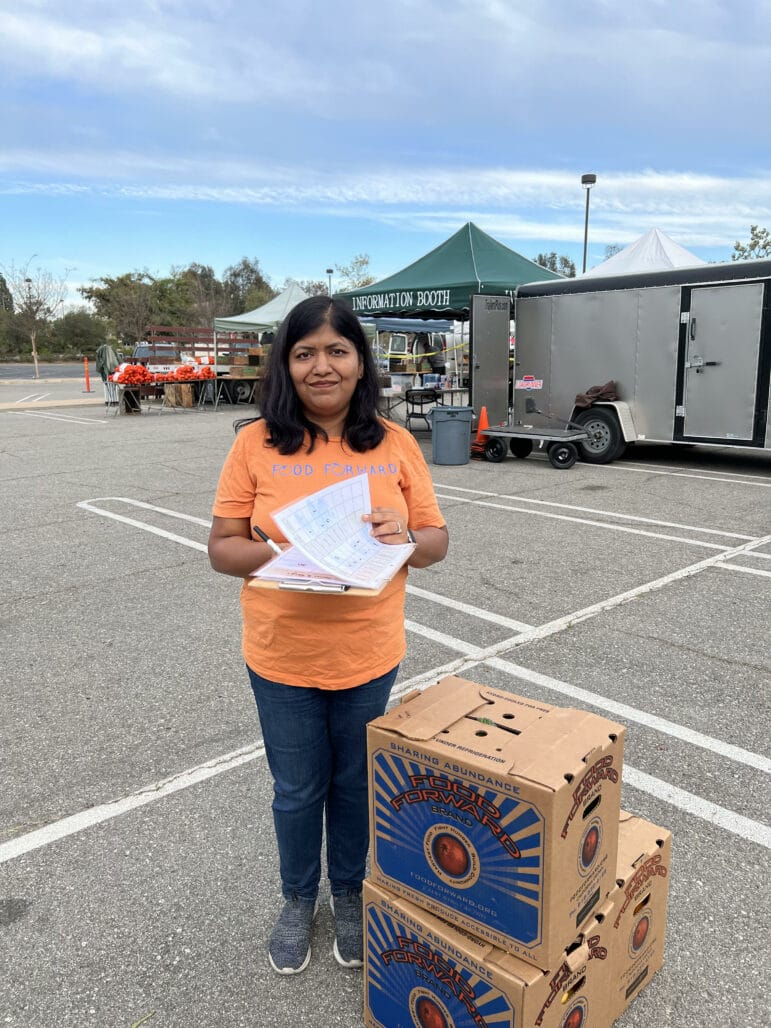 So tell me, how did you get started with Food Forward?
I was looking for opportunities to get my kids involved in community service when I found Food Forward.
What drew you to Food Forward's work and mission?
I truly believe in reducing food waste, recovering and sharing food with those in need. It is a privilege to work toward an important cause and be part of a community with motivated, passionate people.
What do you do when you're not volunteering with Food Forward?
I enjoy reading, cooking, gardening and traveling.
What is your favorite part about volunteering with Food Forward?
Being outside, spending time with my kids, interacting with other volunteers and farmers.
How would you describe the volunteer experience at a glean?
It is very rewarding. All the farmers are very friendly and generous. Knowing my time and effort is helping someone in need is the best feeling.
What was your first volunteer day like?
My first volunteer event was a backyard pick. I was amazed by the enthusiasm of all the volunteers and the number of boxes we picked. It felt great to be a part of a team.
What have you learned from volunteering?
The smallest action can ripple to great lengths. Although it is only a couple hours of our time, it can help so many families.
Is there a particularly powerful volunteering moment you'd like to share?
My journey with Food Forward started because I wanted my kids to learn to give back to the community and become good citizens. My powerful volunteering moment was when first time they told me how much they love volunteering at the farmer market and look forward to it.
Any words of wisdom you live by?
Sharing is caring! All of us must work together to continue to grow and improve!