Sarah Spitz, a member of Food Forward's Board of Advisors, celebrated her birthday with a glean! On Sunday, July 5th, Sarah and group of friends collected produce at three of the markets our Farmers Market Recovery Program operates at and contributed to the recovery and donation of 3,020 pounds of produce. Read more about her day of fighting hunger below.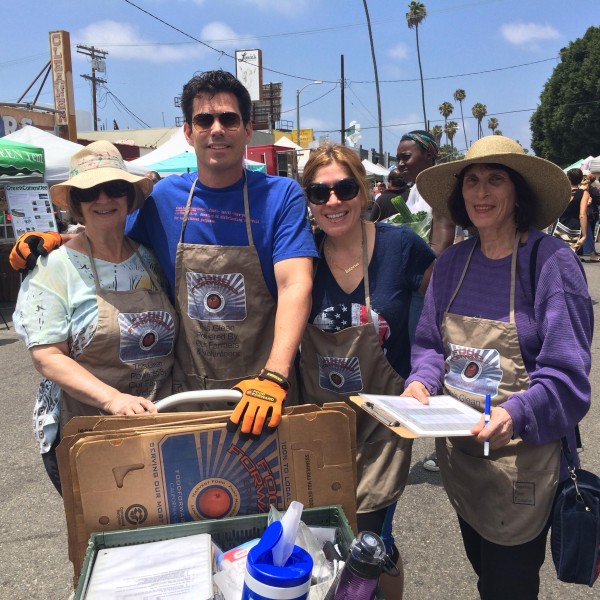 L-R: Sarah Spitz, Carl Buratti, Kathy Buratti and Marlena Ross
This year, I decided that my birthday should serve a purpose a little more meaningful than just drinks, dinner or a party. With Food Forward as my inspiration, I created a two-part "Birth-Day-of-Service" and invited friends to join me.
On Sunday, July 5th, I met up with Carl and Kathy Buratti and fellow Master Gardener Marlena Ross at Mar Vista Farmers Market. Melanie Winter (Founder, The River Project) and Susan Haymer (EcoMediaGals PR) met up at Studio City Farmers Market, and photographer Michal Story (http://www.storyseen.com/) joined the Brentwood Farmers Market team.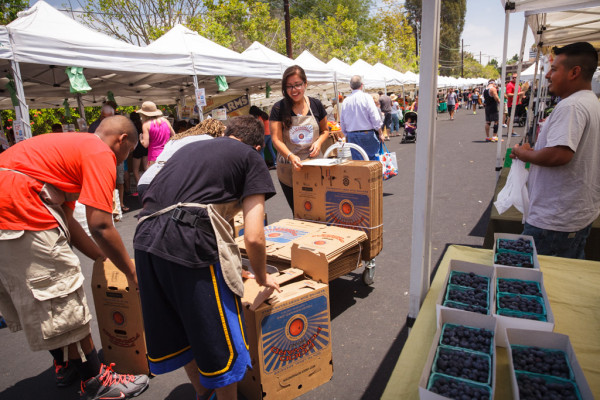 Volunteers at Brentwood Farmers Market prepare boxes for a donation from JCK Farms. Photo courtesy of Michal Story
Gleaning is fun especially when you're working with an experienced glean team leader (and friends!). Ours was Chelsea Frazee, and she made it really easy. The whole system is well organized. Starting an hour before the market closed, we donned our aprons (I love aprons!) and began walking along the market route, asking each farmer whether they'd have leftover produce for Food Forward, a non-profit both well-known and well-loved at Mar Vista. As we asked how many boxes they might need, Kathy marked the number next to the farmers' names on the erasable tracking sheet, and we folded up and gave them the Food Forward boxes. We walked the length and width of the market, stopping at each stand.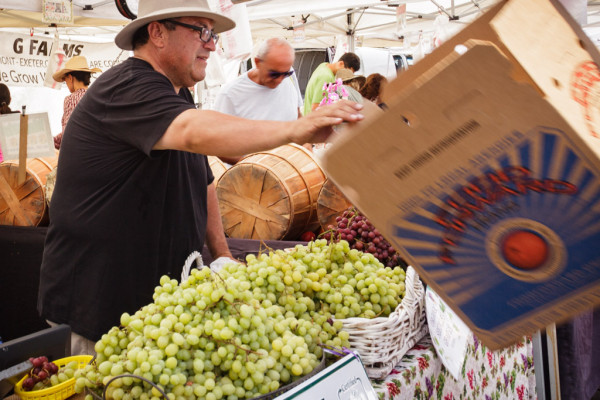 Brentwood Farmers Market, photo courtesy of Michal Story
Once we'd finished the tallying, as the market began shutting down we went back to collect the food being donated. Some farmers asked for additional boxes, which we happily provided, and once filled, we stacked them three tall and three wide on our industrial strength trolley. There were beautiful snap peas, greens, squash, leeks, phenomenal herbs, amazing plums and nectarines and more, and the French bakery which originally was uncertain whether they could provide anything called us back over and gave us some really spectacular baguettes.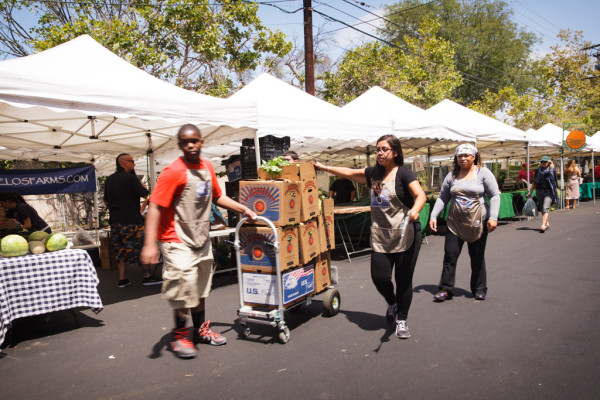 Brentwood Farmers Market volunteers, photo courtesy of Michal Story
The boxes are brought to Food Forward's weighing scale to tally the totals, which are marked on the tracking sheet, and at the end of the year, each farmer will receive a tax letter indicating how much they've donated. Once weighed and accounted for, the two service agencies served by Food Forward in this area, St. Joseph Center and New Life Society, had already arrived to pick up the day's produce. One small boy was very anxious to help carry boxes to the car and kept coming back for more. They were almost bigger than he was!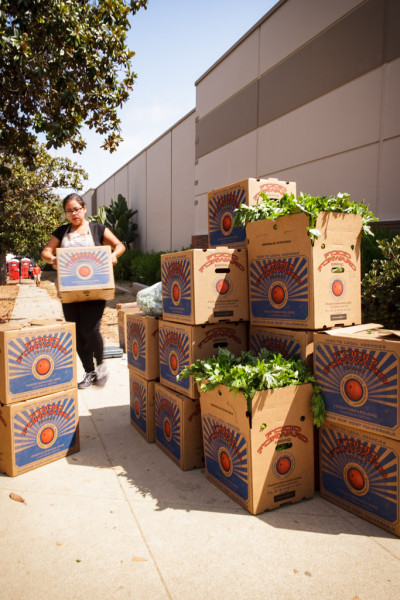 Brentwood Farmers Market Bounty, photo courtesy of Michal Story
After the three farmers market gleanings were completed, we went for drinks, compared notes, and calculated that the six of us had collected close to 3,000 pounds of beautiful farm fresh produce for LA's hungriest. A celebratory cocktail tastes especially good when you think of it as a reward for a good job done.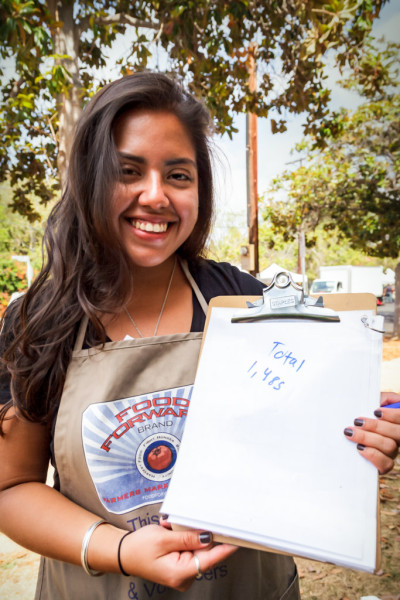 Brentwood Farmers Market Glean Team Leader, Priscilla. Photo courtesy of Michal Story
Part two of the "Birth-Day-of-Service" involved 13 of us on my actual birthday volunteering at the LA Regional Food Bank, where alongside two other groups of afternoon shift volunteers, we packaged almost 23,000 pounds of processed foods. My group of Super Women was responsible for 10,000 of those pounds; some of the workers at the Food Bank told us it was hard to keep up with us! It also gave me the opportunity to practice my Food Forward Community Ambassador skills, explaining to my group that Food Bank has no way of handling fresh produce, and that is where Food Forward enters the picture, salvaging beautiful, bountiful fruits and vegetables, the items most in demand by the clients of social service agencies that provide food for LA's neediest.
For both volunteer efforts, everyone involved said "Let's do this again next year." Volunteering for Food Forward and for the Food Bank is, indeed, a year-round affair. I am hoping that by doing this, I'll inspire others to give back on their birthdays and join in to "Harvest Food, Fight Hunger and Build Community." – Sarah Spitz