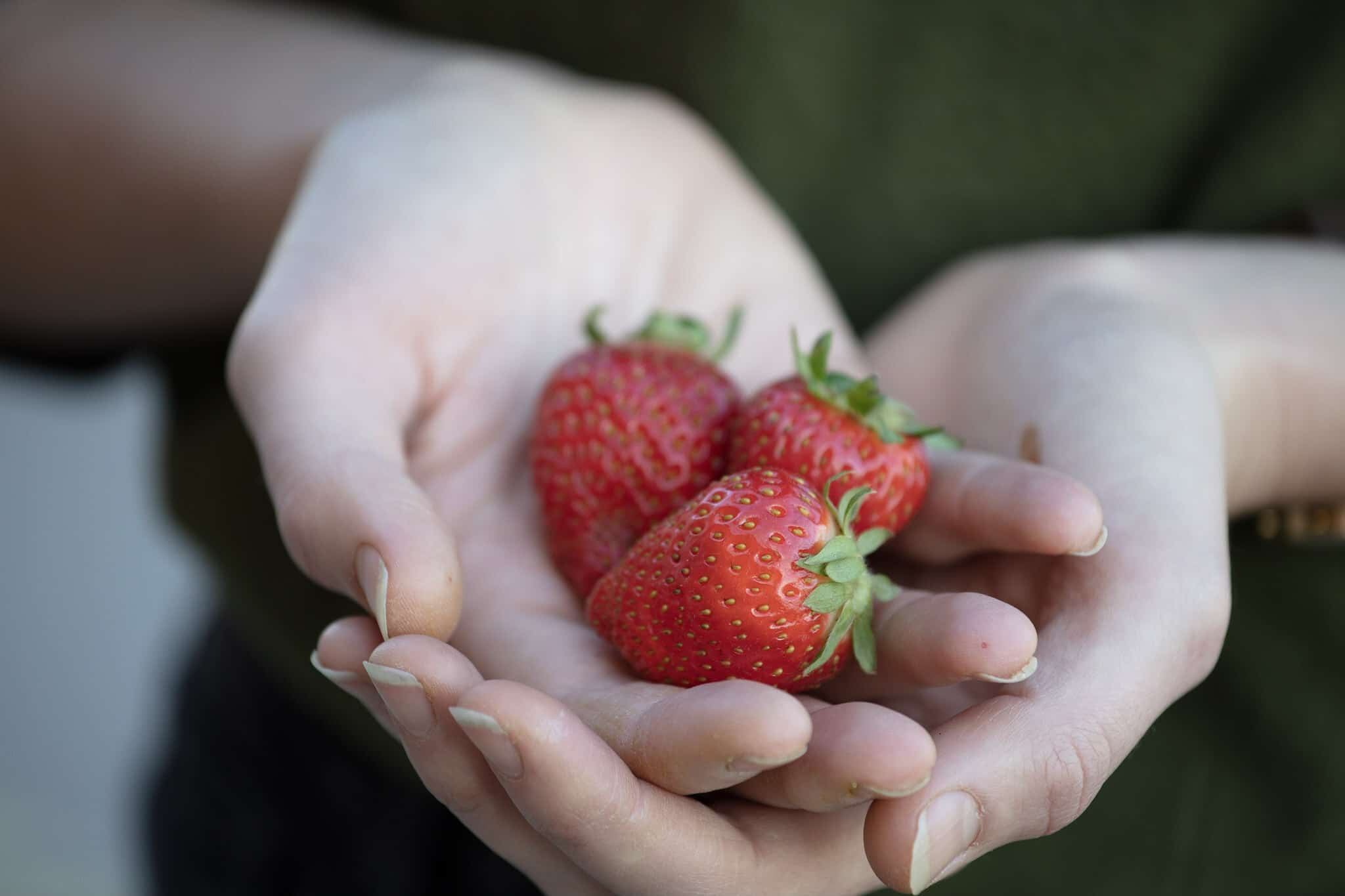 We are grateful to everyone who supported Food Forward in 2020. Through their generous financial contributions, we will connect fresh, nutritious fruits and vegetables with millions of people experiencing food insecurity this year. The following list recognizes those supporters who gave $500 or more in 2020. On behalf of all of us and the individuals we serve, thank you.
---
$500,000 and above
Anonymous
$100,000 and above
Anonymous
$50,000 and above
Joan Egrie
Monica & Phil Rosenthal
Anonymous (3)
$25,000 and above
The Columbus Family
Faith Henkin
Julia Meltzer & David Thorne
Anonymous (2)
$10,000 and above
Kim & Keith Allen-Niesen
Roger Brossy & Rona Elliot
Esther & Steve Feder
Alan Heinrich
Scott Litt Charitable Fund
Garland & Brenda Reiter Foundation
Anonymous (2)
$5,000 and above
Michaela (Mikki) Catlin
Tara Cornwell & John Aitchison
Crystal L. Frierson
Haltrecht Family
Carla & Thomas Heer
Paul & Sue Hoffman
The Scott & Rebecca Jarus Family
Linda Manasee
The Nathanson Family
Eron Rauch, Shing Yin Khor, & Project Pizza
Bill Resnick & Michael J. Stubbs
Rob & Kim Valencia
Harold Walt
Anonymous (4)
$2,500 and above
Tim & Tracy Alderson
Edna R.S. Alvarez
Margaret & Danilo Bach
Christine L. Borgman & George M. Mood
Julie & Steve Bram
SuzAnn Brantner
Carl & Kathy Buratti
Brian & Cindi Carter
Wendy Chen & Nathan Epstein
Patricia & Ira Cohen
Daphne Dennis & John Given
Eileen Duncan
Quinn & Dana Emmett
Carol Goldstein & Bernie Nadel
Liz Hogan
Andrew Kahn
Pam & Evan Kaizer
Kim G. Yoga
Suzy Marks
John McNeil & Deborah Sigel
Chris Plourde
Roger & Deborah Riske
Paul & Charlotte Robbins
Arlene Stewart
Westmount Asset Management
Jennifer Thornton Wieland
Terence Winter
Anonymous
$1,000 and above
Leslie Abbott
William Allred
Karen & Sean Aron
Robert Augusta
Richard & Taylor Beale Family Fund
Milton & Ruth Berman Family Foundation
Laurie Benson Blasko
Matthew & Miho Blumkin
Allison & Christophe Bragard
Stephanie Brewer
David & Jennifer Broering
Kathryn Brown
Meredith Kamm Brust & Randy Brust
Anne & Paul Burmeister
Reynolds Cafferata
Chae Pyken Family
Linda G. Conway in honor of Dan and Dyan Conway
Jason & Denise Crayne
Robert Davis
Leonie de Picciotto
George Dutton
Julie Eizenberg & Hank Koning
Alison Faith
Food and Nutrition Resources Foundation
Amy Forbes & Andy Murr
Christopher & Margaret Forman
Sterling C. Franklin, Trustee, Morris S. Smith Foundation
Mindy & Douglas Freedman
Diane Frolov & Andrew Schneider
The Gialketsis Bliss Family
James Gibson & Diana Lowe
Jeff Gold
Sue & Ken Greathouse
Sue Green & Joel Hyatt
Robyn Greenberg
Randy & Marnie Greenwald
Richard & Susan Gurman
Jeff Harris
Eric & Samantha Heer
Diane Helfrey
Carey Hill
Sheri Hirschfeld
Essie Horwitz
Pat & Susannah Howard
Stanley Jeong
Claudia Kahn
Dan & Judy Keenan
Cy Kirshner
Jim Korb MD & Regina Pally MD
Kimberly & Richard Leacock
Cindy Lee
David Lefkowith & Elizabeth Gong Guy
Lehman Family Charitable Fund
Shari Leinwand
Rachel Levin
Barry Littman
Ebonie Loftin
Luna Skye, Samantha Conn
Anne, Robert, & Cooper Mack
David & Tzviah Mayman
Martha and Abel Mendez
Susan & Gabriel Menkes
Stephen Michalski
Etan Milgrom
Traci & Alan Nahmias
Rick Nahmias & Steve Kadel
Newcombe-Dierl Family Charitable Fund
Neil Newman & George Leon/Cakewalk Entertainment
Josh Ofrane
Opinion Dynamics Corporation
Vicky Ostrow
Martha Penhall
Gayle Plessner
Janice Pober & Brian Higgins
Astrid Preston
Robert & Michele Reiner
Mark Rhein & Warren Brodine
Paul & Charlotte Robbins
Daniela Roveda
Nicole W. & John A. Ruskey
Bruce Schwartz
Alan Sieroty
Spencer & Nicole Silna
Silver Lake Family Collective
Frank Spasaro
Sharon Spira-Cushnir & Andrew Cushnir
Sarah A. Spitz
Ben & Ella Stewart
Shirley Su & Stu Mackey
Kent & Mary Taylor
Allison Thomas
Robert Thomas
Susan Tick
Nelle Tolles
David and Deborah Trainer Fund
Michael Troli
Rick & Stacey Valencia
Andrea Weiss & Jerry Whitman
Jamie Wolf
Kathryn Yulish
Michael & Diane Ziering
Anonymous (11)
$500 and above
Kelsey Allen-Niesen
Amira Alvarez
Olympia Ammon
Mary Archibald
Amy Barsoum
Bruce & Yvonne Blankenship
Eric Bossuk
James M. Bower
Mary & Steve Brockmeyer
Belinda & Bruce Broughton
Corie Brown
Marsha Brown
Dawn Buratti & John Merrick
Victoria & Steve Burns
Dr. Nancy Shinno Burrows
Aaron Campbell
Traci Cassady
Challah for Hunger at Occidental College
Carolyn & Michael Chuang
Virginia Clarke
Jodi Cohn & Marc Hankin
Andrew & Keri Crowell
Mary & Craig Deutsche
Debra Dillard
Lauren & Devon Dowling
DPD PND Charitable Trust
Susan Drews
Benjamin Duncan
Janie Warnock Epstein and Stanton Epstein
Robert Feinfield
Lida Frankel
Anthony & Patti Ghosn
Erica Ghotra
Linda and Jack Goldman
Lucy Gonzalez and Brian Lane
Rochelle Goodman
David J. F. Gregory
Linda Guiler
Fareed & Edie Haddad
The Hafner Family
Ms. Timi & Bob Hallem
J. Hanawi
Carolyn & Don Haselkorn
Noreen Herzog
Joanne Hetherington
Jerry Hong
Mark & Roxanne Hurwitz
Lisa Feury Ibrahim
Michelle Issa & Ed Soong
Sylvia Drew Ivie
Nancy & Wayne Jackson
Karen Jenne
JK Family & Friends
Tom & Doris Johnsen
Scott Jonsson
Kathryn Kelly
Suzanna Kim
Rabbi Paul Kipnes & Michelle November
Kat & Curtis Knecht
Michael & Ellen Korney
Ken Krug & Andrea Scharf
Paul Kruger & Val Holwerda
Kurt A. Kuhwald
Casey Langwith
Courtney LaPeter
Lianne & Bruce Leboff
Lawrence Lesser
Tracy & Harlan Levine
Richard Lichtenstein & Melanie Cotton
Elisabeth Lipsman
Patricia Lombard & William Simon
Louies Bake for Justice
Mr. Jordan Lowe
Mark Luker
John & Carol Lyons
Mary MacVean & Mitchell Landsberg
Kevin Mahany & Maria Savala-Mahany
Anthony Marguleas
Peggy Masutani
Omar Mather
Jared McMahon
John Murlowski
Paula Neston
Marjory Newell
Melanie Nolen
Elizabeth O'Brien
Jeff & Terry Paule
Del Persinger and Mary L. Tabor
Beth & Jim Preminger
Presser Family Charitable Fund
Tina & John Quinn
Gerun Riley
Jenny Roberts
Connie Rohman
Gita Rosenwald
Alana & Jonathan Rotter
Jennifer & Matthew Rowland
Tom Safran
The Sanz-Agero Family
Kathy Schaeffer
Craig and Maki Shewfelt
Sussan & Michael Shore
Sierra Pacific Constructors
Louise & Craig Taubman
Daniel Tenenbaum & Yael Taylor Tenenbaum
Melinda Thompson
Jill Tomandl
Lori Tonder
Andrew Valencia
Ventura High School Rotary Interact
Julie & John Verive
Betty & Sandra Zamorano-Pedregon
Molly Zbojniewicz
Heidi Ziegler and Dennis Ertsman
Anonymous (6)
We greatly appreciate each gift given in support of Food Forward, and we have made every effort to ensure the accuracy of this listing. Please notify development@foodforward.org of any inaccuracies or omissions. We regret any errors.
Learn about our partners
For every dollar donated, we can provide 14 pounds of fresh, healthy produce for hunger relief agencies across Southern California.
---

Sign Up For Our Newsletter