If you are an individual seeking food assistance, here is a resource to help you find organizations near you that can help: https://foodfinder.us/
Here in Los Angeles, 1 in 9 people are living with food insecurity—meaning they do not have access to enough nutritious and culturally appropriate food. This amounts to over 2 million people across the region, so there's no surprise there are plenty of local organizations working to provide families and individuals with food. For volunteers and supporters, check out our list of organizations across Los Angeles to see how you can support food access for all in your neighborhood.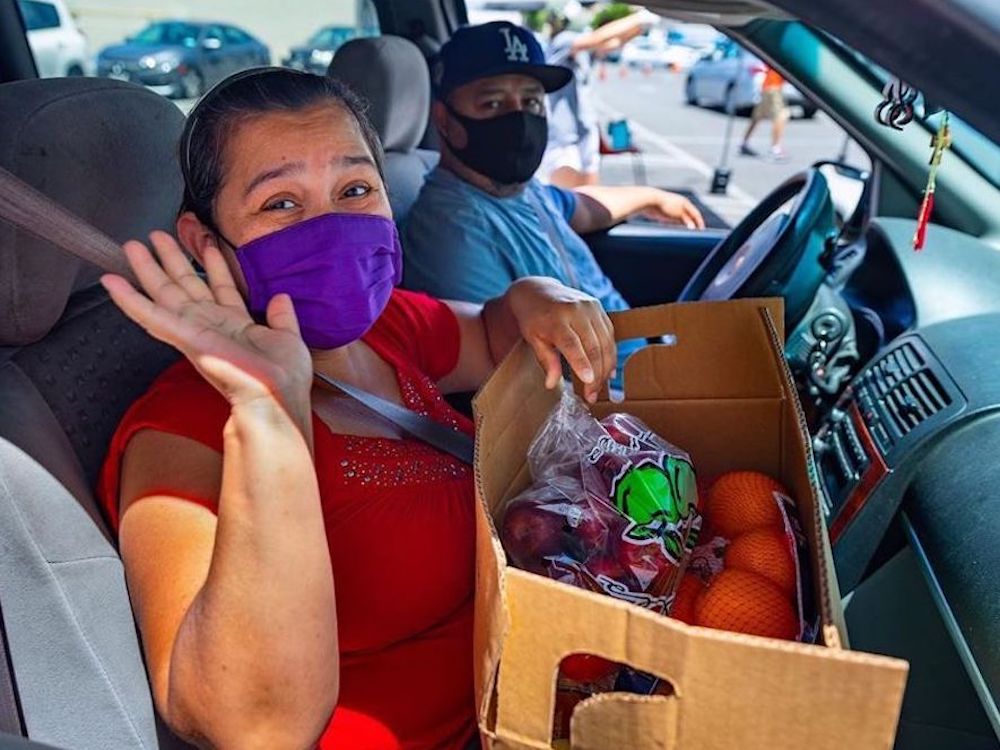 Since the COVID-19 crisis began, the LA Dream Center has provided food, basic necessities, and more at their daily drive-up distributions. 
COVID-Relief Organizations
While many of the organizations on this list are providing food assistance during the COVID-19 crisis, here are a few that are specifically addressing the needs of families during this time.
World Central Kitchen: World Central Kitchen (WCK) responds to natural and man-made disasters around the world by providing meals to those affected. During COVID-19 they are working with restaurants who have had to close or reduce business, and employing their staff to prepare meals. Here in Los Angeles, WCK has set up 60 sites where families can pick up grab-and-go meals, Monday through Friday. To learn more, check out this link.
Los Angeles Dream Center: The Los Angeles Dream Center is a resource center focused on finding solutions for homelessness, hunger, and lack of education. Since the stay-at-home orders began, The Dream Center has been working every day to make sure that Angelenos affected by COVID-19 and the related economic effects have access to free food and essential supplies. They have provided meals and supplies for LAUSD students, families, and those in need every day of the week, delivered care packages with food and resources to senior residents in Echo Park, and delivered food and supplies to communities including Watts and Skid Row. To learn more and donate money and/or supplies, head to their website!
City-Wide Hunger Relief Organizations in Los Angeles
The following organizations serve residents across Los Angeles County with their hunger relief efforts.
Los Angeles Regional Food Bank: The Los Angeles Regional Food Bank works to distribute food to over 600 smaller partner agencies throughout Los Angeles. Through this network, they serve more than 300,000 people on a monthly basis. The Food Bank has many opportunities to volunteer on their website.
Food Forward: Food Forward collects surplus fruits and vegetables from backyard fruit trees, orchards, Farmers Markets, and the LA Wholesale Produce Market and donates this abundance to hundreds of hunger relief organizations across Southern California. Since 2009, Food Forward has rescued and donated nearly 100 million pounds of produce, making sure it feeds people in our communities rather than going to waste.
Project Angel Food: Located in Hollywood but serving all of LA County, Project Angel Food prepares and delivers healthy, medically tailored meals to chronically and terminally ill people who cannot cook or shop for themselves. Since 1989, they have delivered over 12 million meals to more than 20,000 people.
Catholic Charities of Los Angeles: Since 1919, Catholic Charities of Los Angeles has provided many services to Angelenos, including hunger relief. At their community centers, shelters, and food distribution sites, they support low income, food-insecure individuals and families with groceries, prepared meals, and sack lunches.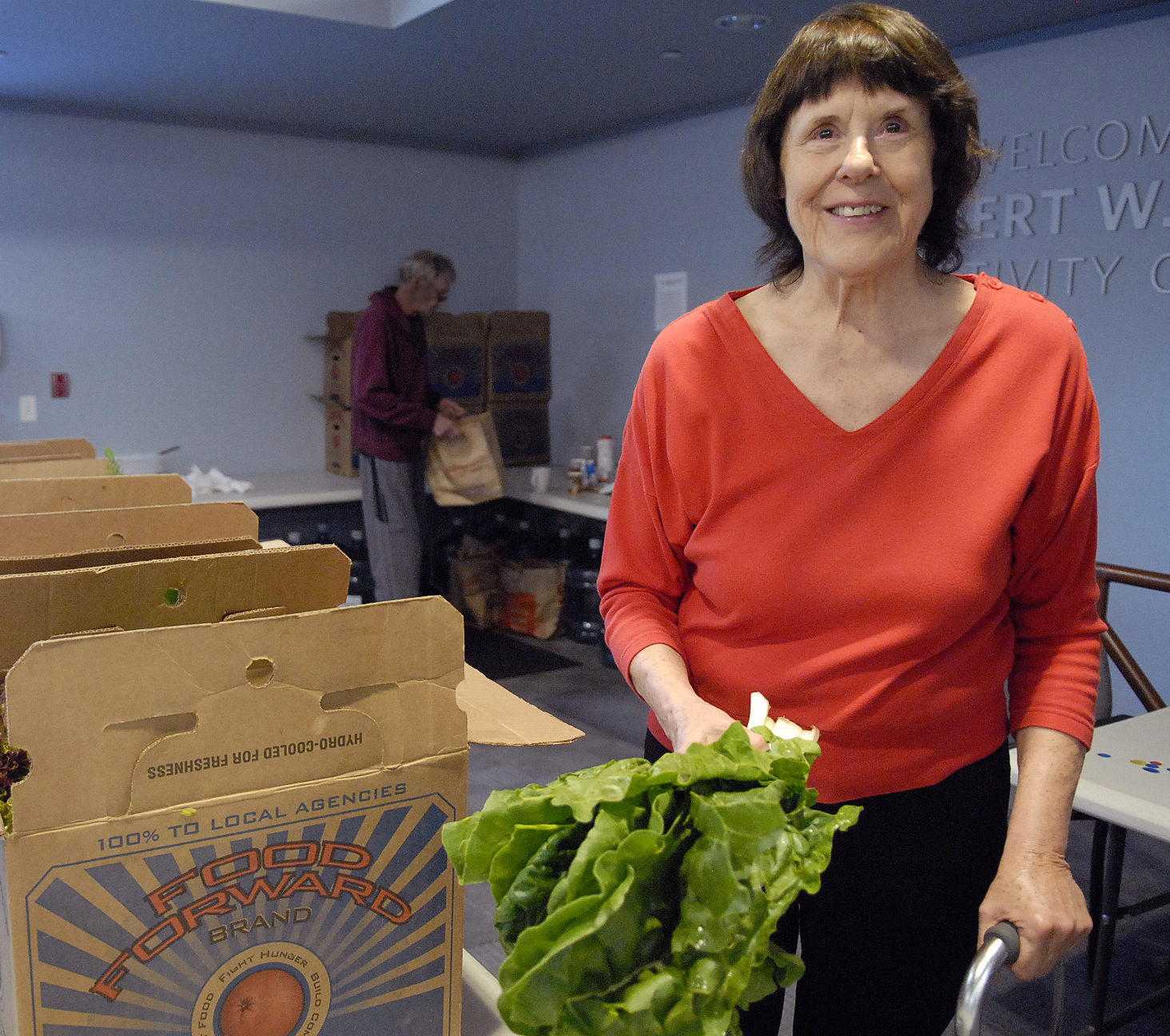 The LA LGBT Center provides meals and groceries to residents in their senior housing.
Downtown and Skid Row Organizations
Downtown Women's Center: Downtown Women's Center is the only organization in Los Angeles focused exclusively on serving homeless and formerly homeless women. In addition to providing shelter and health care to women, Downtown Women's Center serves 105,000 meals to women every year.
Midnight Mission: Since 1914, the Midnight Mission has provided support and a path to self-sufficiency to people experiencing homelessness. They provide shelter, support services, job training, and serve three hot, nutritious meals per day at their Skid Row location.
Lunch on Me: Lunch on Me aims to end starvation by redirecting food that would be wasted to create delicious and high-quality meals. They are focused on enriching the mind, body, and spirit of LA's homeless community, and reach 10,000 people a month with their programs. Lunch on Me brings meals to people living on Skid Row six days a week, and also hosts community parties, yoga classes, and healing gatherings for women.
Central Los Angeles Organizations
Hollywood Food Coalition: The Hollywood Food Coalition serves a hot meal every night to those experiencing food insecurity in Hollywood. They also provide additional basic needs, such as clothing, sleeping bags, and hygiene items. Since 1987, the Hollywood Food Coalition has served over 1,500,000 meals with the help of volunteers and donors.
Karsh Center: Located at the Wilshire Boulevard Temple in Mid City, the Karsh Center works to improve the lives of the underserved by providing accessible social services. To address food insecurity, the Karsh Center operates a Mobile Food Pantry that serves affordable housing complexes in Koreatown and West Hollywood. They also operate a weekly food pantry and meal distribution.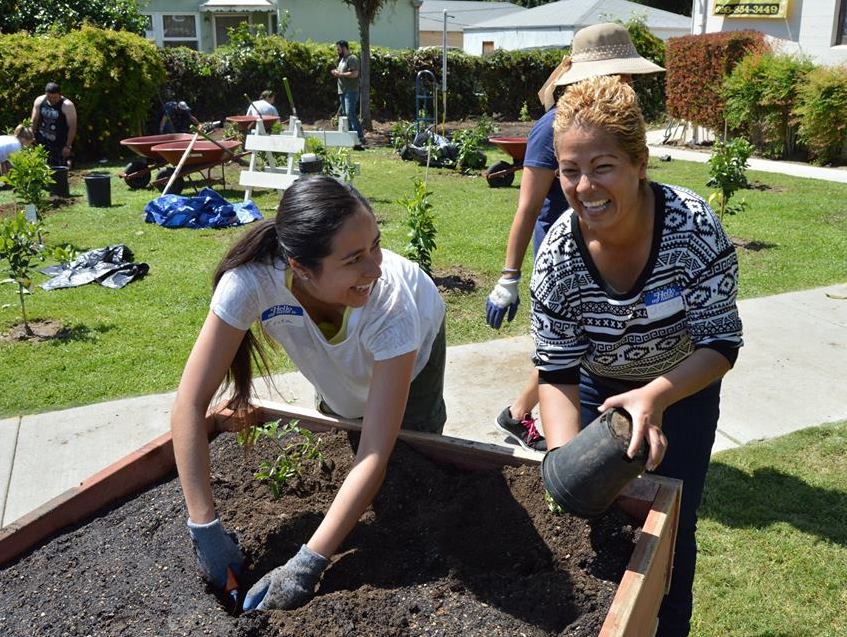 Seeds of Hope's programs include a food pantry, gardening, and more. 
West Los Angeles Organizations
St Joseph Center: St Joesph Center works to provide working families and individuals experiencing homelessness with resources and tools across the westside of LA. Their 'Bread & Roses' cafe in Venice serves hot meals daily to individuals experiencing homelessness in a restaurant-style setting. This cafe serves an average of 500 meals a week, and also serves to connect guests to additional support services.
Westside Food Bank: Westside Food Bank is a large food bank that supports social service agencies on LA's westside. Their support of over 70 member agencies allows them to devote more of their resources to other programs. Through its network, the food bank donates 4.5 million pounds of food annually.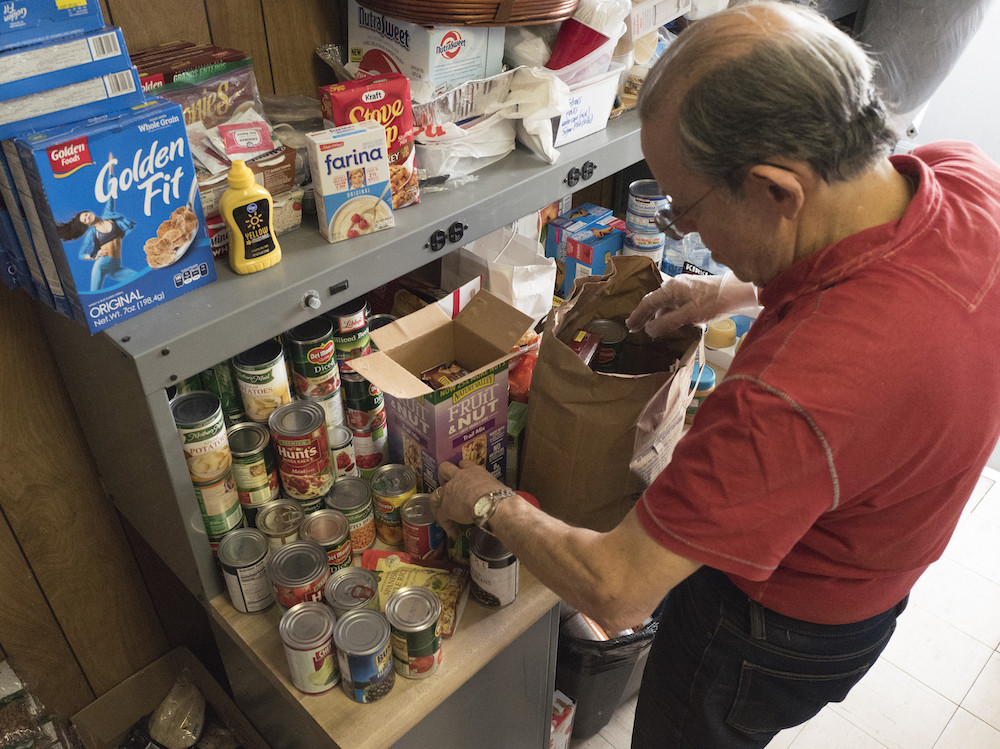 South Los Angeles Organizations
SHIELDS for Families: SHIELDS works to develop and deliver social services for high-risk families in South Los Angeles. They provide a wide range of programs and services, from health programs, employment placement, child and youth services, and a food bank.
FEAST: FEAST stands for Food, Education, Access, Support, Together. Through their 16-week wellness program, they empower families to live healthier, more nourishing lives. As part of the program, FEAST participants get access to fresh, whole foods through a food scholarship.
San Fernando Valley Organizations
MEND: Located in Pacoima, MEND, or Meet Each Need with Dignity, provides food boxes to families, hot meals four days a week, and cooking classes. Additionally, MEND distributes food to 60 smaller food pantries and other organizations in the area. With the help of volunteers, MEND fed more than 38,000 individuals in 2018 through their onsite distributions and community outreach.
SOVA/JFS: SOVA, a Hebrew word which means "eat and be satisfied," is part of Jewish Family Services and has locations in Van Nuys and Pico-Robertson. Their food pantry provides a 5-day supply of groceries and personal hygiene products to families seeking food assistance.
Hope of the Valley Rescue Mission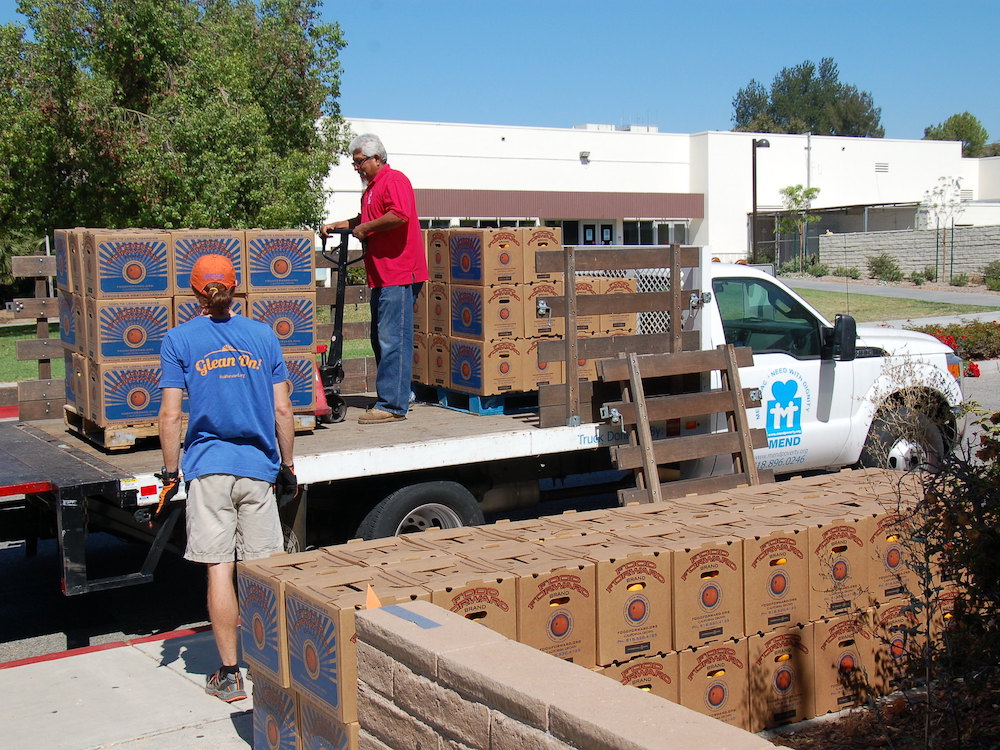 Food Forward boxes are loaded onto a truck headed to MEND for their food pantry!  
Want to learn more about hunger relief and food justice organizations in Los Angeles? Check out our blog post "9 Organizations Fighting for Food Justice in Southern California."