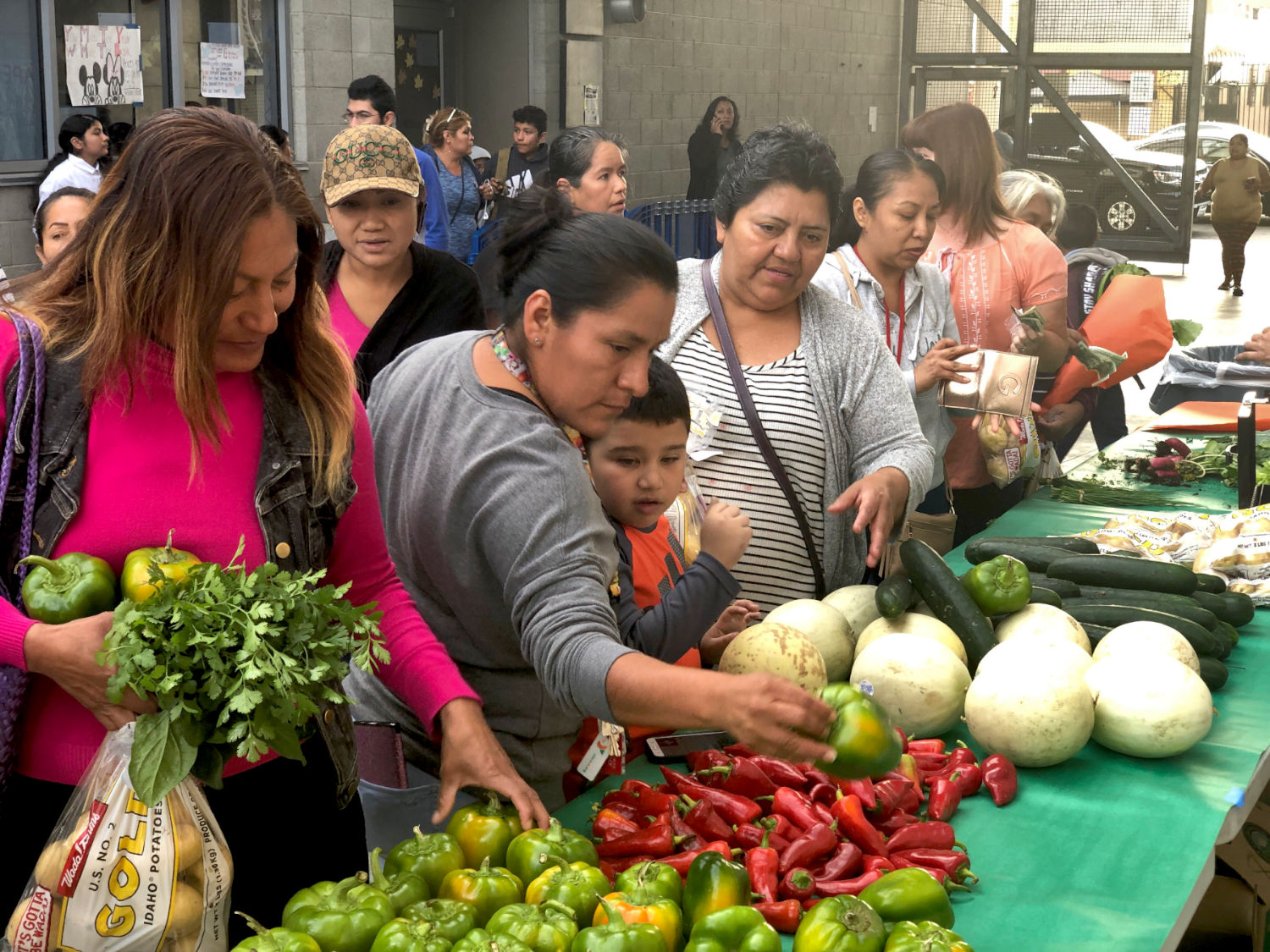 Folks at a school in South LA pick up free produce supplied by Food Forward.
In this year's homeless count, it was estimated that there are just about 59,000 homeless people in L.A. County this year. This number represents how many individuals are homeless in a given night in L.A. That number is 12% higher than 2018's already staggering statistic. Development of affordable housing has remained nearly stagnant as the L.A. population has continued to grow, leaving simply too few units for too many people. Homelessness affects so many people for a myriad of reasons, such as unemployment/underemployment, poverty, and domestic violence in a previous housing situation.
One of the biggest culprits is the rising cost of living, as rents have continued to increase at a rate much higher than income has. Since 2000, the cost of rent has increased by 32%, leaving Angelenos priced out of where they live. There are 721,000 severely rent burdened households in L.A., and without better housing options these people are at risk of becoming homeless as well. Despite efforts to house people, the increases in rent are continuing to drive homelessness. This is evidenced by the fact that in 2018, L.A. County housed 21,631 previously homeless people, but the number of homeless folks still increased by over 6,000 in that year. So many people around us have to make the impossible choice between food and shelter, deciding whether to pay rent or buy groceries. Providing food to those in need can make the difference for someone who can't afford both.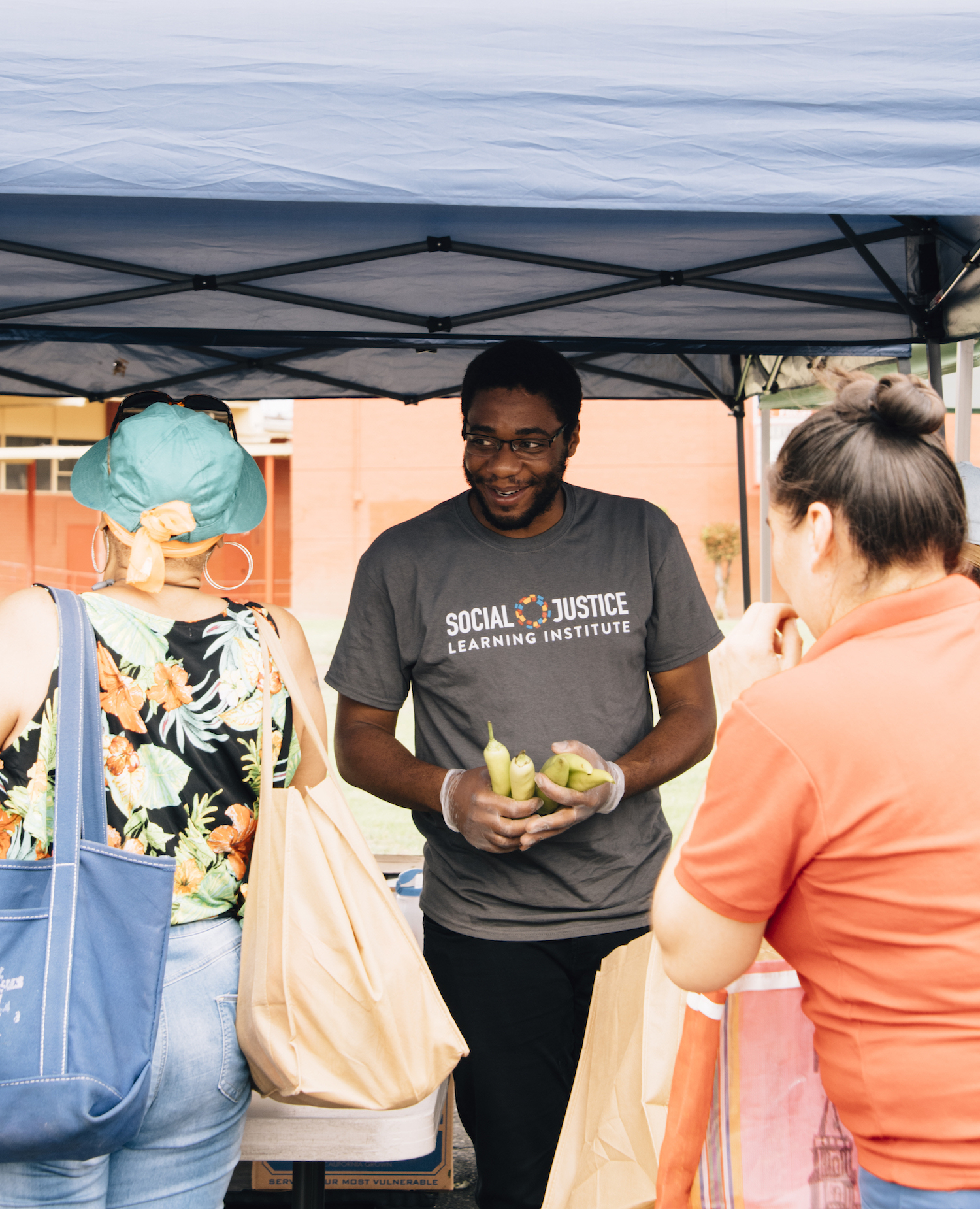 The Inglewood Produce Pick-Up provides free fruits and vegetables to folks who may have to choose between paying rent and buying groceries. 
The issue of homelessness in Los Angeles comes down to a lack of affordable and transitional housing across the city. Not in my backyard, or NIMBYism, is the idea that although one may support the development of affordable housing, they'd prefer it not be in their neighborhood. It is estimated that L.A. would have to build 568,000 affordable housing units to meet the current demand of low income renters. This means that we must all support affordable housing being built all over the city. The restrictive housing market has curbed the development of much-needed affordable housing, and has allowed housing that was once affordable to become wholly unaffordable.
One such block to affordable housing in the city is the Costa Hawkins Act, passed in 1995. This Act prevents a city from establishing rent control on buildings built after 1995, and allows landlords to increase rent to market-rate after a tenant moves out. Policies like these must be reconsidered as we move forward if we are going to stop the displacement and pricing-out of L.A.'s citizens. Homelessness in L.A. takes on a particularly dangerous form, as 75% of L.A.'s homeless citizens are unsheltered. This sets L.A. apart from other cities with large homeless populations, such as New York, which does a far better job of providing shelter to their homeless population so less people are sleeping on the street on any given night. It is clear that L.A. is in a crisis, and that large market changes must be made to our current housing model. Until then, we must provide more temporary shelter for our fellow citizens, because nobody should be without shelter.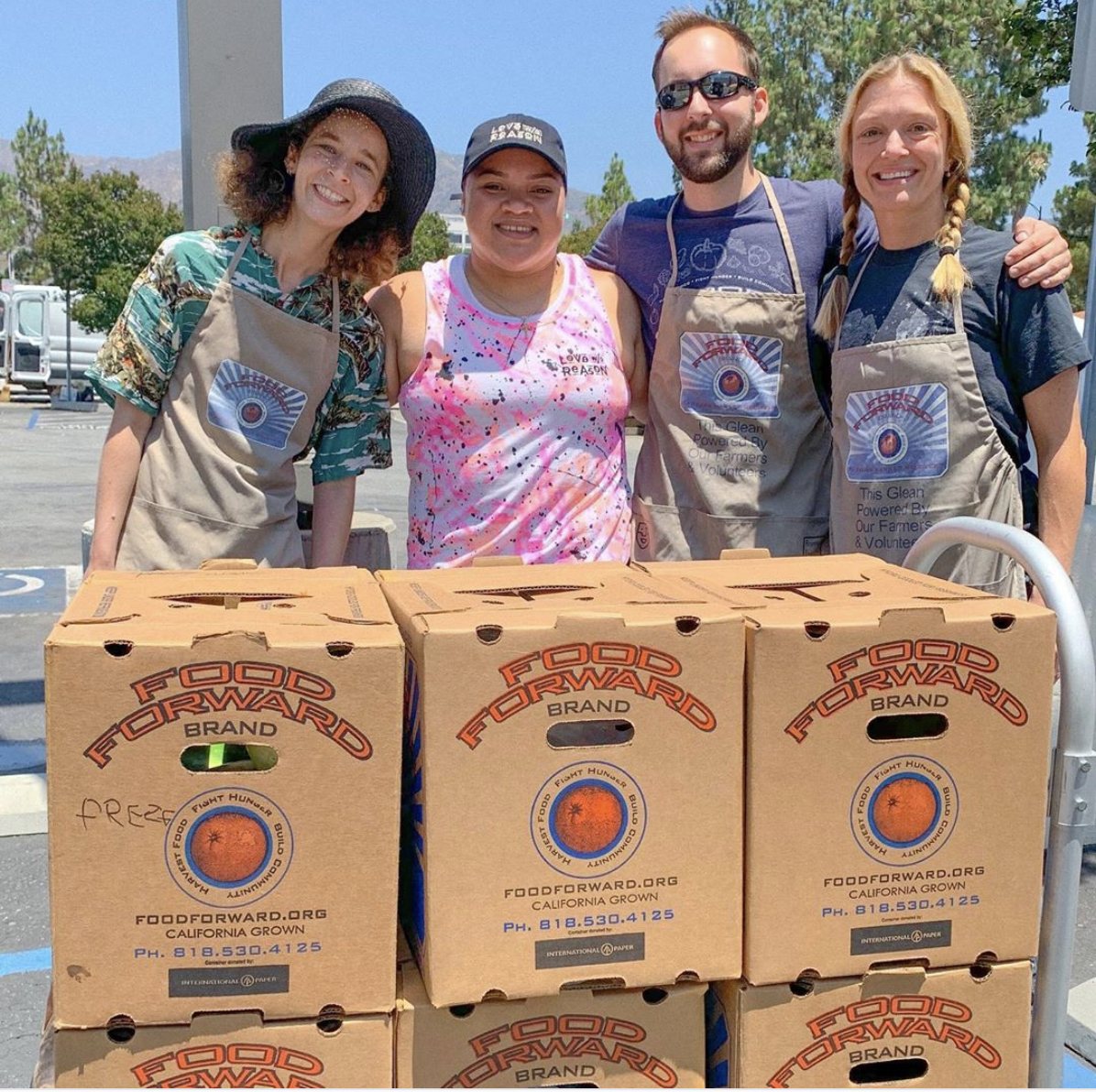 Local organization Lunch on Me provides free meals to folks on Skid Row, and they joined us recently at the Burbank Farmers Market to pick up rescued produce
Food Forward works with many outstanding and innovative organizations that are taking on the issue of homelessness in L.A. We can all help by donating our time, money, and resources. As citizens, we can keep up with what is going on in our city and hold our elected officials accountable for creating and supporting policies that will mitigate a situation largely created by neglectful housing policy. Below is a list of great organizations that you may want to consider supporting, in any way that you can. Los Angeles must take steps to both help those currently homeless in the city as well as those facing rent hikes, loss of job, or unstable housing situations that are at-risk of becoming homeless. Increasing access to free food is a relief to those who are already struggling to pay the bills, and can hopefully play a role in allowing folks to pay rent and keep their homes.
For those currently facing homelessness in L.A., the importance of a fresh meal is not lost on us at Food Forward. We glean produce that would otherwise go to waste from farmers markets, backyards, and the Wholesale Recovery Market in Downtown and donate it to hunger relief agencies, many of whom work with people struggling with homelessness. Our food recovery events are volunteer-powered, and we'd love to have you join us! Check out our volunteer calendar to join an event near you. If you have fruit trees with an abundance of fruit that you'd like to donate to us, let us know! Below is a list of places and people that we donate produce to, because we know they are providing it to their community members in need and helping our fellow neighbors:
A Place Called Home
Lunch on Me
LA Family Housing
Bienestar
MEND
SOVA
Dream Center
Hollywood Food Coalition
North Hollywood Interfaith Food Pantry
St. Joseph Center
Written by Natalie Arbogast, Volunteer Program Assistant
References: